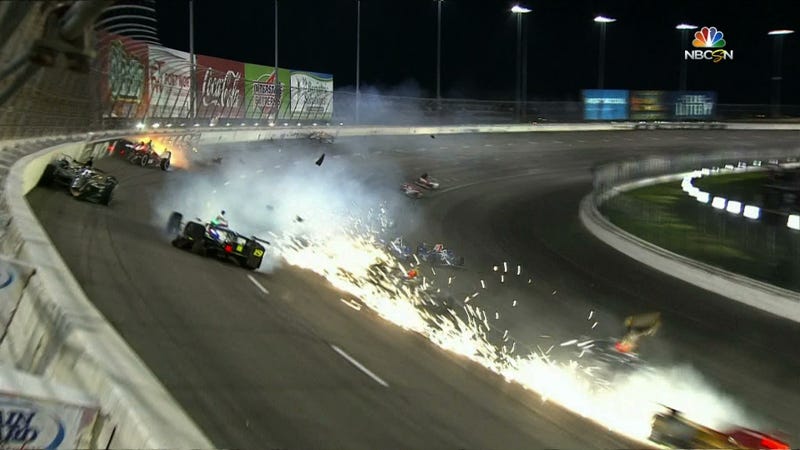 "The Big One" involved nine cars at once after James Hinchcliffe got pinched in between Tony Kanaan and Mikhail Aleshin with nowhere to go. This started a huge chain reaction that left only 11 cars in the race—only half of the 22 that started the race.

Three whole two-car teams—Ed Carpenter Racing, Schmidt Peterson Motorsports and Dale Coyne Racing—were involved in this crash. In addition to Hinchcliffe, Kanaan and Aleshin, Carlos Muñoz, Tristan Vautier, Ed Jones, Ed Carpenter, JR Hildebrand and Ryan Hunter-Reay were caught up in this crash.

Team owner Dale Coyne was so frustrated with Tony Kanaan for being involved in the crash that he came over and had words with Kanaan, although NBCSN's commentators noted that Kanaan may not have even realized Hinchcliffe was there. [He or his spotter clearly should have seen Hinchcliffe there, per the stewards; see update below.] Kanaan's car will be continuing on the race, however, the others involved in the crash were not.

Hinchcliffe had worked his way up to fifth place after an earlier drive-thru penalty for an avoidable pit-lane crash. He called rival team owner Chip Ganassi's suggestion that he should have lifted as he was in the middle of the car-sandwich "adorable."

Tristan Vautier's No. 18 car briefly caught on fire as well. No injuries have been reported so far, and the race was red flagged for clean-up immediately following the crash.

UPDATE [10:38 p.m. ET]: All drivers involved in this crash have been checked and released from the infield care center.

Aleshin, who is set to race in the 24 Hours of Le Mans later this week, actually ripped the knee of his firesuit in the crash, bruising his leg. He said he'll be fine to race.

UPDATE #2 [10:52 p.m. ET]: The race has now restarted after 30 minutes and 42 seconds of red-flag down time.

Ed Carpenter, whose car did not restart with the group, is currently on pit lane as his team tries to repair his No. 20.
Tony Kanaan was penalized with a 20-second stop and hold penalty for unavoidable contact and blocking in the incident.

UPDATE #3 [11:15 p.m. ET]: Both Ed Carpenter Racing cars (Ed Carpenter and JR Hildebrand) eventually made it back out, however, IndyCar penalized him 2 laps unapproved work under a red flag.

Here are a few shots of the garage of broken dreams where most of the wrecked cars were being worked on after this crash: