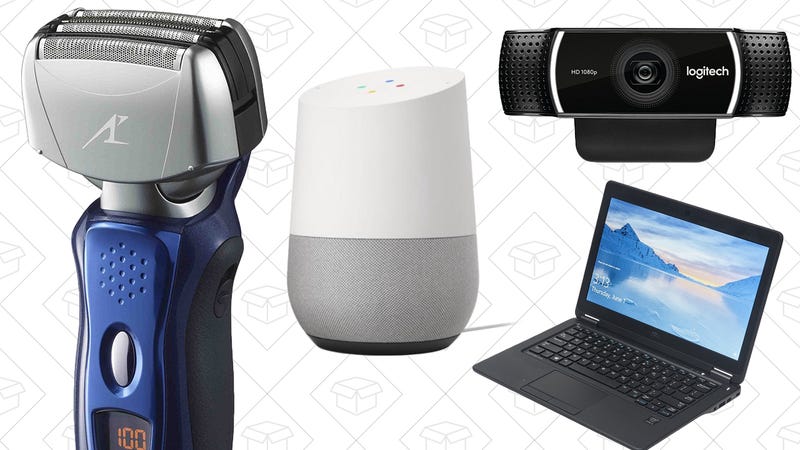 Google Home, a well-specced laptop, and a great electric shaver lead off Saturday's best deals from around the web.
Bookmark Kinja Deals and follow us on Twitter to never miss a deal.
Top Tech Deals
It's not the prettiest laptop I've ever seen, but $460 is a great price for a computer with a Core i5, 8GB of RAM, a 256GB SSD, and Windows 10 Pro. It's only available today though, or until sold out.

---
Anker's PowerCore line has reigned as our readers' favorite USB battery pack for nearly a year, and its long awaited sequel is down to $36 today, within $2 of the best price we've seen.
In addition to a fresh new design, the PowerCore II includes three high speed USB charging ports with a whopping 30W shared between them, plus dual 10W microUSB inputs, allowing you to recharge the entire brick twice as quickly.
---
Google Home is the smart speaker that Google devotees have been clamoring for, and Newegg has it for just $105 today, one of the best prices we've seen.
---
In case you missed it, Amazon's still blowing out refurbished Echo Dots for an all-time low $38. If you've already fallen in love with the Alexa ecosystem, this is a great chance to add a smart speaker to every room in your house.
And if you want it to look a little bit less like an appliance, Amazon's charcoal fabric case is also $5 off.
---
Whether you're looking to start a podcast, or just want your Skype calls to come through loud and clear, the Blue Yeti is one of the most popular mid-range USB microphones you can buy. Get it today for $90, one of the best prices we've seen.

---
There are probably thousands of Apple Watch charging stands out there, but basically every one I've seen shares the same problem: They slide all over your nightstand when you try to pull the watch off its magnetic charger.

Aukey seems to have solved that with an ingeniously simple suction cup on the bottom of its stand. It's a little thing, but you'll appreciate it every night, and what's $6 to someone who spent hundreds of dollars on an Apple Watch?
Note: This doesn't include any actual charging hardware: Like most Apple Watch charging stands, it's basically just housing for the included charger.
---
If you're planning on traveling internationally or fleeing the country any time soon, you won't want to miss this deal on one of our readers' favorite international power adapters.

Promo code YXVLF54N saves $18 on Bestek's popular travel adapter and voltage converter. This complete 3-outlet/4-USB power strip will work with US, EU, UK, and AU outlets, and converts 220V power sources to US-friendly 110V, for any of your electronics that can't handle both.
---
Who doesn't love free money? For a limited time, eBay's taking 10% off when you spend $100 on select gift cards. You can mix and match different cards from the likes of Uber, Papa John's, the Nintendo eShop, the PlayStation Store, Groupon, and more. Just load up your cart and pay with PayPal, and you'll see the discount at checkout.
Top Home Deals
Keeping floors clean is tedious enough as it is, but you can save some time with this $85 Bissell Symphony, which is a vacuum and a steam mop all in one.

You can use it as a vacuum, a steam mop, or with the flick of a switch, both at the same time. It even uses some kind of sorcery to keep your debris bin dry even as you vacuum up water molecules from the steaming process, so it won't be too disgusting to empty.
Today's price is only good on a refurbished model, but it's about half the price of buying it new, and this deal is only available today, or until sold out.
---
Dentastix can clean your dogs' teeth and make their breath smell slightly less like ass, and most importantly, they actually enjoy eating them. Stock up for great low prices with today's Amazon Gold Box.

---
Gerber's Dime multitool doesn't include a knife blade, which makes it somewhat less useful than most multitools, but it also means you can take it through airport security.

---
With six sides and six different blade arrangements, this $11 box grater is good for a lot more than just cheese.

---
Whether you're filling tires or firing pneumatic tools, this 4.5 star-rated Porter-Cable electric pancake compressor has is a great addition to any garage, and Prime members can pick it up for $80 today. That's about $20-$40 less than usual, and the best price Amazon's ever listed.
---
In addition to Amazon's new premium beverage sample box, parents can also pick up a box with 10 or more children's snacks for just $5, plus a $5 credit towards your next eligible snack purchase (which isn't limited to children's food).
---
Amazon's back at it again with another great sample box, this time with seven premium beverages for $10, plus a $10 credit on your next eligible beverage purchase on Amazon. If you've ever been curious to try Soylent, this is your moment.
---
If you've ever eaten at a nice steakhouse, you were probably eating sous-vide meat. Here's a secret though: It's really easy to get those kinds of results yourself, and Amazon's here to help with another $109 deal on the Anova Bluetooth sous-vide circulator.

Lifehacker has a great explainer on Sous-Vide cooking for you to check out, but the basic idea is that you seal the food in plastic bags, and then cook it in precisely heated water over a longer period of time. It sounds weird and kind of sterile, but the result is meat that's cooked to the exact right temperature all the way through.

---
You guys buy boatloads of IR thermometers whenever we post a deal, and it's easy to see why. They're a ton of fun to mess around with, and can come in handy for everything from cooking to home energy savings.

If you still don't own one, you can rectify that for just $12 today. This one even comes with a holster!
---
Anker, producer of a lot of your favorite charging gear, has its own line of flashlights too, and all three are on sale today for some the best prices we've ever seen.

The cheapest model (LC40) is IP65 dust and water resistant, but actually doesn't include a rechargeable battery. However, you can run it on three AAAs or a single rechargeable 18650 battery, which are cheap and easy to find.

The next step up (LC90) is far brighter (900 lumens vs. 400), and includes a rechargeable battery and a microUSB port, while the most expensive model (LC130) is brighter still at 1300 lumens, and is IP67 rated, meaning you could even use it underwater.
Once you've decided which model you want, you have a few different options to save today. First off, the LC130 is $15 off its usual $60, no promo code required. If you'd like the LC90, you can either get if for $22 with promo code HGBGOIWV, or pay the usual $30 for the LC90, and get a FREE LC40 with promo code NWSSMJOF. If you go this route, you'll need to add both to your cart before entering the code.
---
Rubbermaid's fold-up laundry hamper is actually Amazon's top seller in the category, and it's on sale today for just $12. You've probably accidentally washed more money than that in your jeans pockets this year.
Top Lifestyle Deals
The Panasonic Arc4 is one of your favorite electric shavers, and $72 is the best price Amazon's ever listed on this model, which includes a clever pop-out trimmer for detail work and touch-ups.

---
Golfing gear is about as stereotypical as Father's Day gifts can get, but this Callaway home range practice system actually looks really cool. $113 gets you a net, a hitting mat, and a caddy/feeder that can hold 35 balls and drop them onto the hitting zone with a tap of a club.

With a few short-lived exceptions, this is the best price Amazon's ever listed, so tee off on this deal before it sells out.
---
You don't need to be a spelunker to use a headlamp; they'll come in handy any time you need some extra light and two hands free. So even if you don't think you need one right this minute, you might as well order one for $9 with code OXY1HL02.
---
Hayneedle is a one-stop-shop for affordable home goods that don't look like they're from the bargain bin. And, right now they're giving you up to 60% off a ton of outdoor stuff (like Zero Gravity chairs for $39). Plus, a bunch of things are extra discounts. Check out the promo codes below:

---
What better way to get ready for the better weather than discounted Under Armour gear? Take an extra 25% off practically every style you can think of, with styles for both men and women. From the classic Under Armour long-sleeves to training shoes to their Threadborne microthread technology, this gear is perfect for running outside in the warmer months.
---
A first aid kit is one of those things you should probably keep in your glove box, and you should definitely have at home, and at $12 for 299 pieces, there's no excuse not to be prepared for minor accidents.

It includes bandages, gauze, medicines, an instant cold pack, and more, all tucked away in a refillable soft pack. You can thank us later.
Top Media Deals
This weekend's Kindle ebook sale is focused on children's and young adult books, but we won't tell if you buy one for yourself.

---
Amazon's running a Marvel digital comic sale that's bigger than any Avengers movie today, with literally thousands of titles marked down to $5 or less. You'll find everything from the Guardians of the Galaxy to Darth Vader to Deadpool to Captain America in there, and every hero in between, so there's never been a better time to stock your digital shelves.

The selection is overwhelming (nearly 400 pages!), so if you have any specific suggestions, drop them in the comments.
Top Gaming Deals
Logitech's C922x webcam is designed specifically for all you Twitch streamers and vloggers out there. In addition to 1080/60 recording and autofocus, this camera can actually dynamically remove the background of your room, no green screen required (Windows only).

It's been as low as $50 on a couple of short-lived occasions, but $80 is the best price Amazon's listed all year.
---
Amazon's running a Father's Day discount on its in-house bocce ball set, because…dads love bocce ball, I guess? This isn't an all-time low price, but it's been selling for $33 lately.
---
It's been awhile since we've seen a decent PlayStation Plus deal, so if your membership is due to expire soon (or not), grab another year for $48 today, which is about as low as it's gotten since Sony jacked up the price by $10.
---
---
Tech
Home
Lifestyle
Media
Gaming