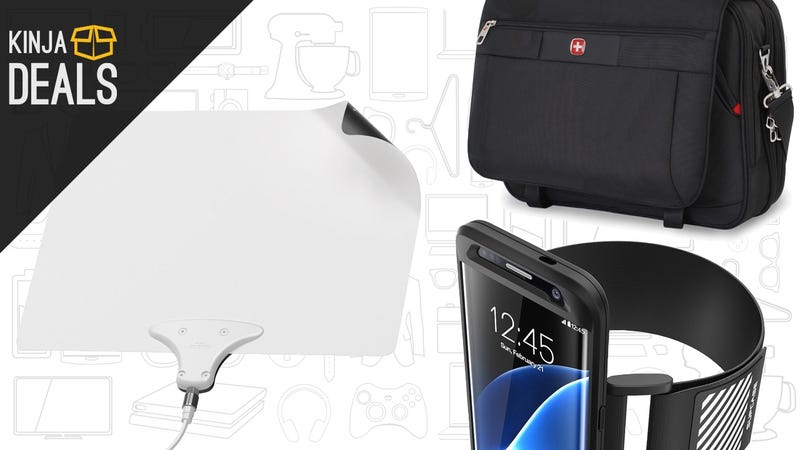 Your favorite HDTV antenna, cases for Samsung's new phones, and a TSA-approved messenger bag kick off Saturday's best deals. Bookmark Kinja Deals and follow us on Twitter to never miss a deal. Commerce Content is independent of Editorial and Advertising, and if you buy something through our posts, we may get a small share of the sale. Click here to learn more.
---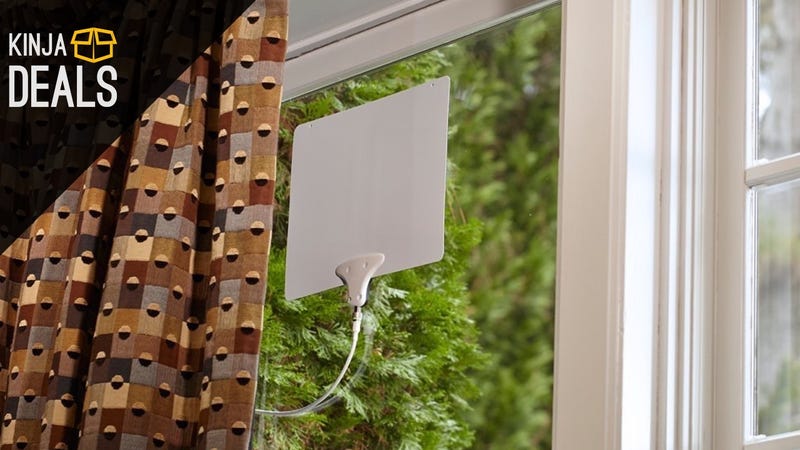 Between Netflix, Sling TV, Hulu+, and HBO Now, it's easier than ever to declare cable independence, but even if you subscribe to ever streaming service under the sun, you'll still want a good HDTV antenna to pick up your live local stations.

http://www.amazon.com/exec/obidos/AS…
The Mohu Leaf 30 should be perfect if you live fairly close to your local transmitters, and its design is about as subtle as unobtrusive as it gets. Hell, even if you already have cable, the crystal clear, uncompressed pictures you get from OTA TV might make this worth picking up anyway. [Refurb Mohu Leaf 30, $15]
http://lifehacker.com/five-best-indo…
http://lifehacker.com/how-to-choose-…
---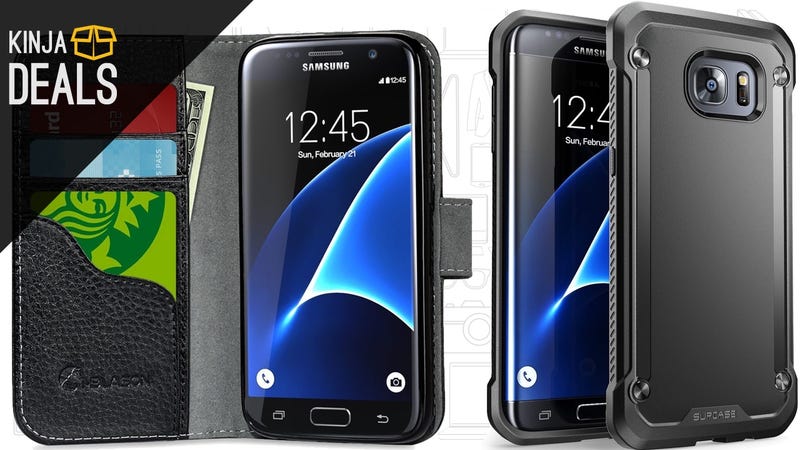 If you already have your hands on one of Samsung's newest Galaxy phones, Amazon's running a Gold Box deal today on cases and armbands to keep it safe. [Galaxy S7 and S7 Edge Case and Armband Sale]

Own an iPhone? Here are some off-brand leather cases for just $5. [iPhone 6/6 Plus Leather Cases, $5]
---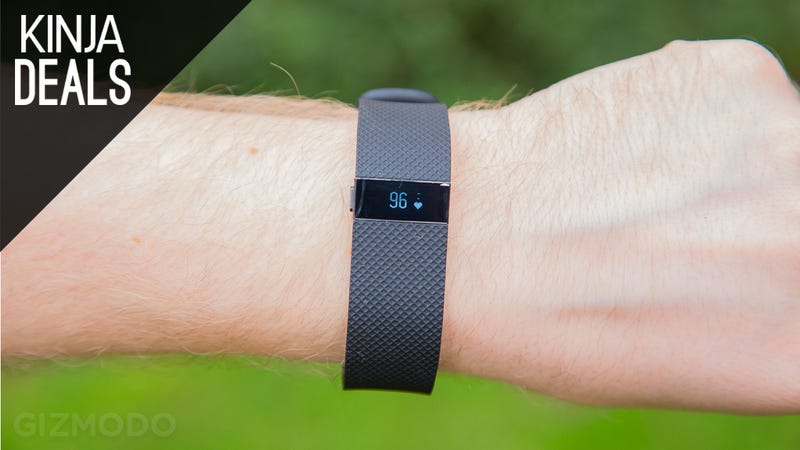 Need a little push to get off the couch? The Fitbit Charge HR is the best fitness tracker for most people, and you can get one for just $100 today, which is a match for the best deal we've seen on the heart rate-tracking model. [Fitbit Charge HR, $100]

http://gizmodo.com/fitbit-charge-…
---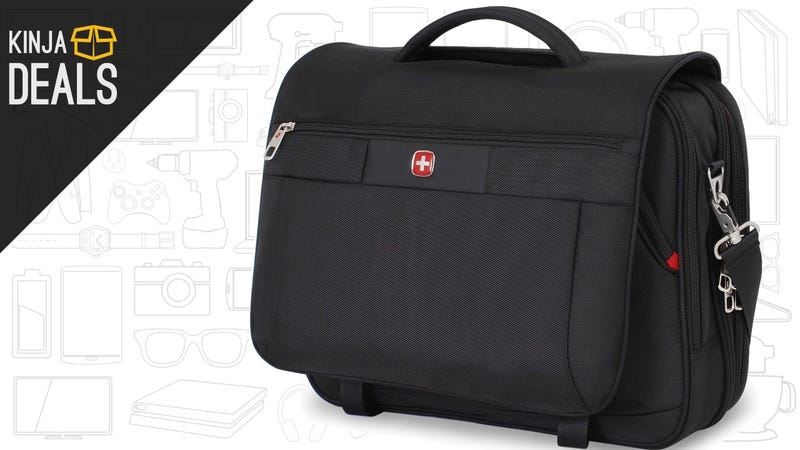 SwissGear makes some of the best laptop bags on the market, and this $31 messenger bag will actually let you go through airport security without taking out your laptop. It's a minor convenience, but any little shred of dignity you can wrest back from the TSA is worth it. [SwissGear SA8733 Black TSA Friendly ScanSmart Computer Messenger Bag, $31]

http://www.amazon.com/SwissGear-Frie…
---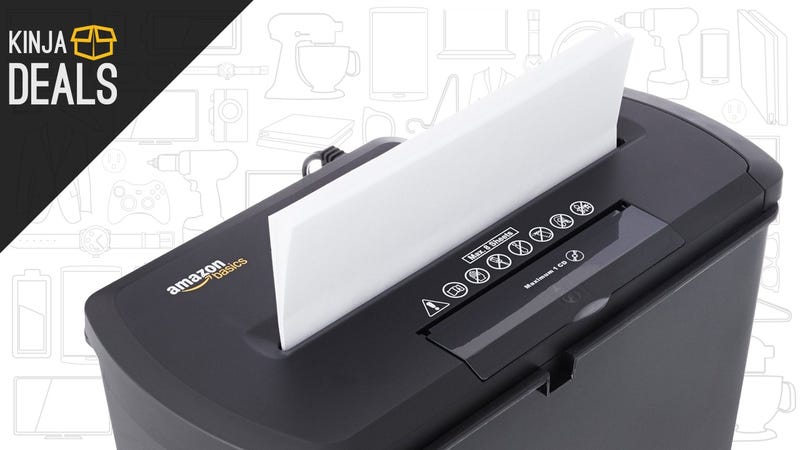 A shredder is just one of those things everyone needs to own, and this AmazonBasics model is cheaper than ever today. It can even shred a CD! [AmazonBasics 8-Sheet Strip-Cut Paper, CD, and Credit Card Shredder, $27]

http://www.amazon.com/dp/B0050BPWBQ/…
---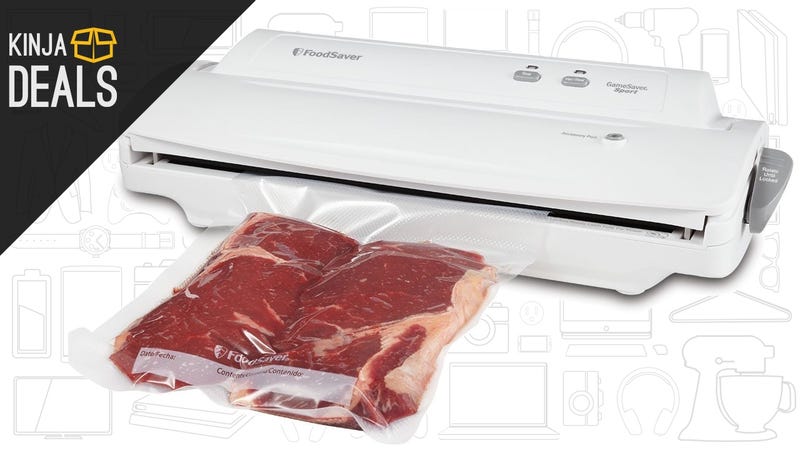 We've all had to throw away leftovers or cuts of meat and cheese that spent a little too much time in the fridge or freezer, but vacuum sealing your foods can keep them safe from freezer burn pretty much indefinitely, and dramatically extend their shelf life everywhere else.

It sounds like an expensive proposition, but today only, Woot's selling this well-reviewed FoodSaver Starter Kit for just $45 shipped (find reviews on the Amazon listing for the black model), complete with everything you need to get started. Of course you can use this to store meats in the freezer for a long time, but it can also keep cheese from molding, lettuce from wilting, or cookies from going stale, just for starters. Think about how much food you throw away, and you'll get a sense of just how quickly this purchase could pay for itself. [Foodsaver Gamesaver Sport Vacuum Sealer, $45]
---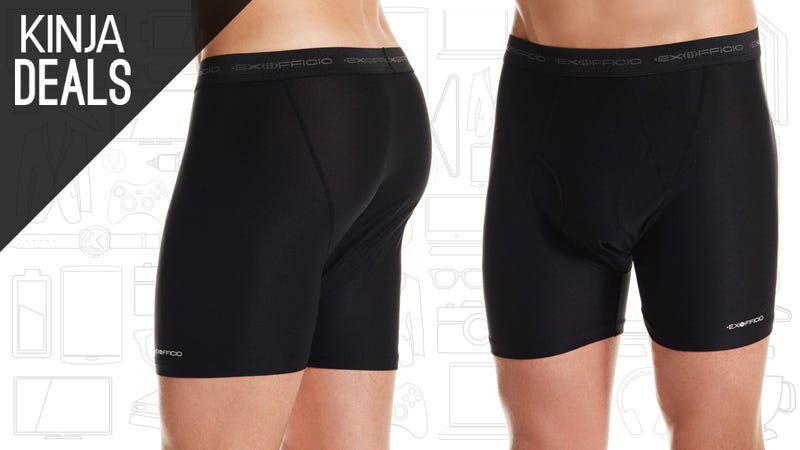 ExOfficio's Give-N-Go boxer briefs were a finalist in our recent best men's underwear Co-Op, and you can once again get a pair for $15, one of the lowest prices we've seen. That's still pricey for a single pair of underwear, but reviewers say it's worth it. Note: The price is only available on certain colors, so click around if you're not seeing the deal. [ExOfficio Men's Give-N-Go Boxer Brief, $15]

http://www.amazon.com/ExOfficio-Give…
http://co-op.kinja.com/four-best-mens…
---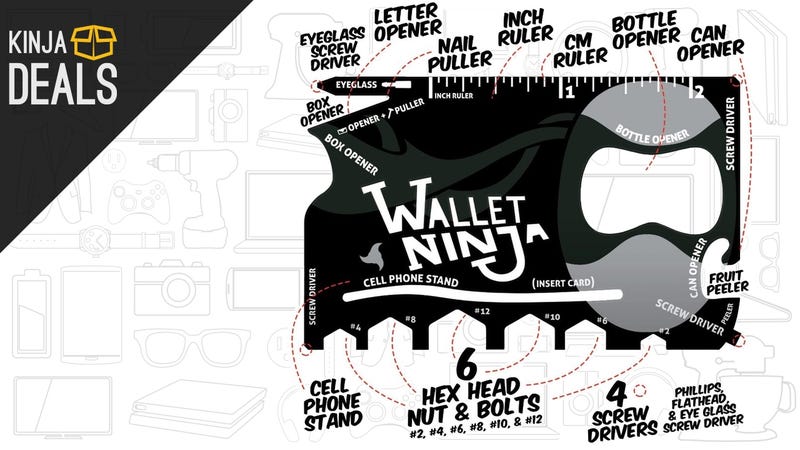 Yeah, this thing is silly, but I've owned one for years, and I absolutely love it. [Wallet Ninja 18 in 1 Multi-purpose Credit Card Size Pocket Tool, $7]

http://www.amazon.com/Wallet-Ninja-M…
Wallet Ninja Multitool

Credit card-sized multitool with 18 individual tools

Phillips, flat, Robertson square, and eyeglass screwdrivers

Can, bottle, letter, and box openers

Six hex wrenches

Peeler, ruler, and nail puller

Phone stand

Easily fits into wallets and pockets
TSA-approved
---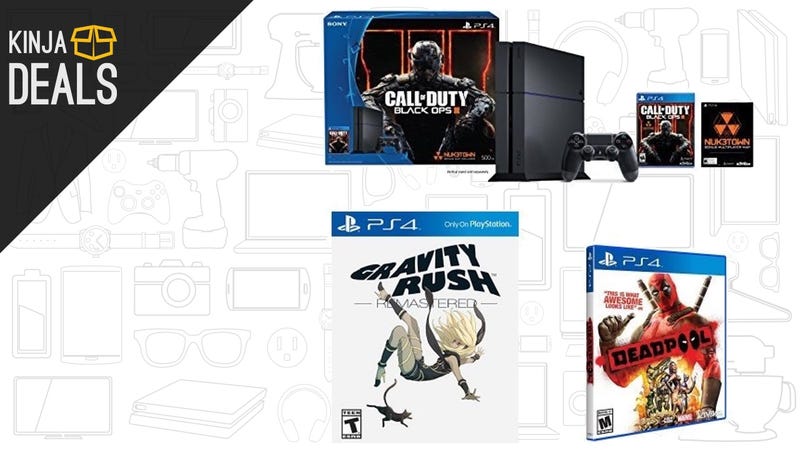 As far as PS4 bundles deals go, getting two bonus games for free is about as good as you can hope for. [PlayStation 4 500GB Console – Call of Duty Black Ops III Bundle + Gravity Rush Remastered + Deadpool, $349]

http://www.amazon.com/dp/B01CTECDEU/…
---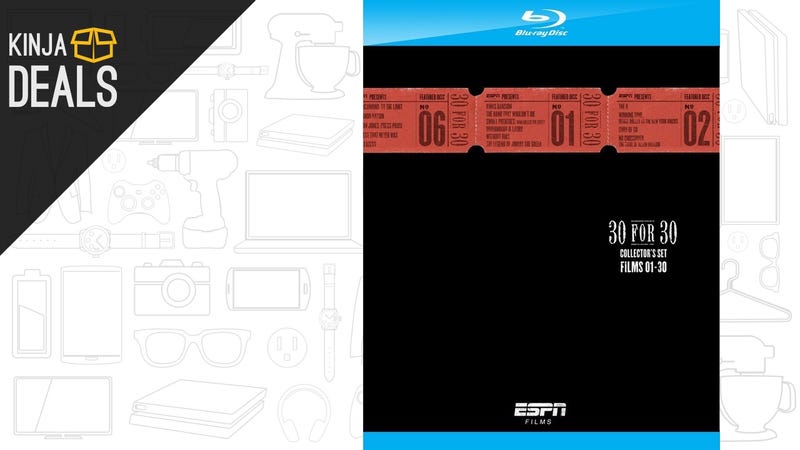 30 (mostly-great) sports documentaries for $15 is a no-brainer deal for any sports fan. [ESPN 30 for 30 Collector's Set, $15]

http://www.amazon.com/dp/B005JTTYBI?…
---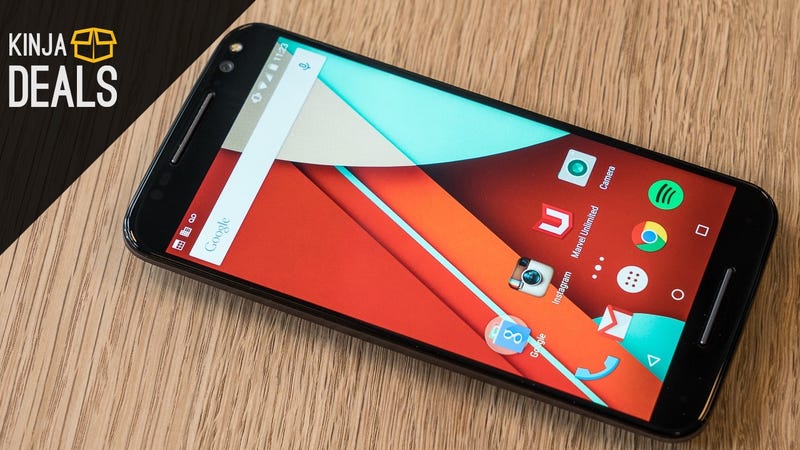 The Moto X Pure "does Android better than Google," and Amazon will sell you a 16GB model today for just $300 unlocked, the best price we've ever seen. [Moto X Pure 16GB, $300]

http://reviews.gizmodo.com/moto-x-pure-ed…
http://www.amazon.com/Moto-Unlocked-…
---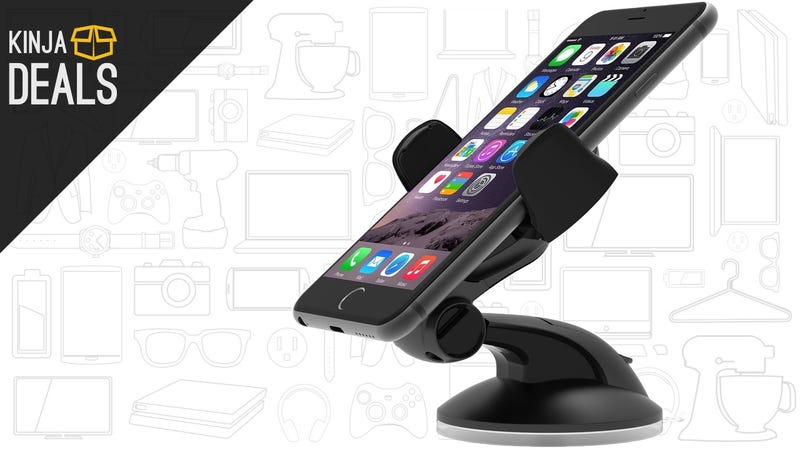 When it comes to smartphone dash mounts, magnetic solutions have dominated the sales charts over the last year or so. But if you don't want to obstruct a vent, or use a case with your phone, a good old-fashioned suction cup mount might be the way to go.

http://bestsellers.kinja.com/bestsellers-mp…
iOttie makes some of the most popular solutions on the market, and their compact Easy Flex 3 is marked down to $11 on Amazon right now, an all-time low. [iOttie Easy Flex 3, $11]
http://www.amazon.com/gp/product/B00…
Of course, if you do want to try a magnetic mount, Mpow's solution has been on sale for $5 all week long. [Mpow Grip Magnetic Car Mount, $5 with code YNGL8BMN]
http://www.amazon.com/dp/B00YE6D7I8?…
---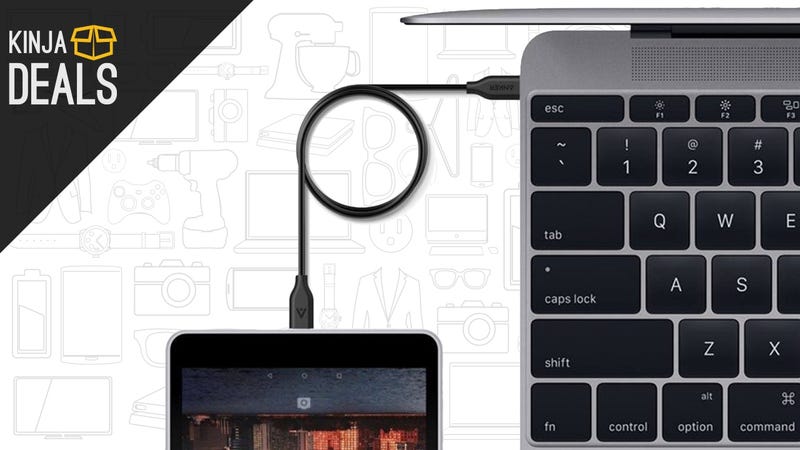 In just a matter of months, our readers have bought well over 10,000 Anker PowerLine Lightning and microUSB cables, but today, it's the USB-C model's turn to go on sale. As with all PowerLine cables, this is wrapped in kevlar fiber for added durability, and yes, it's been certified safe by Google's Benson Leung, the foremost expert in dangerous USB-C cables. [Anker PowerLine USB-C Cable, $10]

http://bestsellers.kinja.com/bestsellers-an…
http://www.amazon.com/dp/B01A6G0CTQ?…
---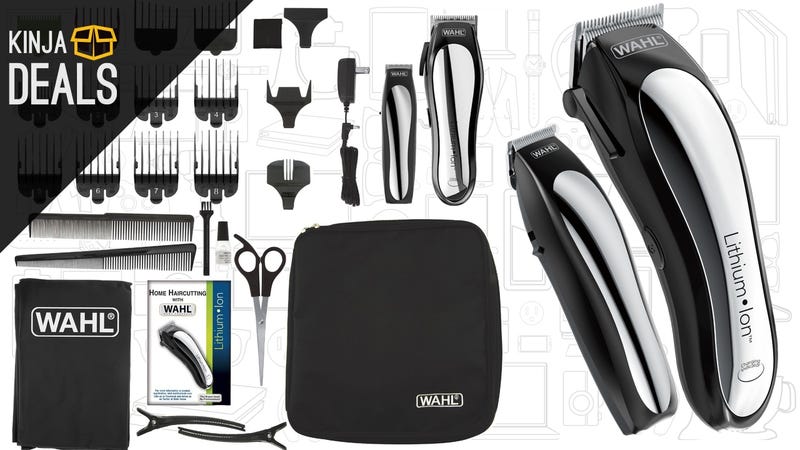 If you're brave enough to give yourself a haircut, or even just a touch-up, this highly rated Wahl cordless trimmer is marked down to $36 on Amazon today, an all-time low. [Wahl Lithium Ion Clipper, $36]

http://www.amazon.com/dp/B0058SY1X6/…
---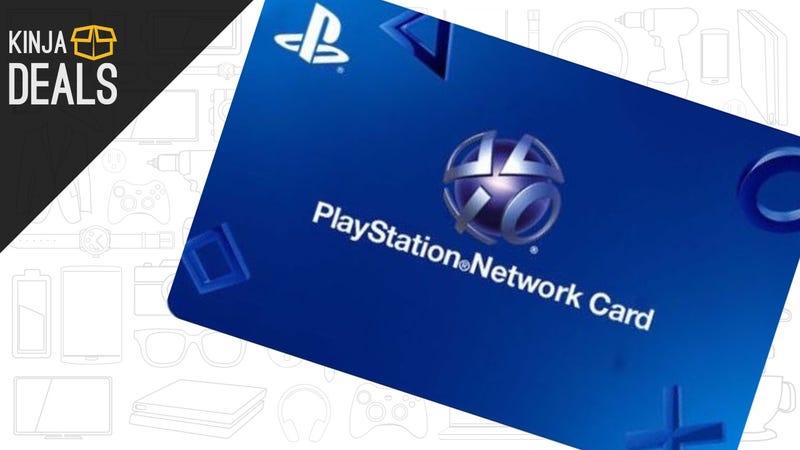 If you hurry, here's a rare opportunity to save on PSN credit. While you can frequently find better deals on full games from other retailers, this would be a great deal if you like to buy DLC. [$50 PSN Gift Card, $43]

---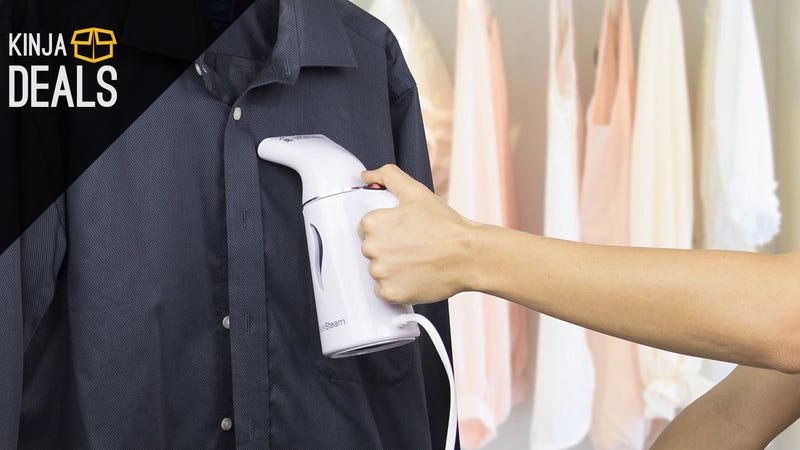 Steaming your clothes might not get them as crisp as ironing, but it does a decent enough job in a fraction of the time, and for $15, why not? [Pure Enrichment PureSteam Fabric Steamer, $15 with code STEAMR15]

http://www.amazon.com/exec/obidos/AS…
Tech
Home
Gaming
Media
---
Commerce Content is independent of Editorial and Advertising, and if you buy something through our posts, we may get a small share of the sale. Click here to learn more, and don't forget to sign up for our email newsletter. We want your feedback.