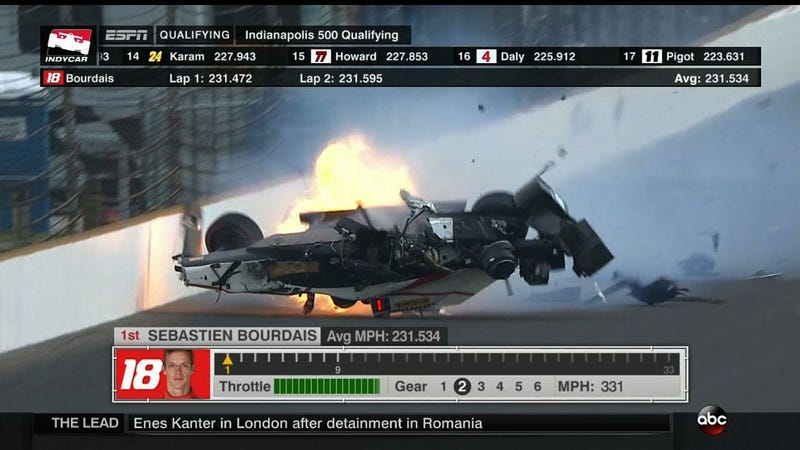 Dale Coyne Racing IndyCar driver Sébastien Bourdais had been one of the fastest drivers in practice, setting the fastest time of Fast Friday. He was on track for the fastest Indy 500 qualifying run of Saturday, but crashed hard into the wall after completing only two of his four qualifying laps, flipping in the air.
Bourdais lost control of his No. 18 car coming out of Turn 2 at Indianapolis Motor Speedway. Bourdais attempted to correct the car, but was unable to keep the car from going nose-first into the wall.

Before the crash, Bourdais set two of the fastest qualifying laps of the day:

Bourdais has been taken away in an ambulance on a back board directly to IU Health Methodist Hospital in downtown Indianapolis for further evalution. He never lost consciousness, according to a series doctor who spoke with ABC.

Qualifying has been halted as crews repair the barrier. Thirteen drivers are still waiting to set qualifying times.
Bourdais won the ChampCar championship four years in a row from 2004-2007, and drove for the Scuderia Toro Rosso Formula One team in 2008 and 2009.
This post will be updated as we receive more information.