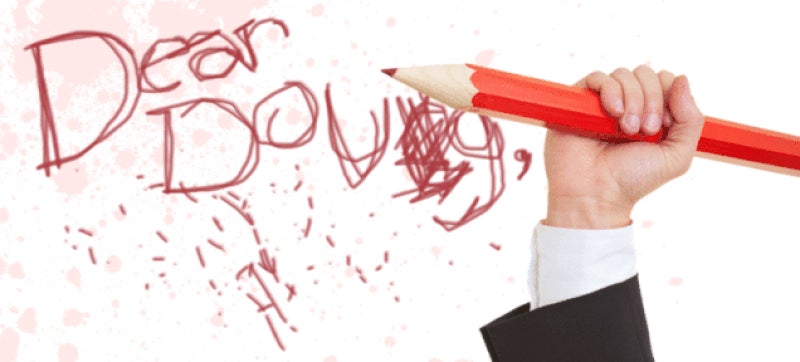 Good afternoon, readers of Jalopnik, and welcome to Letters to Doug, your favorite weekly automotive column that involves a) readers seeking actual, legitimate information, and b) Doug providing falsehoods and lies.
If you'd like to participate in Letters to Doug, you can! Just send me an e-mail at Letters2Doug@gmail.com. Although I cannot promise I will post your letter on Jalopnik, I can promise that I will laugh at your letter if it contains a funny joke, or an amusing anecdote, or a desperate plea for help with your 2002 Audi Allroad.
Anyway, this week's letter comes to us from a reader I've named Henry, who lives in Seattle, Washington, a lovely northwestern city famous for its winters, which receive approximately as much sun as a Reddit power user. Henry writes:
Hi Doug!

I hope this email finds you well. I am in a bit of a predicament. I just relocated from an apartment to a home in the Capitol Hill area of Seattle (arguably the most hipster place to live in the region) and while its common to see M4's, 911's, and other sports-cars parked on the streets, it bothers me to park my new Audi A4 Prestige S-Line (Glacier White Metallic) in the same vain. I DO have the option to purchase monthly garage parking for $200 a month a few blocks away but I'm not sure that is necessary. What would you do if you were faced with this predicament? I searched articles on Jalopnik but didn't really see one that covered why parking your enthusiast type vehicle on the street is a good idea.

Regards,

Henry
Henry, you've raised an excellent question, and it couldn't have come at a better time. I say this because I was walking to Whole Foods a few months ago here in Philadelphia, and I ran across a black Audi A5 with a stick shift (!) that was street parked next to the usual assortment of Corollas and Mazda3s that line my city's streets. A stick shift A5!, I thought. Cool! So I walked by it a few more times over the next few weeks, and then a few more times, and then last week I noticed it had a huge scrape on the bumper and the mirror was smashed and hanging off of it.
A smashed stick shift A5. I thought. Not so cool.
So I walked over to assess things a little further, and I discovered a note on the car that said a taxi had hit the A5 and driven away, but the note-leaver had gotten the taxi's license plate number and a photo of it. This is one of Philadelphia's greatest traits: you can generally count on people to help one another, unless they are taxi drivers. If they are taxi drivers, you can count on them to smash into things and block the bike lanes.
This incident with the A5 has just been the tip of the iceberg. Since moving to Philadelphia almost two years ago, I have become an expert on street parking, largely because this city is so bad for parking that A&E made a television show about how awful it is. What happens in the television show is that people are constantly screaming, and crying, and yelling, and berating the parking officer, who has almost invariably correctly cited them for something like leaving the car next to an active fire hydrant for the past nine days.
When it comes to parking, only Boston is worse. The last time there was an open parking spot in Boston was 1984, and it was quickly taken by a guy in a Chevy Chevette who proceeded to save it for the next seven years with a stepladder and a broom.
What I have learned is this: if you want to keep your nice car looking nice, the last place you'll want to park it is on the street. I recently got a street parking permit for my aging Range Rover, and the very first day I parked it on the street, I came out to find that a Hyundai Tiburon had wedged itself so tightly between my car and the Mercury Tracer that had formerly been behind me that I had scratches on my bumper. Of course, I do not care about scratches on my Range Rover's bumper, because my Range Rover is currently worth approximately the same as an original iPhone with a damaged screen. But if I had a brand new Audi A4, I would probably feel differently.
Now, I admit to you that Seattle might be different. Here in the Northeast, we jam cars into parking spaces as a way of life. It's like how in Georgia, they have grits, or in Chicago, they have corruption, or in West Virginia, they have incest. And so there is some chance you may be able to park your car on the street and get away unscathed. But me, I would pay the $200 a month and get a secure place to park my car. I bet the guy with the stick shift Audi A5 would agree.
@DougDeMurois the author ofPlays With Cars, which his mother says is "fairly decent." He worked as a manager for Porsche Cars North America before quitting to become a writer.