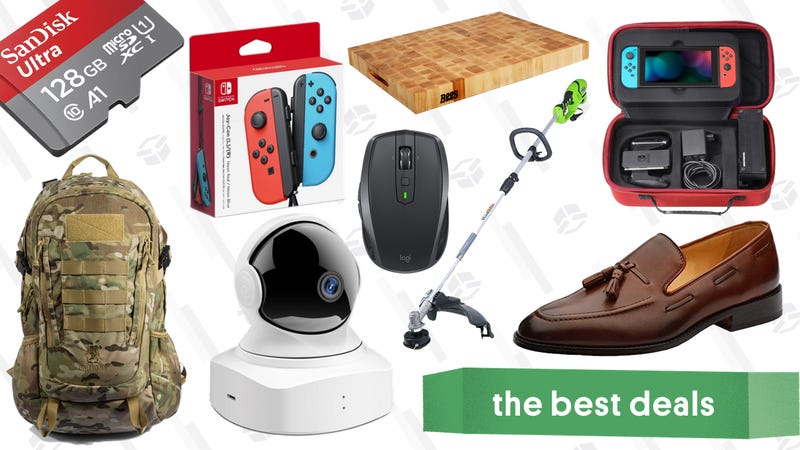 GreenWorks trimmers, a YI security camera, Switchaccessories, and more of Sunday's best deals.

Bookmark Kinja Deals and follow us on Twitter to never miss a deal.

Need a lot of extra storage for your Nintendo Switch or action cam? The advent of 200GB+ cards means that 128GB cards, which until relatively recently sold in the $60-$80 range, are finally inching towards affordability. $34 is a really great price for storage you'll probably need sooner or later.
---
With its ability to work on any surface, including glass, the Logitech MX Anywhere mouse has always been a reader favorite. And today, you can save on its sequel.

All the features you know and love from the original are still here, but the MX Anywhere 2S adds in Logitech's new FLOW cross-computer control, which lets you use one mouse to control multiple computers at once, and even copy and paste content between them. Even if you never use that feature though, it's a great mouse with 70 day battery life, a best-in-class sensor, and easy Bluetooth or USB pairing to up to three devices. Not bad for $50.

---
Update: Sold out.
Internet-connected security cameras don't have to set you back over $100; this model from Yi is packed with features, and only $40, today only.
The Yi Dome can detect and track motion (even in the dark), or even the sound of babies crying, and send a push notification to your phone to check in. Built in microphones and speakers mean that you can even use the camera as a two-way intercom. Side note: What would you say to a robber in this scenario? I have no idea.
You can save your clips to a microSD card for free, or use Yi's Cloud service as a remote DVR for added security. There are paid tiers available, but it'll save six second clips of the last week's worth of motion alerts for free, no monthly contract required.
---
It's not 4K Ultra and it doesn't have Alexa or Chromcast built-in, but this 24-inch 1720P Insignia LED television for just $100 is a perfect guest room or starter TV. It does come with built-in Roku TV and a USB port perfect for a ChromeCast or Apple TV.
---
As if 6TB wasn't enough space for nearly everyone, this external hard drive includes a couple of USB ports on the front, allowing you to plug in even more external storage devices, or just charge your phone. $110 is an all-time low price, but it probably won't last long.
---
We see good deals on Philips Hue starter kits fairly often. But if you already have a Hue system set up, it's very rare to see individual bulbs for over 20% off, so stock up!

---
Compatible with Alexa, Google Home, and all your other smart devices, this 55″ LG 4K Smart TV is $200 off on eBay today. Plus, it's less than 3 inches thick, so it will look very sharp in your living room. You'll have to add the product to your cart to see the discounted $579price.
---
Dell's P2715Q 4K monitor has always been one of the most affordable 27" 4K IPS display on the market, but today, it's all the way down to $360, within a couple bucks of the best price we've seen.

If you aren't familiar, IPS displays boast superior color accuracy and viewing angles compared to the TN panels you'll find in most inexpensive 4K monitors. I own the 24" model of this exact monitor, and I absolutely love it, just make sure your computer is powerful enough to drive it.
---
Best Buy is celebrating the 4th by offering discounts on computers, TV, Sony headphones, tablets, and much more. Go check out the sale for yourself while it's still going.
---
Your laptop is one of the most expensive things you own, and it deserves to be treated as such. Rather than throwing it roughshod into your bag, slip it into one of PicasoLabs' beautiful, hand-stitched leather sleeves, now back on sale just for our readers, this weekend only.

Jesus Diaz raved about these and interviewed the creator on Gizmodo a few years ago, and now you can pick your own from Amazon for 15% off with promo code KINJA015, plus $8 if you want it engraved.
There are several options available, and prices will vary depending on the size of your laptop. They're all designed specifically for various MacBook models, but compare measurements, and you could probably find one to fit your Windows Ultrabook as well. No matter which one you choose, you'll save 15% at checkout with that promo code.
---
At first glance, Anker's SoundCore Spirits look a lot like the reader-favorite SoundBuds Slims, but they do have a few key upgrades. The big one is IPX7 water resistance, plus added sweat-countering measures from Anker that make them ideal for working out, especially compared to the IPX5-rated Slims. They also last a bit longer with an eight hour battery (vs. seven), include a built-in cord shortener, and should have a bit more bass as well.

The SoundCore Spirits have sold for $40 since they launched, but today, they're just $33.
---
Anker's reader-favorite PowerLine charging cables have blossomed into an entire line of different products, and it hasn't always been clear which one was the best:

PowerLine – The original. Rubber-wrapped, and kevlar-reinforced.
PowerLine+ – The same, but wrapped in Nylon for added durability, less tangling, and a better feel.
PowerLine II – A more durable version of the original, and backed by a lifetime warranty, but without the benefits of nylon wrapping.

That confusion can now become a thing of the past, because they've combined the best of all of their cables into the new PowerLine+ II, and you can save on the 10' Lightning version today for the first time ever. It's incredibly durable, it's wrapped in nylon, and it comes with a lifetime warranty, meaning it's probably the last Lightning cable you'll ever have to buy. Get it in any color you want today for $14, or about $6 less than usual, with promo code ANKER454.
---
You'd expect a $220 TV to be stripped of basically all features, but this 49″ set from Hisense actually has smart apps, HDR support (though not Dolby Vision, sorry), and yes, even 4K resolution. It's obviously not the best TV you can buy, but it's a hell of a bargain.

You can also step up to the 55″ version of the same set for $100 more.
---
You aren't getting the most out of your computer monitor until you put it on a fully articulating and rotating arm. This one from North Bayou can hold monitors up to 27″, and even includes cable routing and a USB hub on the base that can be easier to reach than the USB ports on the back of your display. At $20, it's an absolute steal.

---
Humble's newest bundle eschews games in favor of cyber security software. As usual, the contents are split among three different tiers, but the $15 top tier has some really great stuff, including a year of Dashlane Premium password management software and a year of Private Internet Access, our readers' favorite VPN. Both of those are only valid for new users, but either one on its own would be a stellar discount.
You can also try PIA for a month for just $1 through this bundle, and if you're ready to commit, get three years of the service for $90 with our exclusive discount. They don't offer that price to the general public.
If you can't stand yard work, and Amazon's discounting several GreenWorks trimmers and accessories in today's Gold Box to make it just a little easier.

Battery-powered tools like these require much less maintenance than gasoline alternatives, and at these prices, they make more financial sense as well. Inside, you'll find string trimmers, edgers, and hedge trimmer attachments to trim your grass and beat back hedges. Just note that like all Gold Box deals, these prices are only available today, or until sold out.
---
Take the pack of three bamboo or plastic cutting boards you bought on a whim and throw them in the garbage. Or, at least order this awesome John Boos solid maple, reversible wooden cutting board and then throw your other crappy ones out when this arrives. At $220, it's a hefty price tag, but a worthwhile investment

---
Add shelter to any beach outing with this pop-up tent. It can fit up to four people in it, which means once you get way too hot to lay in the sun, you can lounge in the shade without much effort.
---
No, this Honeywell thermostat doesn't look like a futuristic work of art like a Nest or Ecobee. But for $40, you can make your home more comfortable (and save money on your electric bill). It's touchscreen and programmable, and works with any system.
---
Whether you're burning the midnight oil, or just want a brighter workspace throughout the day, this Aukey desk lamp would make a great addition to any office.
This includes what I consider to be the most important feature in a desk lamp, the ability to change the light's color temperature, but the unique design of this lamp also includes a USB charging port.
---
Not a fan of the design above? This $26 (with code AUKEYS20) sleek, space-saving lamp shines light on your desktop, while also giving you a USB-port for charing your phone and has five different dimming settings for the proper lighting to get your work done, no matter what time it is.
---
By now, if you don't have app-enabled plugs in your house, what are you even doing? Pick up a 2-pack of iClever plugs that are not only app-enabled, but Google Home and Alexa compatible, so all your electronics can be voice-activated with nothing more than a wall plug.
---
Amazon's top-selling electric tea kettle is discounted about $15 today, bringing the price to $33 (after $3 off coupon), which is the best price we've ever seen.

You can use this attractive glass kettle for more than just tea. Use it to quickly boil potatoes, or make a bunch hard-boiled eggs for breakfast for the week. No standing over the stove required.
---
eBay's back at it with another big sale. This one will get your 20% off pretty much every home goods category when you spend $25 or more, with a cap at $50 in savings.

I'd head over to check out the Dysons, tools, luggage, a surprisingly large collection of pool stuff, makeup and accessories, and more. Just be sure to enter promo code PARTYINUSA at checkout.
---
Make your 4th of July barbecue so much easier with this Weber chimney starter. It will produce evenly-heated coals in less time, with no need for lighter fluid. Plus, today this contraption is just $15, which down the usual $25.

---
If you've ever spent more than 5 seconds sorting through your mismatched food containers to find the right lid, it's time to throw them all out and upgrade to the uber-popularRubbermaid Easy Find Lid system.

These containers come in six different sizes, and yet you only have to deal with three different lids, making it much easier to find the right one. The 24 piece set (smaller than the typical 42 piece set we often post) is on sale for $9 today on Walmart. We've seen better prices in the past, but this set has been selling for around $15 pretty consistently this year, so you're saving about $6. Not too shabby.
---
While they might not conform to the classic look of our favorite chef's knives , this Cuisinart knife set is anything but dull (get it?). You can own the whole collection today for just $16, one of the best prices we've seen.

Don't let the colors fool you, these knives are stainless steel, and extremely sharp. The set has a 4.6 star average on nearly 4,000 reviews, and while the colors might not seem like your thing, they do help you keep track and avoid cross-contaminating food while you use them.
---
Snag some more Yankee candles for just $10 per large jar from this sale. They're discounting more than 50 candles with some of the classics, like Lavender and French Vanilla, plus a bunch of summer scents I haven't heard of before, like Summer Storm, Riviera Escape, and Turquoise Sky.
Orders over $60 will ship for free, which is kind of a steep threshold, but these candles normally cost around $20 each, so you should take advantage and stock up.
---
Update:This deal is back if you missed it earlier this month.
Stuff your face with over three pounds of Starburst candies for just $8, or the cheapest Amazon price ever. That's around 300 candies, and if you're lucky, you have a friend who is willing to eat the less delicious yellows.
It's an Add-On item so it has to ship with a larger order. You can save a little more when you Subscribe & Save, just remember you can cancel your subscription at any time after the first order ships.
---
Declare independence from your current furniture and decor and redecorate with Wayfair's huge 4th of July sale. The sale includes extra savings on living room furniture, wall art, lighting, kitchen & dining room furniture, and more. They've rolled back the prices on select area rugs down to $50 and are running special discounts on kitchen appliances. So whatever your home needs, chances are Wayfair has it.

The sale ends the 5th, so head over there and start shopping. Have any recommendations? Drop them in the comments.
---
Update:These discounts are back if you missed them a couple of weeks ago
It's not a true sitewide sale like we've seen in the past, but eBay's currently running a 20% promo code for a variety of sellers, most notably Dyson.

For a limited time, Dyson's eBay outlet is taking an extra 20% off any $25 order (maximum $50 discount) with promo code PARTYINUSA, including vacuums, fans, and even hair dryers. They sell a lot of new stuff on eBay, but the best deals are on the refurbs. Either way, they're sold directly by Dyson; this isn't a sketchy third party situation.
My favorite pick here would be the cordless Dyson V7 Animal (refurbished) for $210. If you want a corded upright, the Dyson Cinetic doesn't require a filter, and is a great option at $186. Just don't forget the code!
---
Shield a 15′ x 15′ area from mosquitoes with this $20 Thermacell lantern. It's flame free, odor free, and as long as you keep it stocked with repellent, you should be bug bite free. It typically sells for around $25, so at $20 it's a no-brainer if you plan on spending any time outside.

---
If your tires are about due for a replacement, Discount Tire Direct is offering up to $100 in Visa gift card rebates (in addition to any manufacturer rebates) when you order four new tires as part of their Independence Day sale, plus an additional $100 if you order wheels as well, with extra gift cards available if you use or sign up for a Discount Tire credit card. Just enter your make and model, click the options to see tires on promotion, and you'll see the rebate amount (either $25, $75, or $100) on the right hand side.
I took advantage of the basically identical Memorial Day sale last month, and it was easy. But just note that if you schedule your installation after the promotional period ends on July 1, you'll want to call your local shop and pay for the tires over the phone in advance so that your receipt falls within the valid date range. Otherwise, they'll charge you after they finish installation.
Just remember that you'll have to submit the rebate form yourself (you can do it all online) to get the gift cards. You can find everything you need to know here.
Sunglass Warehouse has some of the best pricing out there, but they've amped it up for Independence Day with 30% off sitewide with promo code STARS30. A bunch of options, even polarized ones, are only about $15 before the discount, so we're really talking about impulse pricing here.
---
Have a party coming up where jeans and sneakers won't cut it? Or a summer wedding you kind of don't want to go to? Pick up a pair of 3DM Lifestyle dress shoes to go with that suit, and smile knowing you look like a million bucks, but spent under $100. A quality pair of leather shoes is hard enough to find at a decent price, so Amazon wants to help you out a bit. But these prices will disappear quicker than a seasonal cocktail.
---
Know someone in the market for some tactical gear? Well, Amazon is marking down bags, carriers, blankets, and more, today only. There's basically anything an outdoorsman (or doomsday-prepper) could ever need from OneTigris.
---
If you don't know about Dallas-based Breda, you need to. The watch brand creates minimalist, easy-to-wear styles of watches that aren't overworked or over priced. And we've got an exclusive discount for you. Use the code KINJA4TH and grab select watches for 35% off.
---
It's really about time you go outside, especially with the couple days off for the holiday, and REI is gonna help you stay equipped. Their 4th of July Sale means up to 40% off gear, shoes, clothing, and more, from brands like Marmot, The North Face, Columbia, and more.
---
It ain't a Clear the Rack sale, but Nordstrom Rack is taking up to 90% off certain items for their Last Chance Clearance event. There's over 2,300 items to look through, from dresses and outerwear to shoes, and even beauty and some home goods", so there's bound to be something you'll want to buy.
---
Update: This $329 suit sale is back if you missed it a couple of weeks ago
Why buy off the rack when custom tailored suits are so affordable? From now until Thursday at midnight, you can look your best with a custom suit from Indochino, our readers' favorite custom clothing company by a wide margin. For a limited time, grab any suit from their Spring 2018 collection for just $329 with promo code KINJA18. That deal is exclusive to our readers, and a better price than you'd find anywhere else on these styles.

Note: The suits say $369 on the deal page, but the promo code will grant you an additional discount at checkout.
If you aren't familiar with Indochino, this isn't like buying a suit off the rack; it's tailored just for you. But if you don't have time to take your measurements right this minute, you can check out now and submit your measurements later, which makes it very easy to gift a suit for Father's Day. There are plenty of fun and colorful options available, as well as lots of business-minded suits that still look great.
Having a suit that fits perfectly is great, but the little details Indochino lets you customize, from your jacket lapels to pocket flaps to accent stiching around your buttons, are where things get fun.
How It Works
Measure and customize from home…
Follow the directions on Indochino's site to submit your measurements and customize your suit. Once the suit arrives, if anything doesn't fit quite right, Indochino will provide directions for your local tailor, along with a $75 credit to cover their work. If for whatever reason your tailor cannot resolve the issues, Indochino will remake your suit. Shipping and return shipping are free.
If you live near a showroom…
Purchase your suit online with our discount, then take your receipt into an Indochino showroom. They'll do your measurements, walk you through your customization options, and have your suit delivered to the showroom. Return once it arrives for any final alterations if they're needed.
---
It may be getting too hot outside to even think about spending more than 15 min in the sun, but that doesn't mean you should pass up a good outdoor gear deal. Backcountry celebrating Independence Day by taking up to 40% off a ton of apparel, gear, bags, and more.
---
Kindle ebook sales are basically a weekend Amazon tradition at this point, and today, it's all about biographies and memoirs with names like Harry S. Truman, Muhammed Ali, Joe Maddon, and more. Everything's priced at just $2-$4, so this is a great chance to load up your digital library.
---
The Nintendo Switch is better with friends, and you can add an extra player (or two, for certain games) by picking up an extra set of Joy-Con. Down to $67, it's still pricey but worth it for the ability to crush your friends hope and dreams in Mario Kart and Mario Tennis.
---
This $16 travel case for your Nintendo Switch seems a bit excessive, but it's got a space for everything you need to bring, including the Dock and charging cable, the extra grips, and more. For anyone that's planning on traveling with their entire Switch system, it's basically a no-brainer.
---
TECH
HOME
LIFESTYLE
MEDIA
GAMING