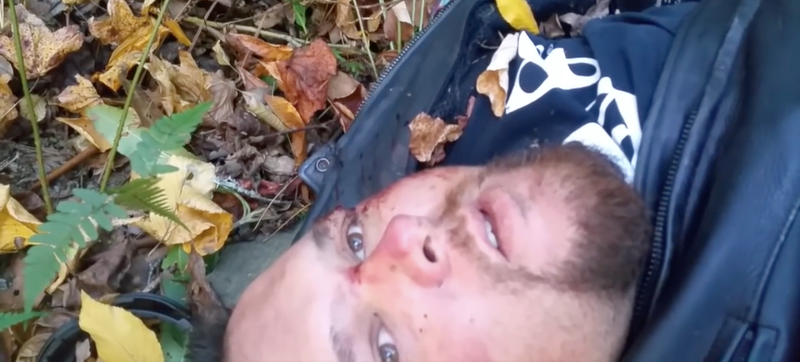 Crashed off the side of the infamous Tail of the Dragon with no reception, Kevin Diepenbrock thought he was going to die. In the 30 hours before his miraculous rescue, he recorded what he thought were to be his last words to his family.
You can watch the full video following the October 15th crash that Diepenbrock recorded here:
I don't have the wherewithal to do it, to be perfectly honest. It's too much for me to see this guy in his moment of greatest weakness, speaking to his family in the only way he can think of how.
Diepenbrock very easily could have died there. His friend and coworker Phil Polito crashed on another motorcycle riding with him, in fact, and was unfortunately killed not far from Diepenbrock, as the Knoxville News Sentinelreports.
Diepenbrock, though over a hundred feet down an embankment, said he could even hear traffic above him as he screamed for help. He feared for the area's rattlesnakes and bears, but he made it through the night. He also heard a nearby stream, but when he tried to crawl to it to get some water, he passed out because of the pain. The 41-year-old had punctured both of his lungs, he had 17 breaks in 12 ribs along with multiple spinal fractures.
Stories differ as to how he got rescued. WBIR News reports that Joshua Johnson, a passing motorcyclist, noticed some debris on the road and stopped to investigate what turned out to be Diepenbrock's crash site. The Knoxville News Sentinel, however, says a different pair of motorcycle riders stopped to get a drink just by where Diepenbrock had crashed. They heard him, went to a nearby photography store to get help, and returned with Johnson.
Either way, Johnson did not at initially realize that Diepenbrock was alive, but as soon as he did he sprung into action, eventually hauling him up the embankment on a stretch with the help of the Blount County Fire Department and the other motorists who had happened to stop at the spot. From there he got airlifted to UT Medical Center.
"He was coming out of there one way or another. I already had like five different plans on how he was coming out and one of them was going to work," Johnson told WBIR.
Diepenbrock has been laid up since the crash, but he hopes to get sent home to see his family next week.