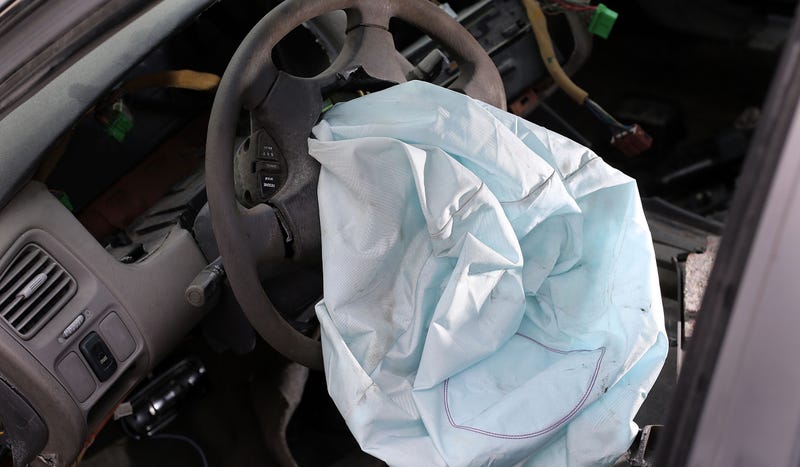 "Happy Manipulating!!!" wrote Takata airbag engineer Bob Schubert in an email obtained by The New York Times. Schubert's 2006 note regarding airbag tests was one of many documents unsealed from a personal injury lawsuit against Takata that suggest the company has a systemic issue with data manipulation.

http://jalopnik.com/takata-to-reca…
In case you've been hiding under a rock, Takata issued an enormous product recall for defective airbag inflaters where the ammonium nitrate material inside ignites more aggressively than it should, causing the inflater itself to break apart into shrapnel. The Times reports that the inflaters have been linked to eight deaths in the United States and over 100 injuries.

According to a prior report, Takata destroyed evidence of its defective inflaters after secretive tests revealed the issue in 2004. The National Highway Traffic Safety Administration also fined the company for not cooperating in their investigations, which the Times says was in part due to Takata's manipulation of data. Now, another scathing report includes emails that suggest that manipulating data for Takata customers was ingrained into the company's culture.
http://jalopnik.com/report-takata-…
Takata told the Times that the unsealed emails were unrelated to the lawsuit and the defective airbags, as they were only referring to formatting data, and the company even thanked Schubert for being a whistle-blower early on.
Others didn't see these emails as the mostly harmless office banter as Takata probably wishes they were. From the Times' article:
[F]our airbag experts asked by The New York Times to review the emails said that the emails suggested an effort to misrepresent testing data.

"To have these kinds of offhand remarks shows that this is a systemic issue at Takata," said Mark Lillie, a former Takata engineer and whistle-blower.
Emails suggest that the practice of manipulating test results dates back to at least 2000, when American employees documented the discrepancies in test results sent to Honda, where several airbag ruptures in testing were reported as normal deployments. The tests that brought the most concern were those at higher temperatures. Higher temperatures and moisture are known to make the ammonium nitrate in Takata airbags more volatile.

Even Schubert, author of the "Happy Manipulating!!!" email, raised some concerns over a decade ago. From the Times:

Then in January 2005, Mr. Schubert alerted a colleague in a memo that he had been "repeatedly exposed to the Japanese practice of altering data presented to the customer," adding that such conduct was described at Takata as "the way we do business in Japan."

In the memo, Mr. Schubert warned that while the fudging of the data had initially not changed the fundamental conclusions of the data, the practice had "gone beyond all reasonable bounds and now most likely constitutes fraud."

"I cannot, in good conscience, fail to report these issues to you," Mr. Schubert said, according to the memo.
A year later, emails obtained by the Times suggest that Schubert was urging colleagues to tweak the data to make results appear better:

In response to Mr. Schubert's invitation — "Happy Manipulating!!!" — a colleague appeared to be more cautious. "If you think I'm going to manipulate, you really should try and get to know me better," he insisted. Yet he offered: "I would be willing to deviate for running slightly high" in tests at higher temperatures.

"Hey, I manipulated," Mr. Schubert responded. The objective, he said, was to help disguise that some of the inflaters performed differently from the rest — a dynamic referred to as "bimodal distribution."

"I showed all the data together, which helped disguise the bimodal distribution," Mr. Schubert wrote. "Nothing wrong with that. All the data is there. Every piece," he added. But then he suggested using "thick and thin lines to try and dress it up, or changing colors to divert attention."
Linda Rink, a senior staff scientist for airbag manufacturer Autoliv, told the Times that such a tweak in presentation would need further explanation—not a cover-up. The New York Times' full analysis of the unsealed documents can be read here, and it's a must-read take-down of Takata's allegedly shady testing practices.

What's next for Takata? Probably more recalls may be on the way unless Takata can prove that the ammonium nitrate used in their airbag inflators is safe.
Photo credit: Getty Images


---
Contact the author at stef.schrader@jalopnik.com.