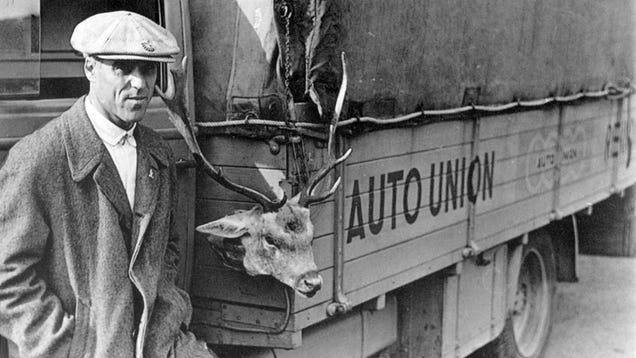 Hunting game and racing cars are generally pursued as separate pastimes, but not by Tazio Nuvolari at the 1938 Donington Grand Prix, where, as evidenced by a severed head, he did both with great aplomb.
It was a weird race to begin with. Originally scheduled for October 1, 1938, the German teams were already in the UK when the Munich Pact—Nazi Germany's annexation of Czechoslovakia's Sudentenland—was signed on September 30. According to Leif Snellman's The Golden Era of GP Racing, Mercedes and Auto Union were in quite a hurry to exit Blighty:
The German teams, who are at Donington for the GP race, are getting order from the German embassy to leave England as fast as possible and in worst case leave the material. The teams leave Donington for Harwich and the Netherlands on two hours notice. The mechanics are prepared to put fire on the cars if stopped on the road.
The race was rescheduled for October 22, and it was during a practice session that Nuvolari hit the deer with his Auto Union Type D. Nuvolari escaped unharmed. The deer didn't. It made for an amazing magazine dramatization, splendid team bus decoration and something of a good luck charm for the 46-year-old Nuvolari. He beat all four of the faster Mercedes cars, set a bunch of lap records and took the victory by a minute and a half.
By the time the 1939 race would have been held, Nazi Germany had graduated from annexing parts of Czechoslovakia to all-out war against Poland and European motor racing was over. After a longish wait of 55 years, Grand Prix racing returned to Donington Park for one last time on April 11, 1993, where a certain Brazilian beat both of the faster Williams cars and took the victory by a minute and a half.
His name was, well, you know his name.
Photo of diorama by RacingModels