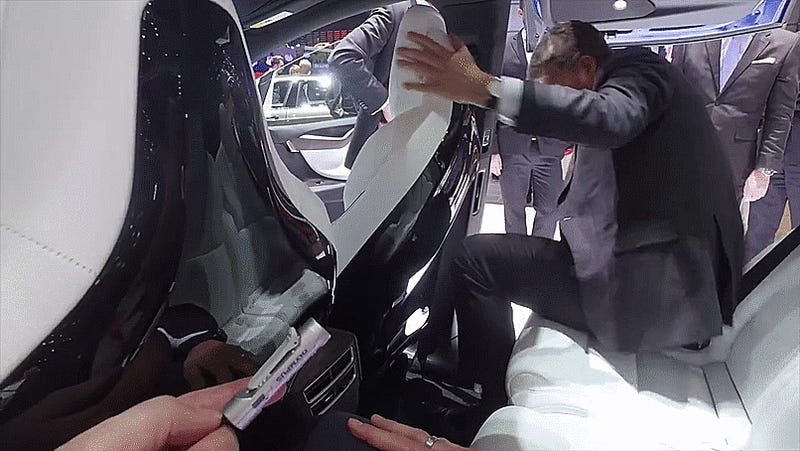 We here in America have been playing with the new Tesla Model X's "Falcon Doors" for months, but the new fully electric crossover just made its debut in a faraway land called Europe at last week's Geneva Motor Show—where it attacked the CEO of German automaker BMW.

http://truckyeah.jalopnik.com/video-what-its…
The Model X attacked BMW CEO Harald Kruger on the Tesla stand at the show shortly after Mr. Kruger was caught calling the car "just a prototype" in a video uploaded to the Facebook account of WirtschaftsWoche, a German business magazine, via Electrek.
The video starts off with the camera person talking to the German Tesla boss when a wild gang of BMW employees show up, led by the CEO, to check out Tesla's new crossover. Once Mr. Kruger realizes he's been spotted by the interviewer, he's asked what he thinks of the Model X, remarking to it only as a "prototype."
He then frantically reaches for the button that lifts the awesome (and dangerous?!) "Falcon Door" and steps out, only to smack his head on the door that hadn't fully opened.
Did a sentient Model X not take kindly to Mr. Kruger's rude remark and intentionally hit him on the head? Or did one of the other BMW goons stop the door when they touched it in furious admiration?
We can't say for sure, but we do know the latest Tesla software is pretty damn sharp and probably always listening.
Here's the full video (in German, entschuldigen sie) from WirtschaftsWoche:
Karma is a bitch, Harald.
---
Contact the author at justin@jalopnik.com or @WestbrookTweets.