Best Deals of the Day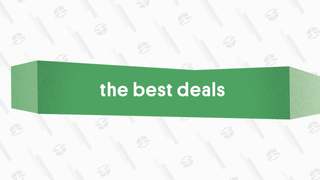 Best Deals of the Day
The best deals from around the web, updated daily.
Friday's Best Deals | Kinja Deals
It's September 4 and you know what that means. Time to bring back our old friend, the 10 best deals of the day post. You think you saw the last of me, huh? Well, buddy, no offense but you're mistaken. The last time we ran a 10 best deals of the day post was back in early May. Since then, it's been nothing but Long Ass Posts (LAPs), like this one. But we've heard your cries for help while browsing our daily deals. Sometimes it's too overwhelming, too overpopulated with pure, unadulterated Content™.

4 months later, heading into Labor Day weekend, in which TREMENDOUS SALES will occur, toppling the diamond-encrusted doors of Big MSRP, we here at Kinja Deals have decided to revive the much-requested 10 best deals of the day in preparation for the most historically important sales holiday of the year. So put your shoes on the sofa, say, "fr*ck the man," and save money without scrolling for a thousand years. Still, if you've got nothing better to do, you might otherwise miss out on that one thing you've always wanted to buy but couldn't justify on a budget in Friday's best deals overall.
After hosting its first exciting Direct in what feels like ages, it became clear that—unlike the Tokyo Olympic Games—working-class hero Mario Mario will be able to attend his own birthday this year. That's right, it's the 35th anniversary of the mustachioed plumber, so of course Nintendo had a few surprises up its sleeves, namely the 64/Sunshine/Galaxy-toting Super Mario 3D Collection, which is slated to arrive later this month, on September 18.

In the meantime, if you just can't get enough the guy, Mario's other adventures are on sale for $40 including: New Super Mario Bros. U Deluxe—a 2D sidescroller that originally appeared on the Wii U back in 2012—Mario Tennis Aces, and Super Mario Maker 2. The latter, a build-your-own-level creator akin to LittleBigPlanet, is on sale at Best Buy, whereas the other two are $20 off on Amazon. While you wait to revel in nostalgia with old-time favorites in a limited-time package, why not check in on your good pal Mario and see how he's been doing lately?
G/O Media may get a commission
Bellesa is so good to us. They just know how to make us happy, oh so happy. To celebrate the holiday weekend take up to 25% off the entire site with the code LABORDAY.

Bellesa's claim to fame is some of the most beautiful, efficient, and sexy vibrators. But I want to spotlight their t-shirt line too. The company mantra, and honestly it should be all ours, 'No Fake Orgasms' ($24) is probably one of my favorites they have to offer. This is something everyone should thrive by.
As mentioned, Bellesa actually designs their own toys which is phenomenal. My personal favorite is the Nirvana Wand ($95). It's actually a magical wand and easily became my go-to. It's already on sale so with the additional deal you'll save $64. That's a steal for such an incredible toy.
Playtime can be super fun with a partner too. We want couples in on the action too. Sex tech is dope and wearable/remote vibrators are very much apart of that. The Unite ($80) can be worn safely and snuggly during sex. The user-friendly remote can be controlled by you or your partner. But why not let your S.O. do the driving, they can still press your button from three meters away.
Free shipping on all orders over $29 and this deal looks to run through Monday.
Y'all, let me tell you: I've seen some nasty videos from some nasty people spitting in other's peoples faces. If you're particularly vulnerable and you're dealing with hordes of people on a daily basis, consider purchasing this ten pack of face shields for just $19. Elastic straps connect to a foam band that keeps it comfortable on your forehead, and it's adjustable, so this can fit children and adults alike.

This deal was originally published by Quentyn Kennemer in July 2020 and updated with new information on 9/4/2020.
As I expressed in an earlier Co-op, I'm on the prowl for my first cordless vacuum. So while I can't vouch for the Dyson V7 Origin myself, hearsay suggests it's one of the better options out there (let me know what you think in the comments), and Dyson generally makes high-quality products which makes this deal hard to ignore: Newegg is selling the Dyson V7 Origin Cordless Vacuum for $200.

This deal was originally published by Gabe Carey on 6/10/2020 and updated by Jordan McMahon with new information on 9/3/2020.
If quarantine's left you antsy, maybe you've spent some time cleaning out your closet. If you've realized that most of your wardrobe is filled with stuff you're never gonna actually wear, perhaps it's time to give some new threads a try. Don't splurge too much, though, a good sale's worth waiting for. Right now, you can get up to 87% off at JACHS NY on pieces like this bird print Chambray shirt for $12, these zig-zag chino shorts for $12, or this fleece hooded henley for $35 if you're getting an early start on your winter attire.

If you're looking for women's clothing, JACHS has a pretty sparse selection, with only 25 items, and the discounts aren't nearly as steep as on men's clothing, but it's still worth a look if you want to save $20 on a piece or two.
Ever since Vava blew me away with their 4K ultra-short-throw laser smart TV projector at CES earlier this year, I've had back and forth conversations nearly every week trying to score a discount for Kinja Deals readers. Today is the day it finally happened. As the prophecy foretold, you can slash $200 off the projector starting today on the Vava website using the promo code LABORDAY200. You can order it in either a black or white finish straight from the company.

But don't worry about signing up for a new account. You can check out with PayPal to expedite the process.
This deal was originally published by Gabe Carey on 8/5/2020 and updated with new information on 9/4/2020.
If you're going full Shia Lebouf in your wardrobe—that is, Nike—this special Apple Watch Series 5 needs a spot on your wrist. It comes with Nike Run Club for guided runs, plus exclusive Nike bands and watch faces. The 40mm model with GPS + cellular connectivity is usually sitting at Nike's shop for $500, but it's down to $425 today. You can find a similar discount for the 44mm model, bringing the price from $529 down to $450.
Admit it, you love the Baby Yoda. Because the Baby Yoda was focused grouped so meticulously it's hard to deny The Child's appeal, even if you want to eat him. And with The Mandalorian season 2 confirmed for October 30, it's convenient Amazon has put this Funko Pop recreation of the show's main protagonists on offer at a 24% discount, bringing the subtotal down to $25 before checkout. While the listing page suggests the ornament came out earlier this week, our price history tracker dates it back to early June.

Either way, it's more realistically down from $30 rather than the original $32 list price, since that's the highest we've ever seen it. Still, a $5 discount is better than nothing, and there's no telling when it might bounce back up. At smaller discounts, you can find more Baby Yoda Funko Pop variants, including an adorable Force-wielding one, the super cute Baby Yoda eating a frog (oopie), and the original Baby Yoda Funko Pop that still remains our readers' favorite product of the year so far, at a decent 18% off. All cheaper than the Mandalorian and Child Moment but without the dramatic freeze-frame suspense. For more cheap Funko Pops from your favorite stories, take a peek at our top deals.
It's weird, it doesn't feel like football season. Maybe it's the no real training camp news, players opting out, or knowing I won't be in a stadium this year that's made it all lackluster. It's an overall bummer. But that doesn't mean I won't be in my jersey for the first game of the season. The best way to make this more enjoyable is by having our best fur friends by our sides decked out too. Chewy wants you prepared for all the big games with this NFL sale.

So depending on your team, the price will fluctuate a few dollars. Obviously, as reigning champs and kicking off the season Kansas City is little more than the other franchises currently. The jerseys ($13) are 100% satin, poly mesh, lightweight and comfy so the doggos or kitties will be happy all four quarters. Now add a collar ($8) for your good boy's jewelry (Name tag/ID) as my vet calls it. It's durable nylon and adjustable for a comfy but snug fit. The leashes ($10) proudly show team pride as well. They even go up to the perfect socially distancing length of six feet.
Free shipping on all orders over $49.
For $129, snap up 10 pieces of Cuisinart's stainless steel cookware at MorningSave. I make it sound like a bucket of fried chicken, but these aluminum-encapsulated cook items heat up quickly and evenly. Here's everything you'll find in the box:

1x 1.5 Quart Saucepan with Cover
1x 2.5 Quart Saucepan with Cover
1x 3 Quart Saute Pan with Cover
1x 6 Quart Stockpot with Cover
1x 18cm Steamer Insert (fits 2.5 Quart Saucepan)
Grab yours at MorningSave before they sell out.
This deal was originally published by Quentyn Kennemer on 7/13/2020 and updated with new information on 9/4/2020.
---