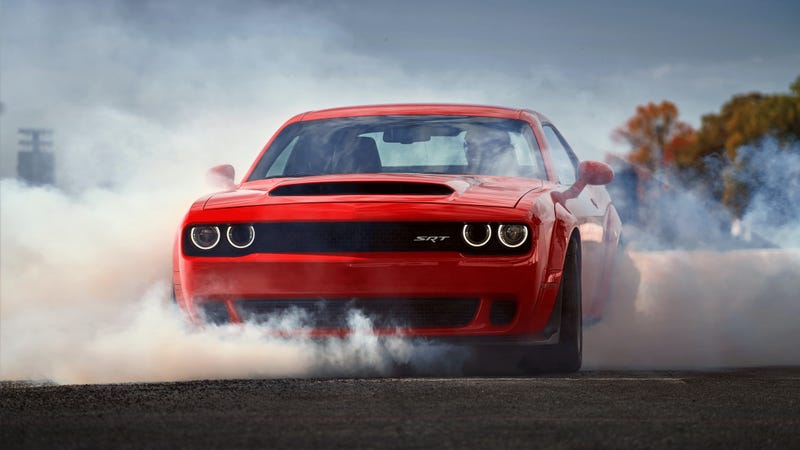 To get that extra 133 horsepower over a basic, boring, DONE! Dodge Hellcat, you're going to have to shell out nearly $20,000 more. Dodge announced pricing for its newest, shiniest hyper-muscle-car today, and you'll pay at least $84,995 for a base model Demon. That's nearly as much as the last Dodge Viper.
The upside? Many of its options cost only a buck. That $84,995 tax on terrifying your neighbors who still see the mark of the beast in Monster Energy cans includes a $1,700 gas guzzler tax, but excludes the usual $1,095 destination fee.
But look at what you can get for only a dollar (each) on top of that!

A front passenger seat for horrifying your mother.

A rear seat available in leather or cloth for making the entire family's life flash before their eyes.
The "Demon Crate," which includes skinny front tires for the drag strip, a performance powertrain control module that unleashes all 840 hp on race gas, a conical air filter, passenger mirror block-off plate, two valve stems, and a tool kit for track use.

A trunk carpet kit.
Dodge claims the true value of the Demon Crate is $6,140, but as Autoweek notes, it's clear that they've just baked it into that mega-high price for the basest of base Demons.

Of course, there are pricier options, including $195 for red seat belts, $1,995 for a black satin painted hood, and a $3,495 Painted Black Satin Graphics Package.

If you want to use that 840 HP to haul yourself around comfortably, a $1,595 Leather Front Seat Group option comes with a host of comfort options like heated front seats, a heated steering wheel and upgraded floor mats. For $995, you can spec the Comfort Audio Group, which keeps the heat-friendly cloth seats that are also heated and cooled but adds an upgraded 18-speaker Harmon/Kardon stereo system. If you'd like leather, alcantara, upgraded audio and tons of comfort features, Dodge will tack on $2,495 to that already insane price.
Want a sunroof? It's the priciest option of them all at $4,995, but that's well deserved. Think of all the weight you're adding to the top of a track-oriented car! I consider this a tax on people who want to ruin a good thing.

We all know that evil feeds on cash, so it's only appropriate the Demon is going to cost you bank—but it's a small price to pay for drag strip domination.