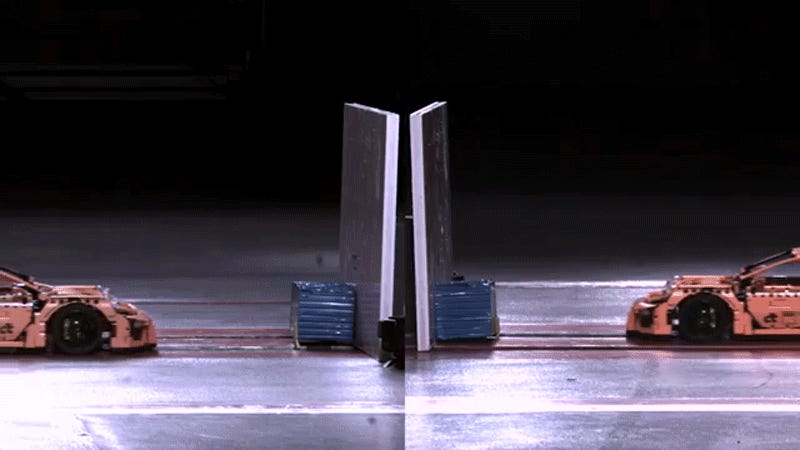 Everyone loves Lego, right? Of course you do; you're not some kind of monster. I'm sure that anyone who's ever built a Lego car has wondered, at least in passing, say, wouldn't it be great if I could just build a real car out of Lego? Just in case the weight and cost calculations didn't wise you up about why that would be a terrible idea, this crash test video should.
The Lego Porsche crash test was performed by ADAC, essentially Germany's version of the AAA. ADAC, it seems, occasionally likes to have a little fun with the crash-testing, hence the test of the $300, 2700+ piece Lego Technic Porsche 911 GT3 RS.
The Lego Porsche was crash-tested on a special sub-scale track built at the at the ADAC Technikzentrum, and the car reached speeds of about 28 MPH. That's pretty good for a Lego car.
While the test looks pretty disastrous, when you really look at the aftermath, the Lego car held up better than you'd expect. An ADEC crash-tester summarized the damage:
"The result was impressive and different than expected. "The chassis of the car had no problems with the high speed, and there were very little damaged stones on impact. It was almost exclusively the click connections between the components."
So, that makes sense. The individual Lego components were just fine, but they were mostly dislodged by the force of the impact. That means, thankfully, the car can be rebuilt. Anyone who's ever dropped an entire weekend's worth of Lego-labor can confirm this.
While the result looks pretty disastrous, rebuilding is far easier than in our silly metal cars. Plus, in a world of Lego cars, you could staff body shops with 8-year-olds, who have much lower labor costs.
I bet this test has been done before by miserable people with slippery hands