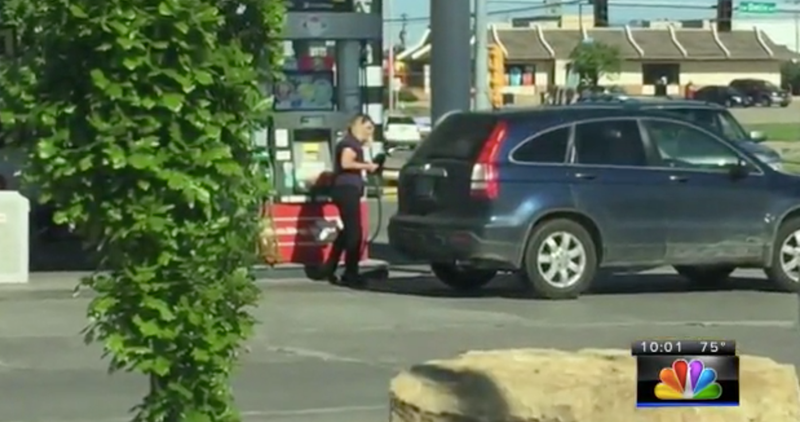 In April, we wrote about a Kansan known as "The CR-V Lady," whose driving is so poor, there's actually a Facebook page called "CRV Lady Awareness Of Topeka" to warn citizens of her whereabouts. Now "The CRV-Lady" just lost her license, according to KSNT, but that hasn't kept her off the road, or from getting into a spat with a police officer.

The news site wrote on Saturday that, according to records from the Department of Revenue, "The CR-V Lady"—also known as Patricia McDonald—has had her license revoked. The day after that article, KSNT wrote that McDonald got into an argument with a worker at the Kwik Shop because she lacked identification needed to use a check to pay for fuel.
Police eventually came by the gas station, where McDonald allegedly yelled at an officer and drove away erratically. A witness described her getaway, saying:
She made a big u-turn in the turning lane around another car into oncoming traffic, driving very recklessly. It made my heart drop. I was afraid someone was going to get hit.

KSNT says McDonald has been accused of two major driving violations—reckless driving and leaving the scene of an accident—and that she was previously placed on diversion last year for "unsafe driving."
She'll be back in court on May 24, as prosecutors in Topeka are calling for the removal of that diversion ruling. She's also due in court on June 1 to address the charges of reckless driving and leaving the scene of an accident.
I'll remain sensitive to the fact that I don't know what's driving McDonald to drive erratically or without a license. Whatever it is, I hope she gets it solved soon, for the sake of everyone on the road in Topeka, Kansas. And also for the sake of that poor, poor Honda CR-V.