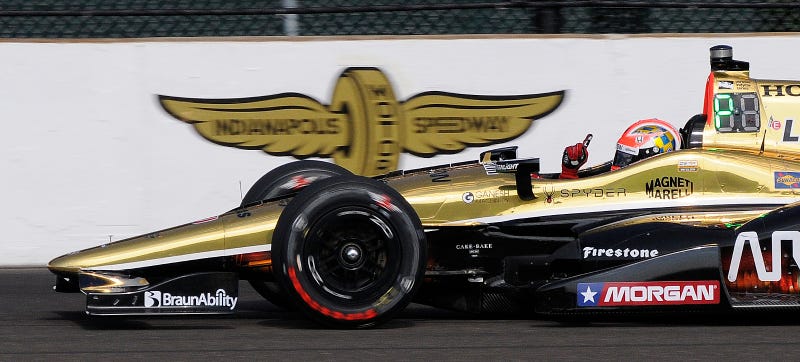 It's time for the so-called "greatest spectacle in racing": the Indianapolis 500. This year's race is even more intense given that it's the 100th running of the big show. Here's why you should tune in, besides the fact that if you don't you're a bad American.
IndyCar often feels a bit forgotten despite usually putting on a great race. But if people tune into one IndyCar race every year, it's the Indy 500. The Indy 500 has long been considered one leg of the Triple Crown of Motorsport, alongside the Formula One Monaco Grand Prix on Sunday and next month's 24 Hours of Le Mans. In other words, the three most prestigious races in the world. And this internationally respected, glamorous event happens right smack-dab in the middle of Indiana.
The race has been running since 1911, only breaking twice for the two World Wars. For the first time in years, it's running in front of a sold-out crowd. Even the practice of tape-delaying the race for central Indiana locals has even been suspended for the first time since the early 1950s.

But should you watch? It's not like there's a shortage of motorsport going on this weekend, with the 24 Hours of Nürburgring, Monaco Grand Prix and NASCAR Coca-Cola 600 all vying for your attention along with whatever cook-out/loafing shenanigans you have planned for your holiday weekend.

But the Indy 500 is America's big tradition, dammit, and it's hitting a big milestone this year. You're not just watching a race at this point. You're watching history be made.
Here's what you need to know.
So, what's the deal with IndyCar?
IndyCar is America's major open-wheel series, but it operates outside the whole Formula One ladder system. You may recognize several names like Alexander Rossi or Juan Pablo Montoya from F1, but other drivers came up through Indy's own Road to Indy feeder series—or elsewhere. One such series, Indy Lights, ran alongside IndyCar today to an incredibly close photo finish.

http://jalopnik.com/use-this-chart…
IndyCars look a bit like Formula One cars, but they run on everything: road courses, street courses, and ovals. The most noticeable difference is the beefy additional structure guarding the rear wheel to prevent cars from riding up on other cars' tires.

Didn't this used to be a bigger deal?
Yes! Part of that goes back to the acrimonious series split between the Indianapolis Racing League and Championship Auto Racing Teams (or CART, for short) that happened in the 1990s, cutting American open-wheel racing in two. The fanbase was split, and the series never quite recovered its popularity once everything folded back into the single IndyCar league in 2008.

But every time I watch a race, I'm kind of baffled as to why it's not more popular. When I spoke with several drivers yesterday, many were optimistic that this 100th Indy 500 would finally show the general public that yes, Americans still know how to party in this type of racing.
The racing itself is a blast, so long as they're on a course that allows ample passing and some good dicing back and forth.

http://blackflag.jalopnik.com/rahal-wins-at-…
Of course, we're at one of their best venues on the schedule for ballsy passes and rapid-fire lead changes, not to mention the namesake of the current series: Indianapolis Motor Speedway.

What's so special about the Indianapolis Motor Speedway?
History. Tradition. Spectacle. Sometimes, those are code words for "stuffy," "drawn-out" and "pointless," but when they're in reference to a rowdy race held in a modern-day coliseum dedicated to speed, there's nothing stuffy about it. In fact, the great cross-section of America that comes out for these races ranges from high-class connoisseurs of speed to a bunch of down-home Midwestern good old boys.
There's a very real sense of history here. These cars run over the same rounded-off rectangle that was topped with bricks in its early days, hence the nickname "Brickyard."
Among the fans, everyone seems to have a story from some previous year at the 500. Unlike many race courses, the neighbors seem to embrace being next to a loud, noisy speedway. It's a massive party, and the partying extends from the infield where you'd expect it out into nearby homeowners' yards.

In other words, it's a classic, historic venue that operates with full, loving support from its city—something that's become all too rare in this era of funding woes and insufferable NIMBY neighbors.

So, that's the Indianapolis part comes from. What's the 500 for?
It's a 500-mile, 200 lap race on a 2.5-mile asphalt-topped oval. Teams can field one or more cars, but most of the focus is given to the drivers. It's one driver per car for the whole 500—first one to the finish wins.
Driving 500 miles in crazy open-wheel racers with no power steering is a monumental feat. NASCAR's Memorial Day weekend race, the Coca-Cola 600, went with 100 more miles to one-up Indy's race, but Indianapolis had already established its worldwide importance before the Coke 600 was a figment of anyone's imagination.

When is the race on Sunday?
The race itself starts just after noon Eastern time on Sunday.
The Indianapolis 500 is a massive two-week extravaganza, so all of the practice sessions are done by now. Saturday is full of concerts, some historic race car laps, the race parade and more prep work by the teams.
I'm guessing they fill time with a lot of "traditions," then.
Yes! But good news: most of them don't suck. It's very pomp-and-circumstancey in a way that manages not to be cloying, unlike your friend's too-long wedding.

Traditions, which range from the Saturday parade to the various songs performed before the race to the Last Row Party to the milk handed to winners, are a pervasive part of the Indianapolis 500 weekend, and most are pretty fun.
There's an entire Wikipedia page dedicated to all of the Indy 500 traditions here that gives a good, exhaustive run-down.

http://blackflag.jalopnik.com/why-do-drivers…
What are the cars like?
Unlike some of the formula series, the cars all share a common Dallara IR-12 chassis.
Two manufacturers—Honda and Chevrolet—supply V6 turbo engines for the series, and each manufacturer has an "aero kit" of various wings, flaps and other aerodynamic devices teams can set up to their will. Jason has a good run-down of the car tech here.

Yes, that's a lot of spec stuff for a car, but with Honda and Chevy neck-and-neck in practice and qualifying times, it should produce a good, close race. Let's not shrug the cars off as nothing special, either. Cars reached speeds of over 240 mph in practice sessions.
That's over twice what my humble Mitsubishi Lancer can do on Circuit of the Americas' long straight. IndyCars are built for insane speed.

Yeah, but which car should I root for?
Pick one you like! That's the beauty of driver-centric series: it's a lot easier to pick a car. If you're a diehard Honda or Chevy fan, sure, stick with your brand, but there are plenty of personalities on the grid to follow for various reasons.

Polesitter James Hinchcliffe probably has the most amazing comeback story on the grid. He nearly died in a brutal crash during practice for last year's Indy 500, but this year, he's starting the race at the front of the grid. He's also just a likeable guy. His old Hinchtown videos are hilarious, and he's also a fan of sneaking funny photos onto credentials.

http://blackflag.jalopnik.com/james-hinchcli…
Elsewhere, we've got six Indy 500 rookies and six former winners of the race.

American Manor F1 reserve driver Alexander Rossi is one of those rookies, and his eleventh place starting position doesn't accurately portray the speed he showed in practice. Like many others from the defunct Nissan LMP1 effort, ex-Nissan GT-R LM Nismo driver Max Chilton switched to IndyCar for this year—he's another rookie on the list.

IndyCar racer Justin Wilson lost his life in a crash at Pocono last year, and his brother Stefan had hoped to compete alongside him in the 500. Stefan is instead finding some help in his brother's notes, and using the opportunity to raise awareness for organ donation.
http://blackflag.jalopnik.com/justin-wilsons…
Among the six past winners on the list, perennial favorites such as Tony Kanaan and Helio Castroneves are joined by Buddy Lazier—a winner from 1996.
There's only one woman competing, and her bright pink car is hard to miss: Pippa Mann. She qualified 25th, but just had a gnarly crash in practice, so her team is rushing to get a car back together as we speak. (Another female driver, Katherine Legge, was not able to secure a "viable car" for the race.)

It's a full 33-car race, although no additional entries had to be "bumped" off the grid in qualifying this year. Take a look at the list here—there's no shortage of good drivers with fascinating stories.

Who's actually won this season?
Simon Pagenaud, starting from 8th place. Dude is a beast, having won three races this season. He's also a pretty good sport about the fact that he really does look kind of like Jean Girard from Talladega Nights.

Previous Indy 500 winners Scott Dixon and Juan Pablo Montoya have one win each this season, too. They start 13th and 17th, respectively, although given that Montoya successfully worked his way from the back last year to take the Indy 500 win, the starting positions for these guys don't mean much.

There's one name worth mentioning for a ridiculous balls-out performance at Barber Motorsports Park alone: Graham Rahal. Just watch this crazy battle. He'll probably end up with a win sometime this season.
Should I expect more crazy battles at this race?
Yes. Absolutely. That's what this place is good for. It's a big, wide oval with plenty of space to pass and everybody wants to win the Indy 500.

Let's watch this, then.
Awesome! Fortunately, that's pretty easy to do this year. If you're here, great! Enjoy. We're here, too. Say hi if you see us.
If not, you can catch pre-race activities starting at 11 a.m. Eastern and the race itself at 12 p.m., both on ABC.
Watch it for America.
[Update: This article originally listed the network for the broadcast as NBCSN, but it is, in fact, on ABC instead. This has been corrected above.]