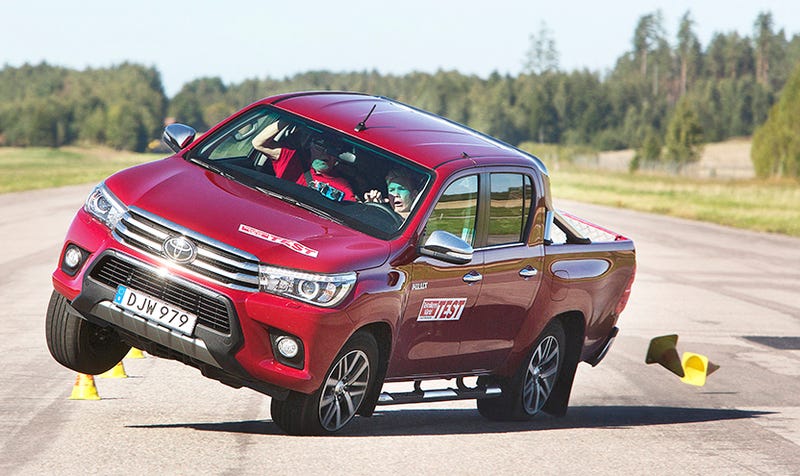 The Toyota Hilux is supposed to be right behind cockroaches and John McClane on our comprehensive list of "hardest things to kill." But looks like we might have finally found this supertruck's kryptonite: evasive maneuvering.
We've seen a Toyota Hilux survive exploding buildings and a road trip to the North Pole. But try to make an aggressive lane-change at 37 MPH and suddenly the thing looks as safe as being a bad henchman in a James Bond movie.
The Swedish car safety inspectors at Teknikens Värld love the "moose test" because it simulates something Swedish drivers deal with all the time: dodging a moose at cruising speed. Auto manufacturers hate it because it puts a very visually unsettling strain on their vehicles. We naturally love it for the same reason. But you don't need to live where wild moose roam for the test to be relevant– imagine anything popping into the road while you're plodding along at 35 MPH, it's still good to know how your car will react.

Back in 2007, TV tested the Hilux with similarly catastrophic results at 35 MPH. Almost a decade later, the new version of the same truck still looks scary-close to flipping over in the same test at close to the same speed.
Now even though 35 MPH isn't all that fast, you can see this quick double lane change puts a lot of stress on any vehicle. Especially something like a truck with a higher center of gravity.
So for context, watch TV's whole video. You'll see a Ram 1500, Nissan Navara, Volkswagen Amarok, Ford Ranger, Isuzu D-Max (Chevy Colorado) and Mitsubishi Triton go through the same test with significantly less dramatic results.
TV reports that its tests are conducted "with the pickup trucks' maximum load according to the specifications provided by the manufacturers." This Hilux is rated to carry 2,209 pounds, but was only carrying 1,830 because the testers apparently ran out of weights. TV says that should rule out excessive weight being a problem.
"If (an overloaded truck) would be the case the suspension should have bottomed out but it didn't. Instead I think the problem lies in the absence of anti-rollover systems and the grip of the tires," says TV's tester Ruben Börjesson.
So what's the deal?
Toyota Sweden's General Manager of External Affairs/PR Bengt Dalström has already provided an official response to Teknikens Värld:
Based on all the tests carried out during development, we are confident that the Toyota Hilux is a safe vehicle. As we understand, you have performed an evasive maneuver test according to your magazine testing protocols on several pickups, including the Toyota Hilux. You have informed us that the Toyota Hilux is not living up to your expectations. We were surprised by the test result, and we will take your evaluation very seriously, in the same serious way we do with the capacity for evasive maneuvers in the development of our vehicles. Hilux has been repeatedly tested according to the ISO 3888 standard for evasive maneuver tests during the development of the model and then it passed the tests successfully. Several technical parameters have an impact on the outcome of an evasive maneuver, so we want to better understand the exact parameters for your test.
At this point there are hundreds of thousands of Hiluxes running around the world built since 2007, and I don't recall reading about an epidemic of rollovers with these trucks in the last decade. That said, the video evidence is pretty clear– the Hilux looks a whole lot less stable than the other pickup trucks depicted.
It remains to be seen whether Toyota will actually look into what happened or change anything about its truck based on this test and results, but at least you know what might happen if you try to dodge a moose in one at city-driving speed.