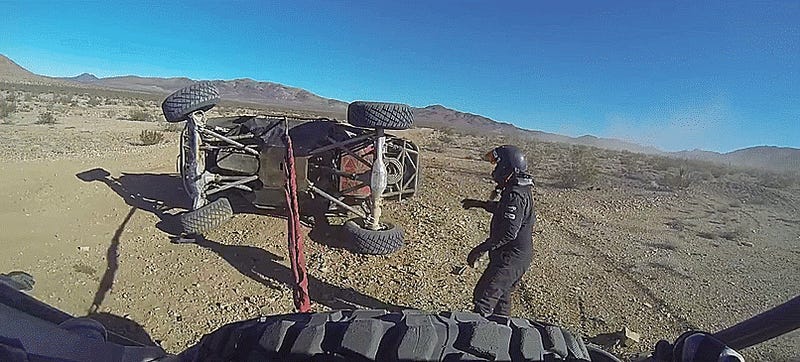 Southern California's annual "King Of The Hammers" off-road race is one of the gnarliest and most exciting motorsports events you can experience all year. It's speed. It's adventure. It's camaraderie. And scenes like this are exactly what I'm talking about.
The BroadSword Racing team had GoPro cameras running at the front and rear of their Ultra4 car 4503 at this year's event when they came across competitor Duane Garretson and his co-driver; stranded in the desert with their vehicle parked on its door.
It's not readily apparent how Garretson crashed in what looks like a relatively flat section, but the decisive action of the BroadSword crew to get them righted again is some class-A sportsmanship. It's a tremendous example of how to behave when somebody's stuck in the middle of nowhere, and a great illustration of the respect Ultra 4 driver have for each other. Even when they're trying to beat each other to the same finish line.
BroadSword's Facebook page explains that most team members are active duty U.S. Marines. Unfortunately, they did not finish the race this year.
"We started 38th and fought our way to 7th place by race mile 72 when a front upper suspension joint failure ended our day early," they said in a post. But apparently they plan to keep competing in the fierce Ultra 4 series and we just might see them at King Of The Hammers again.
You don't see F1 drivers pulling over to pull each other out of the run-offs. I think that's exactly why I like off-road racing so much more.
Images/video via BroadSword Racing
---
Contact the author at andrew@jalopnik.com.