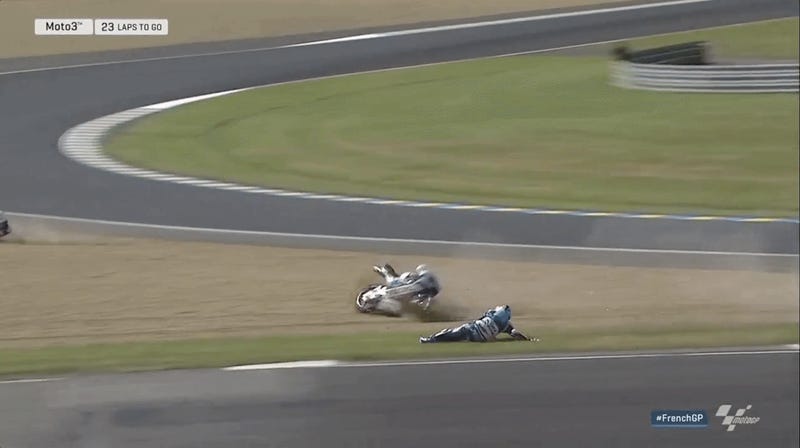 During the Moto3 race at the MotoGP World Championship's French Grand Prix over the weekend, it was almost like some sort of weird, hypnotic spell had been put on the field. As if prompted, a huge group of riders began solo slides into a gravel trap along the race course in an almost surreal fashion.
According to Motorsport, earlier contact left rider Adam Norrodin's bike leaking oil around the Le Mans circuit in France. When the rest of the field came around and hit that oil with 23 laps to go, well, the result was a mega-wreck that looked more like an artistic animation than a scene from a race broadcast.
The race went under red flag for cleanup, and officials shortened the race to 16 laps total. The MotoGP race recap said all riders were cleared to come back out for the restart, but the results classified Norrodin as "not starting."
Seven other riders wound up near Norrodin in the "not classified" category after things restarted, and Joan Mir wound up winning the race over fellow Honda riders Aron Canet and Fabio Di Giannantonio.
Thanks for the tip, Dan!