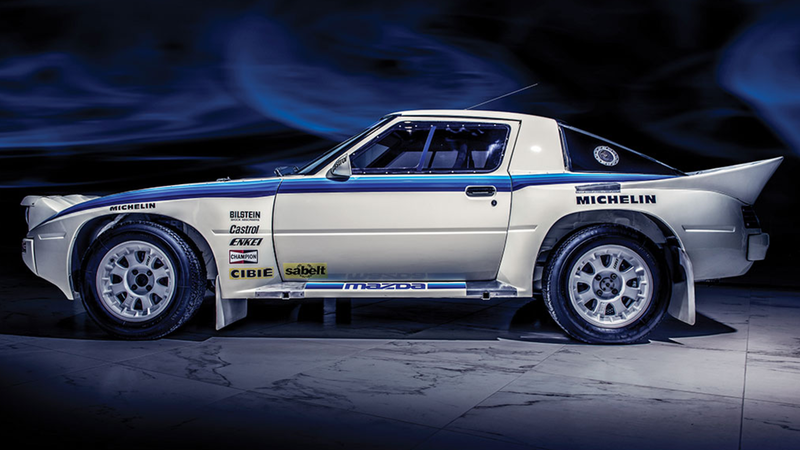 Under normal circumstances, a Mazda RX-7 Evo Group B Works car would be absolutely incredible to drive or own. One goes up for sale next month, except it has a unique twist—it's never once been driven or raced.

That's right; RM Sotheby's has a listing for a 1985 Mazda RX-7 Group B race car that is in virtually brand-new condition. Only twenty RX-7 Group B Works cars were planned for production, and only seven were assembled since Group B racing was cut in 1987. The RX-7s only raced from 1984-1985, and one was crashed. Of the remaining six assembled cars, this one here (chassis MRTE 019) has never been raced.
Instead, MRTE 019 has lived a life of private collector ownership and sitting in the lobbies of various organizations, including Mazda's European racing team headquarters and a Swiss Mazda importer. Recently, it's undergone a light look over to restore anything that may have fallen out of place over the years from its original condition.

The current owner, David Sutton, discussed his obsession with this and other rally cars in an article from Top Gear recently:
David actually had to finish bits off. For instance, a big brown paper envelope was delivered with the car. It was the original rally pack with all the original decals as they were never put on the car. Using homologation papers and historic photography, David spent ages making sure every sticker was placed and positioned perfectly.

Obsession doesn't even begin to encompass David's philosophy when rebuilding a car.

"I'm painful about detail," he says. "I mean, when I buy a car, I literally take it apart and put it back together again, so that everything is right. Even on this car, someone put the wrong cable ties in it, so I went back and researched what the right cable ties were. I bought them from the US and put them on so they matched the original cable ties that Mazda Europe used in the day."

Now all that's left is a pristine, virtually brand-new unused Mazda rotary Group B rally car and the tough decision for some rich, lucky schmuck of figuring out what to do with it. I'd probably just sit in it for awhile, making noises to myself.