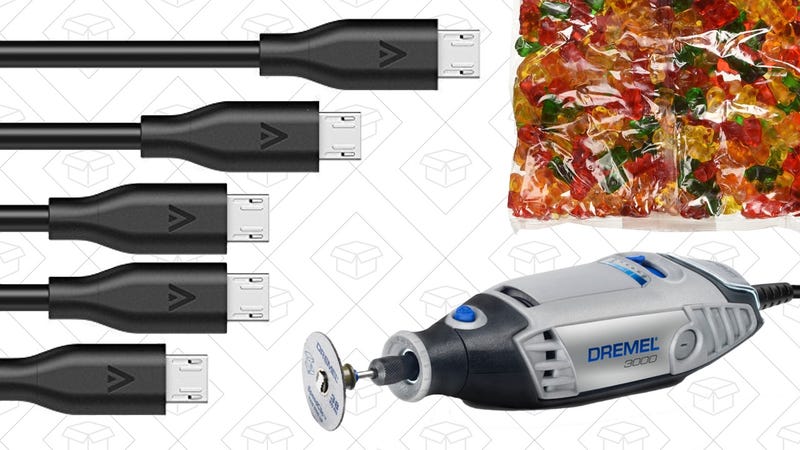 A powerful Dremel, five pounds of Haribo Gold Bears, and Anker's amazing microUSB cables lead off Wednesday's best deals.
Bookmark Kinja Deals and follow us on Twitter to never miss a deal. Commerce Content is independent of Editorial and Advertising, and if you buy something through our posts, we may get a small share of the sale. Click here to learn more, and don't forget to sign up for our email newsletter.

Top Deals
Update: Sold out.
---
Update: Sold out!
---
Head over to eBay to save on a laundry list of discounted gift cards, ranging from Domino's Pizza to Jiffy Lube. Other great options include GameStop, Exxon, and Staples.
---
We posted this deal a little over a month ago, but if you've eaten all of those sweet, sweet Haribo Gold Bears, you can pick up another five pound bag today for just $11. And don't worry, these aren't the sugar free ones.
http://www.amazon.com/Haribo-Gummi-C…
---
Anker's kevlar-wrapped PowerLine cables have been an immediate hit with our readers, and you can upgrade your entire microUSB cable collection today with this $13 5-pack. That's a match for the lowest price ever on this pack, which includes a 1′ cable, two 3′, a 6′, and even a 10′.

http://bestsellers.kinja.com/bestsellers-an…
http://www.amazon.com/dp/B015XPL2JE/…
---
Before you head out on vacation, be sure to peruse today's luggage and travel gear Gold Box deals on Amazon.

Inside, you'll find luggage sets, individual bags, and a lot of travel umbrellas from a variety of manufacturers. A few of my favorite picks are below, but be sure to head over to Amazon to see the rest. Just be sure to grab your favorites quickly; these deals are only available today, and the best stuff could sell out early.
http://www.amazon.com/Nautica-Hardsi…
http://www.amazon.com/SwissGear-Expa…
http://www.amazon.com/SwissGear-Expa…
http://www.amazon.com/Totes-Manual-L…
---
Hopefully you never need a dash cam, but owning one can really save your bacon in the result of an accident. This affordable Black Box model was actually your favorite dash cam in a recent Kinja Co-Op, and you can score one today for just $54, one of the best prices of the year.

http://co-op.kinja.com/your-favorite-…
That price gets you 1080p recording (or 720p at 60FPS), night vision, auto on/off, and a g-force sensor to automatically lock your footage in the event of an accident.
http://www.amazon.com/Black-Box-G1W-…
---
Whether you spend a lot of time outdoors, or just want to be prepared for extended power outages, $30 is one of the best prices we've ever seen on a 16W USB solar charger.
http://www.amazon.com/gp/product/B00…
---
Update: This deal sold out yesterday, but now it's available again, albeit with a brief backorder.
Your favorite waffle maker, the Conair WMK600, has never been this cheap before, and the last time it even got close was 2013.
http://www.amazon.com/Conair-WMK600-…
---
$100 is a very solid price for any top of the line electric toothbrush, and Oral-B's Pro 7000 SmartSeries add Bluetooth to the mix, just for kicks.

http://co-op.kinja.com/the-best-elect…
In addition to six different cleaning modes (including one for your tongue), a travel kit, a pressure sensor, and a timer, the Pro 7000 also syncs to an iOS or Android app that tracks your brushing habits and offers personalized feedback.
I know a lot of people are reflexively against the Bluetoothification of everyday household items, and that's fine. What I'm saying is that even if you never download that app, this is still a fantastic toothbrush at $100. Just be sure to clip the $20 coupon on the page to get the full discount.
http://www.amazon.com/dp/B00F9X34XS?…
---
We've seen deals on the previous generation of Rachio irrigation controllers in the past, but the new ones include a physical remote and Amazon Echo support, and Amazon will toss in a $50 gift card for free when you buy one today.

Depending on which model you choose, the controller can manage either eight or 16 different zones in your yard, and automatically adjusts watering schedules based on the weather. If you want to keep tabs on it, its iOS and Android app will show you how much water you're using (and saving), and allow you to make any adjustments necessary, no matter where you are in the world. All of these smarts mean that the IRO can save you over 50% on your outdoor water use, so it should pay for itself over time. It's also EPA WaterSense Certified, meaning your local water company might offer you a rebate for purchasing it.
http://www.amazon.com/dp/B01FVACSTE/…
---
If you're interested in Philips Hue's remote scheduling and light control features, but don't care so much about color-changing bulbs, this $40 starter pack includes a bridge and two Lux bulbs. These bulbs only glow white, but they are dimmable (even in non-dimming lamps), and can be controlled from your phone. And since you have the Bridge, you can always add on more bulbs later.

http://gear.kinja.com/how-to-get-sta…
http://www.amazon.com/dp/B00POYCO42/…
The wall-mountable Tap Switch is also on sale for $50 (from $60).
http://www.amazon.com/dp/B00ME9CD28/…
---
When it comes to cleaning hard floors, you've basically got three options to choose from, if you don't want to get down on your hands and knees:

A regular old mop, which can leave your floors wet for hours.
A Swiffer WetJet, or any similar product that uses chemical spray that can leave a residue, and disposable (i.e. expensive) cleaning pads.
A steam mop, which cleans using regular old water that dries within seconds.
Now, I'll let you draw your own conclusions, but the choice seems rather obvious to me, especially when you can get a highly rated Shark Lift-Away Professional steam mop for just $80. That's $50 less than Amazon (where it has a 4.3 star review average), and the best price we've ever seen. This particular model even features a detachable hand steamer for cleaning other surfaces as well.
---
You can't control these semi-smart power outlets with your phone, or automate them with IFTTT recipes like you can with Belkin's WeMo line, but you can control them from across your house with a remote control, and they're incredibly cheap today.
http://www.amazon.com/Etekcity-Wirel…
---
You know those fancy, expensive kitchens that have their own wine fridges? Turns out, you can get your own for just $100. That's not much money! It would also make a great Father's Day gift.
---
The new DJI Phantom 4 sure looks impressive, but for $1000 less, you can pick up the still-completely-amazing Phantom 3 Standard today. You'll lose out on features like the (somewhat inconsistent) accident avoidance, indoor positioning, and 4K video, but the camera still boasts an impressive 2.7K resolution, and it'll last over 20 minutes on a single charge. At $400, it probably won't even eat up your entire tax refund.

http://gizmodo.com/the-new-phanto…
---
Blacklight flashlights are great if you want to spot hidden stains on train seats, hotel sheets, or (gasp) even in your own house…if that's something you want to do.

It may seem silly, but if you find even one stain in a hotel room and complain to management, I guarantee that this thing will pay for itself several times over.
http://www.amazon.com/KMASHI-Flashli…
---
You didn't need to wait long for a discount on Overwatch: It's down to $49 today on Amazon for all purchasers, or $48 for Prime members.
http://www.amazon.com/Overwatch-Orig…
http://www.amazon.com/Overwatch-Orig…
http://adequateman.deadspin.com/waiting-for-ov…
---
Dorco, the best deal in razor blades and supplier of Dollar Shave Club, is taking 50% off their Pace Trial Pack today, and throwing in free shipping for good measure. That's a handle and 18 blades for under $15. The pack comes with 3-blade, 4-blade, and 6-blade cartridges, so you'll get a chance to see which works best for your face. Use code promo code M623888.

These are the exact same cartridges, and work with the same handle, as Dollar Shave Club's "4X" razor system.
http://lifehacker.com/5903771/forget…
http://gear.kinja.com/yes-seven-blad…
---
Everyone should own a few USB charging station, and this $20 model from Aukey even includes a Quick Charge 2.0 port. That's perfect for your nightstand, your desk at the office, and really anywhere else that you spend a lot of time.

http://www.amazon.com/Desktop-Chargi…
Don't need Quick Charge? Here's a 6-port alternative from Anker for $15 with code NE2M3MWF (black) or OH39AMQ8 (white).
http://www.amazon.com/dp/B014ZQG00I?…
---
GreenWorks' 20-inch battery-powered lawn mower is actually Amazon's top-selling walk-behind mower, and you can own one today for $289, or within $10 of an all-time low. That includes two batteries, which combined, should get you over an hour of mowing time.
http://www.amazon.com/dp/B00GX9WNP2/…
---
The PS Vita doesn't get a ton of new games at this point, but it might be worth it just for remote PS4 streaming, and you can pick one up for just $140 today, the best price we've ever seen.
http://kotaku.com/heres-fallout-…
---
Lifehacker has posted something in the neighborhood of 13 million projects you can create with Arduino, and Amazon's selling starter kits for $72 today, an all-time low.
http://www.amazon.com/dp/B009UKZV0A/…
http://lifehacker.com/top-10-kickass…
---
$65 might seem like a lot to spend on an anti-fatigue mat, but if you spend a lot of time working in the kitchen, it's definitely a justifiable expense. The best part of the Imprint Cumulus9 is that it's 6′ long, or about twice as long as most competing mats, meaning you won't have to slide it around your floor as you move around the kitchen.
Today's $65 deal is the lowest price ever, and especially tempting considering it was consistently $100 or more as recently as March.
http://www.amazon.com/dp/B004XYSQFA/…
---
Outside of Black Friday and coupon mistakes, there aren't a lot of chances to save money on SONOS. Take advantage of this promotion to snag an Amazon gift card with your new speakers. Gift card amounts vary depending on which SONOS products you buy.
SONOS is easily the best wireless speaker system around, and makes your pick for best sound bar.
Tech
Storage
Power
Audio
Home Theater
Computers & Accessories
PC Parts
Mobile Devices
Photography
Home
Kitchen
Tools & Auto
Lifestyle
Apparel
Beauty & Grooming
Camping & Outdoors
Fitness
Media
Movies & TV
Books
Gaming
Peripherals
PC
PlayStation 4
Xbox One
3DS
Toys
---
Commerce Content is independent of Editorial and Advertising, and if you buy something through our posts, we may get a small share of the sale. Click here to learn more, and don't forget to sign up for our email newsletter. We want your feedback.