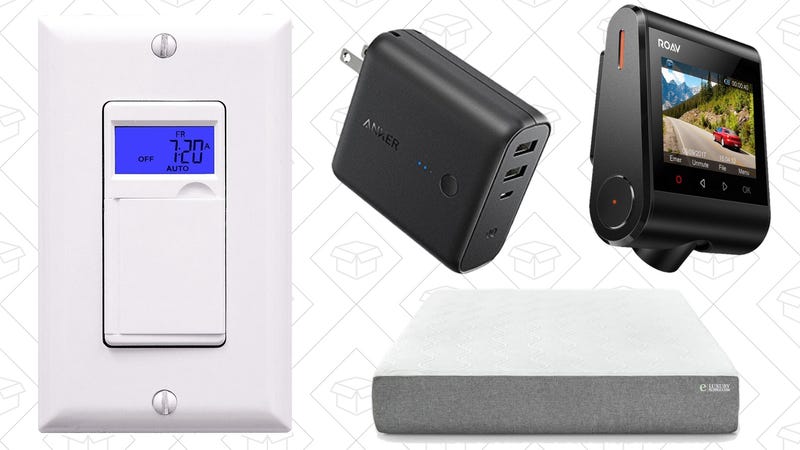 Anker's new DashCam and the PowerCore Fusion, a memory foam mattress and pillow, programmable switches, and more lead Monday's best deals.
Bookmark Kinja Deals and follow us on Twitter to never miss a deal.
Top Tech Deals
Update: The code has expired.
Anker's beginning its drive into the automotive accessory space with an affordable new dash cam, and our readers can race over to Amazon to save $36, while supplies last (which won't be long, fair warning).

I've been test driving (heh) the Anker Roav DashCam for a few days now, and you can see my full impressions here. But to give you the cliffnotes, it shoots 1080p, its space-saving design makes it essentially invisible to the driver, and it even includes Wi-Fi to transfer clips to your phone, which is hard to find in a sub-$100 dash cam.
For a limited time, our readers can take DashCam for a spin for 20% off, just remember to use promo code KINJACAM at checkout.
---
Your laptop's speakers are terrible, but you don't have to spend a ton of money to enjoy better audio. AmazonBasics' AC-powered computer speakers are pretty…basic, but they're small, well-reviewed, and only $17 per set right now.
---
One of the newest members of Anker's insanely popular PowerCore battery pack family pulls double duty as a USB wall charger, and you can get one for just $22 today.

Shep played around with the PowerCore Fusion when it first launched, and loved it, mostly for the fact that it's the only Anker battery pack that you can charge by plugging straight into the wall. You can read all of his impressions here, and then head over to Amazon to get yours.
---
One can never have too much storage, and Seagate's 2TB BarraCuda is a really great option, especially at its best price ever. Pick one up today for just $60 and add a whole bunch of extra space to your setup.
---
It's almost summer, which means it's about time to head to your nearest pool/lake/river/stream/resevoir/ocean, and you can keep your phone safe from the elements with this 2-pack of dry bags for just $6.

---
AmazonBasics' grey felt laptop sleeve is a study in simplicity, and all three sizes are marked down right now. The 11″ is just $4 and the 13″ is $6, but they're both Add-On items. but the 15″ is just $9, and it's not an Add-On item.

Top Home Deals
If you've been holding out upgrading your bed, Amazon's pair of Gold Boxes can help.

Get a new memory foam mattress for a heck of a lot less than you'd pay anywhere else. A king size will run you $592, a queen is $517, and a full is $461.
And if you don't need a mattress but want to add some foam to your sleeping situation, Amazon also has a premium, hypoallergenic pillow for $42.
---
Heading out of town and want to deter thieves, or just want to wake up to a well-lit house? This programmable light switch turns any built-in light into a smart light for $17.

This model has 18 settings to choose from, including a "vacation" mode, which will randomly turn lights on throughout the day.
---
Anker makes our readers' favorite LED desk lamps, and now you can save $5-$10 on two different models (now branded under Anker's Eufy brand).

The A4 model has four lighting modes and five dimming levels and makes a great addition to any desk for just $24. If you want to get a little more bang for you buck, the E1 has five lighting modes, six dimming levels, and includes two USB ports.
---
Holy moly, this surge protector has everything. You get eight AC outlets, five 2.4A USB ports, and even a Quick Charge 3.0 port. I can't imagine a better combination to power your desk.
---
We post our fair share of deals on amplified HDTV antennas, but this one from Aukey has one key advantage that others lack: It's almost entirely transparent. That means it won't stick out like a sore thumb on your wall, and won't block your view if you attach it to a window.

Just be sure to check out Lifehacker's guide first to see if this kind of antenna is likely to work where you live.
---
If you still don't have a KitchenAid on your counter, today is a great day to finally get one. The KitchenAid Tilt-Head Stand Mixer is the perfect size for a kitchen and at $190 for a non-refurb, it's a price you don't want to pass up. Grab one in either stainless steel or the classic red.

---
If your cookware collection consists mostly of of warped $10 Walmart pans, it's time to upgrade. Amazon currently has a 12-piece nonstick aluminum cookware set from KitchenAid on sale for $110, today only. It may not be tri-ply, but it'll definitely help make your food a little more professional-looking.
Top Lifestyle Deals
If you're trying to keep an eye on your blood pressure, Amazon has two different Omron models to choose from, each within a few bucks of the best price we've seen.
The Omron 10 Series monitor has a 4.3 star review average on over 5,000 reviews, and includes both a wireless monitor that can store your last 100 readings, and Bluetooth connectivity so you can store unlimited readings on your smartphone (including Apple HealthKit).
The Omron 7 Series has everything the 10 Series has (with an added 20 readings), but it's also made to fit the wrist instead of the upper arm.
---
A big-ass duffle bag is something everyone should keep handy, and you can get one for $14 today in the color of your choice. Just be sure to use promo code Z8AVOYDL at checkout.
---
It's time to start planning your outdoor adventures and Backcountry is gonna help you out in the gear department. During their Countdown to Summer Sale, get up to 50% off a ton of apparel, up to 40% off gear like tents and bags, and up to 30% off brands like Patagonia, Black Diamond, and more.
---
This chimney starter quickly sold out when it was on sale last week, but it's back for $13 and is a definite must for any and all grilling aficionados.
A chimney starter is the fastest way to get your charcoal hot enough to grill with, and Weber's top-selling model has never been cheaper than it is today.
---
You know that guy that always seems to have a knife ready to go when something needs to be cut open? You could be that guy for $20.
Top Media Deals
Update: Looks like it's gone at $6, but still available at $9.
Gather all your droogs and grab A Clockwork Orange for just $6 on Blu-ray. It's a movie you should have on your shelf, and if you have it already, appy-polly-loggies.

Top Gaming Deals
If you like board games like Settlers of Catan and Agricola, you'll definitely want to give Carcassonne a try. Today's price is within about a dollar of the lowest Amazon has ever listed, and a great investment for your next game night.
---
Mario Kart 8 Deluxe is out, which means if you're lucky enough to own a Nintendo Switch, you probably have already bought an extra set of Joy-Con. Now, they're easier to charge than ever, as Amazon's taking $6 off the official Nintendo charging stand, the first discount we've ever seen.
---
Update: Looks like it's sold out $12.
In case you've been living in a cave and haven't played it yet, The Witcher 3 is one of the best games you can buy for the current generation of consoles, and somehow, it's only $12 for PS4. In terms of dollars-per-hour of content, you won't find many better game deals.
TECH
Power
Audio
Home Theater
Computers & Accessories
PC Parts
Mobile Devices
Photography
HOME
Kitchen
Tools & Auto
LIFESTYLE
Apparel
Beauty & Grooming
Camping & Outdoors
Fitness
MEDIA
Movies & TV
Books
GAMING
Peripherals
PC
PlayStation 4
Switch


3DS
Board Games
Toys