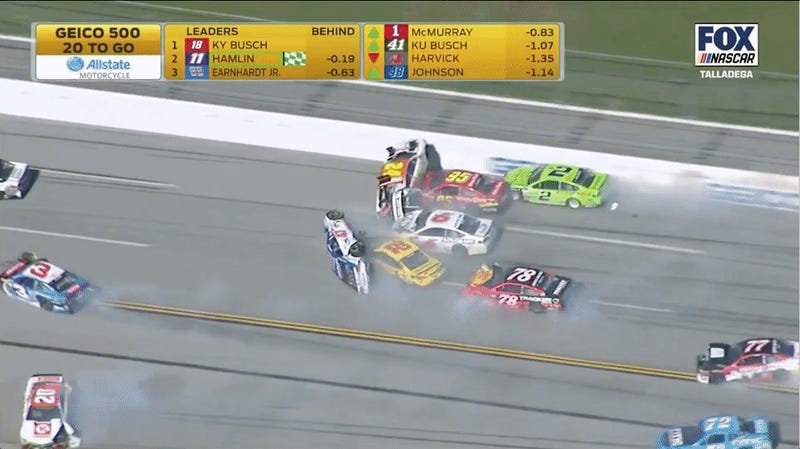 The Monster Energy NASCAR Cup Series field at Talladega Superspeedway was eerily clean for almost 170 laps on Sunday, which was odd for a restrictor-plate track. But the drivers managed to right that odd feeling with 20 laps to go, with A.J. Allmendinger starting a giant wreck that put him on his roof.
The No. 47 Allmendinger tapped the back bumper of the No. 24 of Chase Elliott on lap 169, sending him spinning toward the outside wall and collecting a good portion of the field—most of which was still on the lead lap, thanks to a lack of big incidents and clean, calm racing all day. The red flag came out soon after.
The Fox and NASCAR estimates were that at least 16 cars sustained damage in the giant wreck, including Allmendinger, Elliott, Austin Dillon, Kevin Harvick, Trevor Bayne, Danica Patrick, Matt Kenseth, Joey Logano, Martin Truex Jr., Brad Keselowski, Gray Gaulding, David Ragan, Cole Whitt, Erik Jones, Corey LaJoie and Michael McDowell.
The race was under a red flag with 19 laps to go for a full 27 minutes, and the red-flag coverage was, somehow, longer and less interrupted by commercial breaks than some of the green-flag coverage throughout the race.