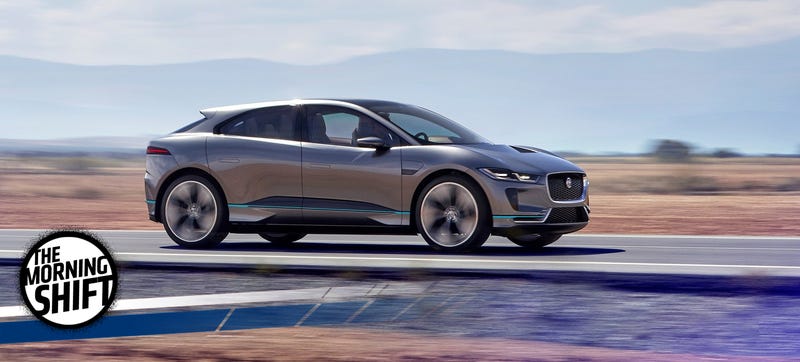 Good morning! Welcome to The Morning Shift, your roundup of the auto news you crave, all in one place every weekday morning. Here are the important stories you need to know.
1st Gear: The Crossover Is Your God Now
Last week's Los Angeles Auto Show was heavy on crossovers and light on sexy, powerful, interesting cars. But one of the most telling cars to debut there was the Jaguar I-Pace, the small electric crossover concept from Jaguar that previews a production EV set for 2018. As David Undercoffler at Automotive News points out, it shows how much the segment is expanding and diversifying as sales of sports cars and sedans continue to sink:
The variety only got richer last week at the Los Angeles Auto Show. Once a haven for the green cars and sports cars Californians have loved, the show found new life this year as a microcosm of the ever-expanding crossover universe. Variants of all stripes — large and small, tepid and quick, gasoline, diesel and electric — came to L.A. looking for what so many seek in Los Angeles: an audience.

The assortment makes clear that the crossover segment isn't just expanding. It's rapidly fragmenting, and taking on the full breadth, variety and competitive fervor of the car market, as automakers look to fill niches, carve out new ones and in some cases, redefine their brands.

The more bread-and-butter brands are also adding variety to their crossover mix. Mazda's CX-5 compact crossover recently surpassed the Mazda3 as the brand's volume leader, a victory for Mazda's effort to derive more profit from light trucks. With the redesigned model shown in L.A. last week, Mazda adds a long-awaited diesel option, making it unique among Asian brands in the U.S. and offering a temptation for displaced Volkswagen TDI owners.
This is the crossover's world now. We just live in it.
2nd Gear: No One Wants To Talk Trump
Very few people in media, big business and politics predicted the election of Donald Trump to our nation's highest office, and that has led many—most, in fact—in the auto industry unprepared for the slew of protectionist, pro-U.S. trade policies likely to come.
As Automotive News points out, automakers have billions of dollars worth of current and future plans tied up in Mexican production for sale in the U.S. and globally. If Trump follows through on his rhetoric it could be incredibly disruptive. Aside from saying they want to work with the new administration, one really wants to talk specifics at the moment.
The stakes are high and growing. Mexico exported a record 2.8 million cars and light trucks last year, with nearly three-quarters landing in the U.S. About 12 percent of new vehicles bought in the U.S. last year were made in Mexico.

One executive who has been outspoken of late is Ford Motor Co. CEO Mark Fields, whose company was singled out by Trump for criticism during the campaign after it confirmed this year that it was building a small-car plant in the central Mexico state of San Luis Potosi.

On the sidelines of the Los Angeles Auto Show last week, Fields said Trump's proposed tariffs on Mexico-made cars would be counterproductive for the U.S. economy as a whole.

"A tariff like that would be imposed on the entire auto sector, and that could have a huge impact," Fields said. "I continue to be convinced that the right policies will prevail. I think we all share the same objective, which is a healthy and vibrant U.S. economy."
Toyota, Mercedes-Benz, General Motors, BMW, Volkswagen and more are all keeping a close eye on what could happen here.
3rd Gear: The Jobs May Be Very Hard To Bring Back
Trump drew a lot of support from disenfranchised workers in Rust Belt states who have seen good manufacturing jobs disappear over the past few decades. And bringing back U.S. manufacturing is a noble goal.
But using the sneaker industry as an example, this Reuters story points out how hard that may be to do—and if it does happen it will almost certainly mean an increased price of goods. We can't have it both ways.
Companies like Nike have invested too much in those lower-wage economies to consider moving factories, even if tariffs rise and push up costs for American consumers, analysts say. Any new hiring in the United States will be years down the road and depend on refining production technologies like 3-D printing that could make it profitable to hire relatively small numbers of American production staff. The same dynamic applies to other industries, like auto parts, which have moved production to Mexico over the past two decades, executives say.

That suggests a problem that the Trump administration will bump against if it tries to pursue a harder line on trade agreements from NAFTA to TPP. Shoe companies, like other manufacturers, could be forced to pass on higher costs to consumers, but few executives see a serious case for new hiring in the United States because of a change in tariffs on imports.

"The idea of moving shoe manufacturing to advanced countries is a little bit of a farce," says Ed Van Wezel the CEO of Hi-tech International Holdings BV, an Amsterdam-based shoemaker that sells about 30 percent of its shoes in the U.S.

[…] "The ones that stand to lose out here are consumers, because if we start to eliminate trade deals, they'll be paying a lot more for shoes," says Matt Priest, president of the Footwear Distributors and Retailers of America, which represents the industry in Washington.
That story is worth a read in full given the parallels between that industry and the automotive sector.
4th Gear: The State Of EVs And Hybrids
All year we've been reporting on how cheap gas has hurt the sales of hybrids and electric vehicles, which some fear is stunting technological progress. But how small is the market, really? The Detroit Free Press is here with an answer:
California alone accounted for 54.5%, or 62,119, of the plug-in electric vehicles sold in 2015, according to hybridcars.com. The nation's largest state also has its own EV tax credits — $2,500 for battery electrics and $1,500 for plug-in hybrids.

In addition, the California Air Resources Board has required that zero-emission vehicles account for a certain percentage of each automaker's sales in the state. Those targets are 4.5% of sales in 2018, rising to 22% in 2025.

Nine other states have the same targets. They are Connecticut, Maine, Maryland, Massachusetts, New Jersey, New York, Oregon, Rhode Island and Vermont.

But plug-in hybrids such as the Chevrolet Volt and Ford's Fusion Energi and C-Max Energi, and pure electrics such as Tesla's Models S and X, Nissan Leaf and BMW i3, are still just a sliver of the U.S. market.

This year through October, Americans bought or leased 54,816 plug-in hybrids, up 64% from a year earlier, and 64,932 pure EVs, a 12.6% increase from the same period of 2015.
There's also the question of whether the new administration will vote to keep the $7500 EV tax credit, but that's up to Congress.
5th Gear: McLaren And Apple Did Meet But It Went Nowhere
Remember how, for like a couple hours, it seemed like Apple might buy supercar and racing titan McLaren? Now it appears that the Financial Times just jumped the gun, because CEO Mike Flewitt clears up what happened in an interview with Reuters:
There was also speculation in September that U.S. technology giant Apple (AAPL.O) had made an approach to invest in or buy McLaren, according to the Financial Times.

"There wasn't a bid from Apple," said Flewitt.

"They visited. We talked. We talked about what they did. We talked about what we did. They toured. It never matured to a definitive proposition," he said.

McLaren Automotive, which only began building cars in 2011, has grown rapidly and is aiming to double the number of luxury hand-made models it builds to over 3,000 this year, not far behind Aston Martin.
What an odd story that was.
Reverse: Holland Tunnel
Neutral: Can We Even Bring Back American Jobs?
Can this country go back to the manufacturing powerhouse it was after World War II without blowing up the cost of goods, or is that a pipe dream in the era of globalism?