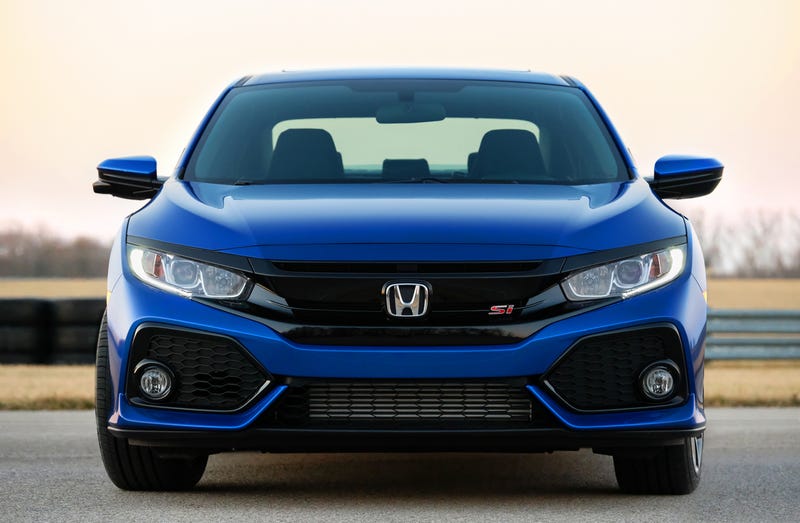 We're all rubbing our mitts together for the imminent release of the superhero Honda Civic Type-R. But don't forget there's a new 2017 Civic Si coming out now too, and that also has the potential to be a lot of fun. It's also a little more grounded in reality. So what do you want to know?

The Civic Si has been a staple of the American sport compact car market since the 1980s. Debate still rages on Honda forms between whether its name is shorthand for "Sequential Injection" or "Sport Injection" or is just some made-up nonsense, but what matter is that the car has consistently been the driving enthusiast's variant of Honda's little people-mover.
We've had Civic Si coupes, hatchbacks, sedans, and for 2017 there will be both two and four-door versions.
All 2017 Civic Sis will run a 1.5-liter turbocharged four-cylinder rated to 205 horsepower at 5,700 RPM, and 192 lb-ft of torque coming on from just 2,100 RPM. That's much lower threshold for peak power than these cars had when I first driving them… remember the 1999 1.6-liter Civic Si's screaming 8,000 RPM redline?

The new Si coupe weighs in at 2,889 pounds, just a couple hundred pounds heavier than the '99 car.
That Civic's successor, the mini-minivan looking EP3 hatch, was the "new Si" when I was in high school but the aforementioned EM1 was the parking lot hero. My friend had one, I had a slightly older Integra, and we would get into all kinds of shenanigans with those things that I'm tremendously embarrassed by today.
I've grown accustomed to the finer things. Finer Acuras, actually. But it seems like the Civic has too. It's already been on sale for about a week with a starting MSRP of about $24,000 with a six-speed manual. If you want an automatic, shuffle along, because you won't find one here. At least not yet.
I just tested this thing in California and while reviews are embargoed for a bit longer, I want to know what you want to know. I'll do my best to answer your questions here and in my First Drive report.
Meanwhile, check out the complete specification sheet for details and digits.