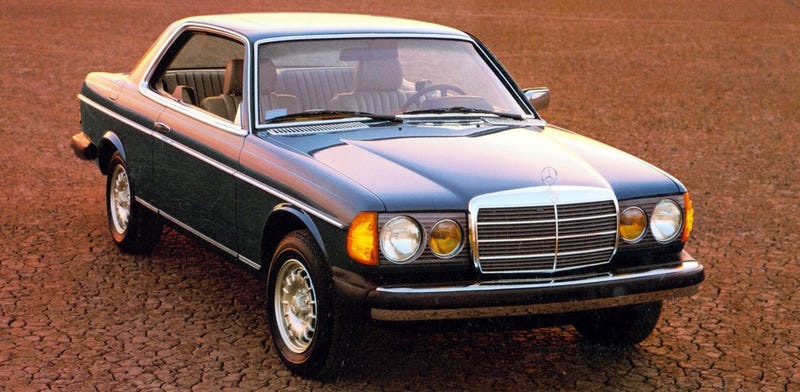 Let me ask you a question: in 1978, was there a better car than a Mercedes-Benz W123?

I don't think there was. I agree with Raphael Orlove that the 1970s was the decade with the coolest cars, but by the end of that decade emissions regulations, economic stagnation and general malaise had made almost everything kind of… well, generally terrible.
http://jalopnik.com/which-decade-h…
Cars from that part of the decade can be tough to find in good shape today. It's like we intentionally tried to forget about them.
But not the offerings from Mercedes-Benz. There's a reason why you see so many old W123s still on the road, whether they're in showroom condition or just barely running. There's a reason people believe in the idea of German over-engineering. There's a reason people swear by diesels, despite their recent troubles. The W123 has a lot to do with that.
This wonderful car, specifically in 300CD form, is the subject of the latest Regular Car Reviews video. I'm a few days late in posting it but it's one of the best videos I've seen from them in a while.
Like I said, it's a 300CD, so that means it's a coupe ("C") and a diesel ("D"), but there's no T for turbo in there. So this inline-five oil burner is naturally aspirated, and given the tank-like weight, it accelerates from zero to 60 mph in about a week and a half.
But this was a nice car in its day. A damned nice car, in fact. It had air conditioning with mechanical climate control. If you fix for inflation it would be a $90,000 car today. It was safe and looks better, I'd wager, than most Benzes do today. It has timeless style. It was a car for high-rollers, as Mr. Regular says.
It's from when Mercedes was Mercedes. And it lasts. Because good things endure, no matter what gets thrown at them.
It may not be a wagon, and it may not have a manual, and it may be slow as a dog (actually, that does a disservice to dogs) but I'd rock a 300CD any day of the week.