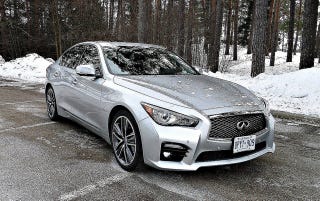 If you're looking for an awesome deal on a car, buying used is generally the way to go. A gently used vehicle that's only a few years old will have already taken a depreciation hit, but it should still be in decent condition. And thanks to a flood of off-lease vehicles, now is a great time to get an even better deal on used (and new) cars.
Automakers have offered attractive leases on luxury cars in the past few years, but consumers seem to be more interested in SUVs, probably because gas prices are so low. It's not as expensive as it used to be to fill up a gas-guzzler.
This trend has created an oversupply of off-lease used cars, which means prices are dropping. In other words, there's more supply than demand, which is good news if you're in the market for a gently used car. As the Associated Press reports:
Car sales are now about 38 percent of the market. As a result, used-vehicle prices tumbled 7 percent during March compared with a year ago, according to an NADA Guides index. The organization expects them to fall 6 percent for the full year.
Actually, this may be good news if you're looking to buy a new car, too. Late-model used cars are at bargain prices, yes, but experts expect the trend to drop the price of new cars as well, says the AP. Eric Lyman, a lead analyst for Automotive Lease Guide, predicts that car prices will probably fall for the next few years, as leasing customers return their cars to dealers.
To try and control the supply, car companies are starting to cut back on lease deals, though, so if you're looking to lease, experts say you might want to get on that now, before the cuts grow more widespread.