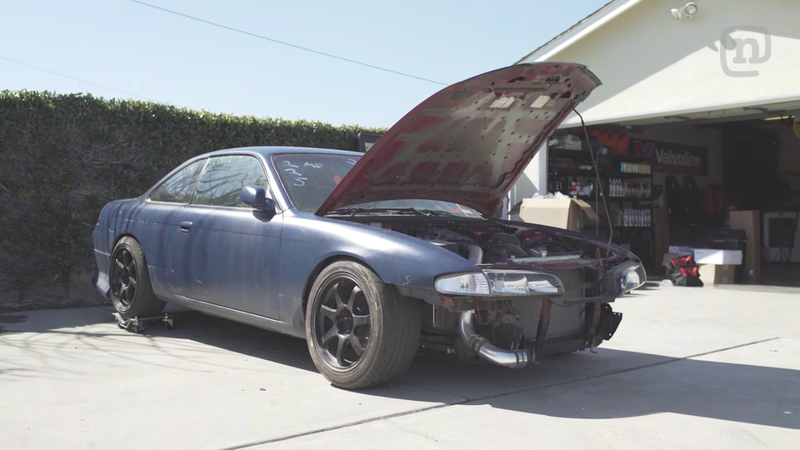 If you dream of building a drift car, so much of the joy is thinking up weird and wonderful high-horsepower engine swaps to cram into the front of your old four-cylinder car. An inline-six. A V8. Whatever. All these dreams are wrong.
If you're just starting out in drifting, still learning and getting a hang of how much handbrake is too much handbrake, you don't want to go for a mad more-cylinder swap on your car. What you're doing is adding weight, heat and cost where you don't need it, as three-time Formula Drift champion Chris Forsberg and his fellow competitor Ryan Tuerck explain in the new series of Drift Garage:
They're keeping a little four-cylinder turbo in the front of the budget Nissan 240SX build for this season. That's actually Drift Idiot's S14, and the engine is the sometimes-beloved SR20.
That's not the engine the car came with, but it's also not a bigger six or eight. Plenty of car bros in search of more power go right to a Toyota 1JZ or 2JZ. These are 2.5 and 3.0 liter inline sixes that do make more power, but they add two cylinders' more weight right up at the nose of the car.
That's bad for handling and, as Forsberg explains, bad for cooling. You're taking up valuable room for radiators and fans, and overheating is a common problem for these JZ-powered cars, as Tuerck attests. The car that made him famous was a 1JZ-powered Nissan 240SX, but it's a pain if you want to run lots of laps.