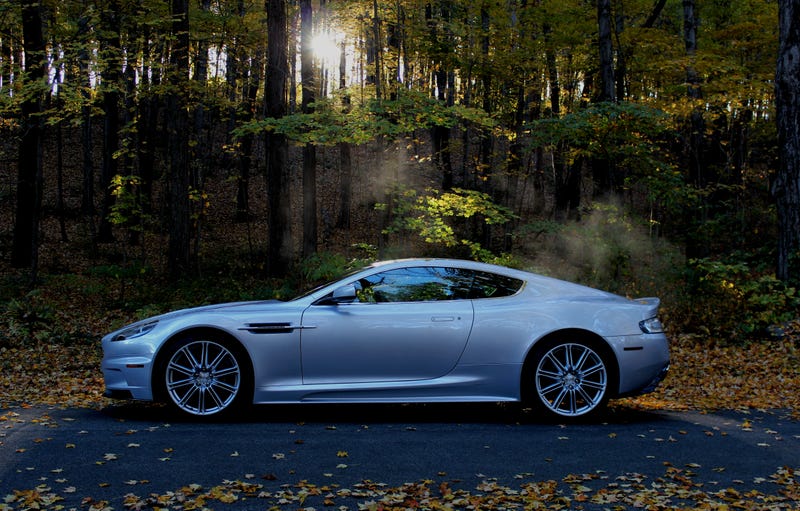 The new Aston Martin DB11 made its debut at the Geneva Motor Show this past week after plenty of early photo leaks, and its look has been the source of a bit of debate. Some of us like it, some of us hate it—even amongst the Jalopnik staff. To ease the tension, let's enjoy an Aston most of us can agree on: the DBS.
http://jalopnik.com/is-the-aston-m…
This weekend's wallpaper comes from Michael Janiszewski and features a 2009 Aston Martin DBS, a six-speed beast with a naturally aspirated V12 engine and 510 horsepower. Somehow, this photo makes it look fairly calm.
But the era of the DBS ended in 2012 when the Vanquish came back on board, and the Aston lineup now includes the debatable DB11. No matter its looks, the new DB11 has a 5.2-liter twin-turbo V12 with 600 horsepower—a big increase from the DBS—and can go from zero to 62 mph in 3.9 seconds.
http://thegarage.jalopnik.com/what-cars-are-…
Eras end and eras begin, even when we don't want them to. Whether you're a fan of the new Aston or you'd rather step a few years back in time, it's hard to argue with this photo. If you have a photo or two that you'd like to see featured in our weekend wallpapers, feel free to send an email to the address below.
May the rest of your weekend be as peaceful as that DBS looks, and may it pass by a bit more slowly than that car could drive out of the frame.
Photo credit: Michael Janiszewski. Used with permission. For more photos of his photos, check out his Instagram account. For a big desktop version, click here.
---
Weekend Wallpapers are usually featured on Sundays, (but not always!). Got one you'd like us to run? Send it to alanis.king@jalopnik.com with the subject "Weekend Wallpaper." Just make sure you have the rights to use it.