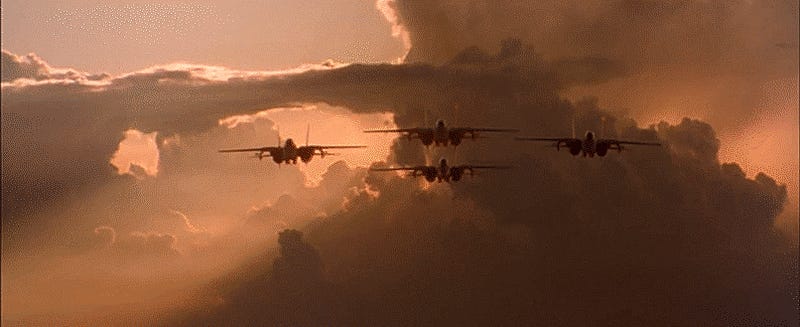 Top Gun made the F-14 Tomcat a true household name and a movie star. But a decade later, the movie Executive Decision also featured some glorious Tomcat scenes, and of VF-84—the "Jolly Rogers"—no less. Not only that, but we also all got see Steven Seagal die early on in the film.
http://foxtrotalpha.jalopnik.com/kick-the-tires…
Check out this HD footage from the movie:
Six years before Top Gun, The Final Countdown hit theaters and featured the Navy's still very new F-14A Tomcats, also in Jolly Rogers colors. There are some gorgeous scenes featuring Tomcats in this sci-fi time-travel flick as well, many of which are more practical than those staged for other films.
http://www.amazon.com/Final-Countdow…
Another great Tomcat homage was the documentary Speed and Angels, but sadly, the producers decided to use sepia and high-contrast processing filters over many of the scenes, giving them a dramatic but unrealistic look. Still, it is a fantastic documentary and captures the end of the Tomcat era.
http://www.amazon.com/Speed-Angels-D…
---
Contact the author Tyler@Jalopnik.com