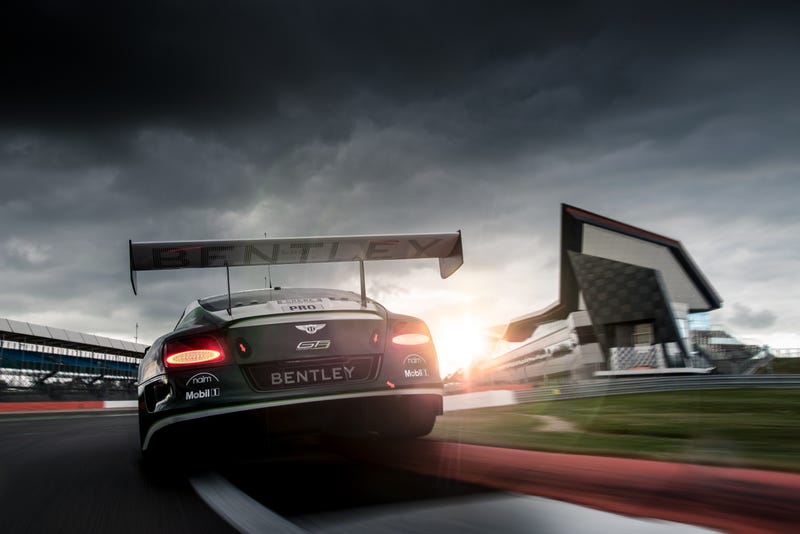 There's something so dark and mysterious about this photo, which, you know, could make you seem like quite an interesting person as the wallpaper on your computer. (Who are we kidding? You're all interesting enough on your own. We're just adding to the intrigue.)
This weekend's wallpaper comes from Gary Parravani with permission from Bentley Motors, and features the Bentley Continental GT3 racer at Silverstone Circuit for the Blancpain GT race in May. The race car has a lovely 500 base horsepower from its twin-turbo V8 and an interesting front end, but hey, that's why you get to see the tail end in this one—complete with a wing that could serve as a dinner table.
Here's hoping that your week ahead is just as dark and mysterious as this photo—in a good way, that is. If you have any photos you'd like to see featured as a weekend wallpaper, dark and mysterious or not, feel free to send them to the email address below.
Photo credit: Gary Parravani/Bentley Motors. Used with permission. For more photos, head on over to his Xynamic Automotive Photography website and Facebook page. For a big desktop version of the top photo, click here.
---
Weekend Wallpapers are usually featured on Sundays (but not always!). Got one you'd like us to run? Send it to alanis.king@jalopnik.com with the subject "Weekend Wallpaper." Just make sure you have the rights to use it.