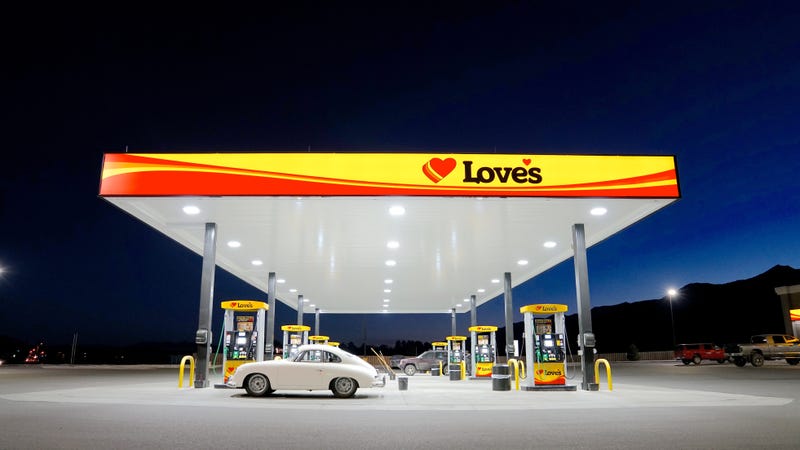 Sure, this wallpaper is cool because it features a Porsche from the 1950s. But what makes it even cooler is that it came to you all straight from Pikes Peak champion Jeff Zwart, a Jalopnik superhero who does wicked-fast hillclimbs and doesn't put this car away for away for snowy winters.
The photo features Zwart's 1953 Porsche 356 Pre-A Coupe, which he shot while traveling in the Rocky Mountains last weekend. Here's what he had to say about that in an email to us:
This was an early morning fuel stop in the 1953 Pre A, at a new station in Buena Vista Colorado. I just hit the need for gas at the perfect moment of the day. As you know, this car goes everywhere, it is the same one you featured in the "Winter of 53" film by Will Roegge … This car has snow tires in winter and little 16 inch bias tires in the summer. It went over the 12,000 foot high Independence Pass twice that day, and in the middle of the day went to the top of Pikes Peak at 14,110 feet. 470 miles in all, one good road trip.
The film he's talking about is this one:
May your week be as adventurous as this Porsche, and may you someday be as cool as its owner. (That's a joke, you're all fabulous.) If you have any photos you would like to submit for a weekend wallpaper, feel free to send an email to the address below.
Photo credit:

Jeff Zwart. Used with permission. For a big desktop version of the top photo, click here.
---
Weekend Wallpapers are usually featured on Sundays, (but not always!). Got one you'd like us to run? Send it to alanis.king@jalopnik.com with the subject "Weekend Wallpaper." Just make sure you have the rights to use it.