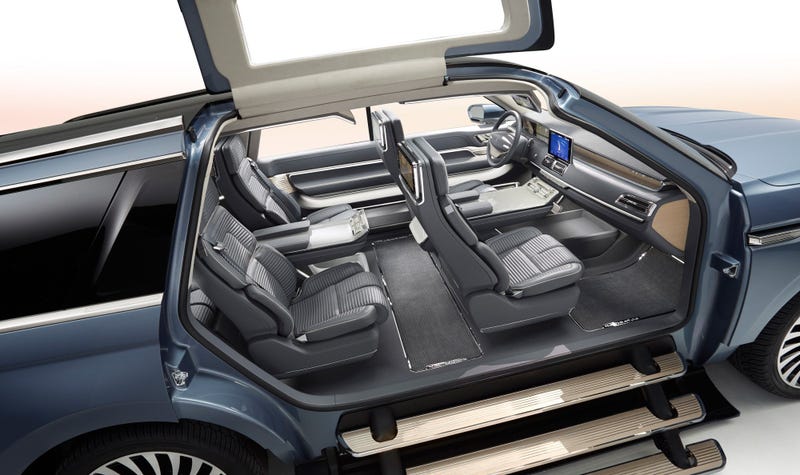 The press days at this year's New York Auto Show are over, and overall it was a mediocre show. Pretty much the only thing anybody is still talking about is whether they love or hate the new Mazda Miata RF and how ridiculous the the pterodactyl doors on Lincoln's 2018 Navigator concept were. Here's some quick dumb facts about the latter.

http://truckyeah.jalopnik.com/the-2017-linco…
Pterodactyl doors? I mean (ginormous) gull-wing doors. I called them pterodactyl doors in our initial take on Lincoln's new Navigator concept, and then Automotive News mentioned it too. Cool.

Anywho, Jalopnik's very own father-figure Matt Hardigree took a stroll around the Navigator concept with David R. Woodhouse, the chief designer at Lincoln. Here's all the pointless stuff we learned about the nautical-inspired luxury SUV concept.
This is one of many of our live video attempts from this year's show, and in my opinion they're the best thing we've ever done:
The middle initial in David R. Woodhouse stands for Ridiculous doors

Lincoln accurately points out that the purpose of an automobile focuses around arrival and departure

Matt Hardigree gets teakwood from the Navigator's teakwood trim accents

The navigation system might stop you from purchasing a gun

Lincoln executives dress in "Lincoln plaid" and try to match their show cars. Sad!

You can put your closet full of expensive shit in the trunk space despite the security risk of having a huge rear-window displaying all of said expensive shit

"Horizontality" is definitely not a thing, but okay

So there you go.
Does Lincoln's 2018 Navigator concept give you teakwood, even though the closet, the doors, and about 30 percent of everything else on this is never going to make it to production?
Or are you just going to all comment about how much it looks like a Ford/Range Rover/Bentley?