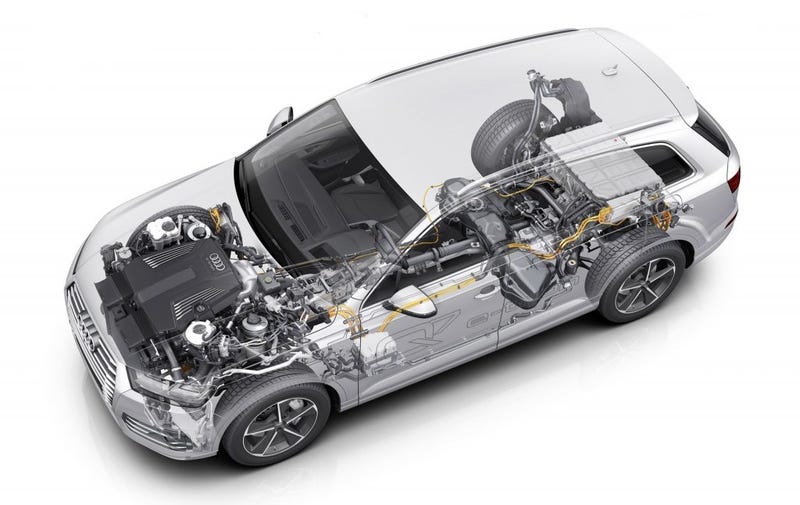 The future of cars is looking more and more electric every day, and if this leaked product plan from Audi is any indication, the brand plans to unleash its own electric lineup to the world in two years with a crossover and SUV.

According to Autoblog via a photo from Autobahn, below is a leaked product plan for Audi through 2018, with a lot of goodies in the final column: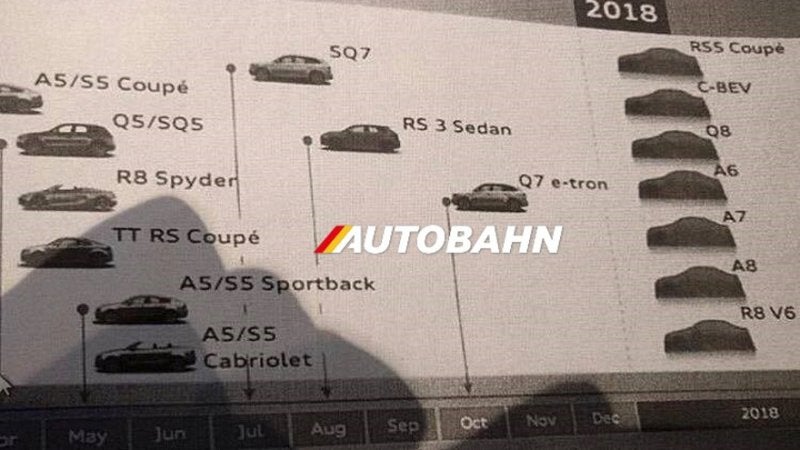 We already mentioned the very aptly described "R8 V6″ as likely being the previously rumored R8 V6 supercar, but it's also worth noting that this product plan includes two electric vehicles for 2018: the C-BEV which was previously presented by Audi as a crossover concept, and the confirmed Q8 flagship electric SUV that was teased at Geneva this time last year.

http://jalopnik.com/audi-is-planni…
Audi's current hybrid/electric lineup in America is weak with the Q5 hybrid crossover and the very expensive but fun A3 Sportback e-tron, and with BMW's i-lineup of hybrid cars, Chevy's new affordable Bolt and Volt, and Tesla's expanding lineup (duh), the competition in the electric vehicle market is stacking up.
http://jalopnik.com/audi-drawing-u…
Audi's plans to hit the crossover and SUV segments shows it knows where the money is at, with the already-confirmed Q8 flagship SUV previously teased at last year's Geneva Motor Show is expected to come with on a similar platform to the Q7 and share a battery pack with Audi's new R8 e-tron, with a considerably shorter electric range than the reported 280 miles for the R8.
The new C-BEV, which could be called the Q6 down the road, and Q8 aim to steal away customers with ornithophobia who may not be interested in Tesla's new Model X crossover, but still want an electric family hauler.
Other little hints on this reportedly leaked product plan include a new TT RS, RS5 coupe, the RS3 which also just leaked, a V6 R8, and I'm personally excited for a new A8.
Audi 2018 is looking good.
---
Contact the author at justin@jalopnik.com or @WestbrookTweets.