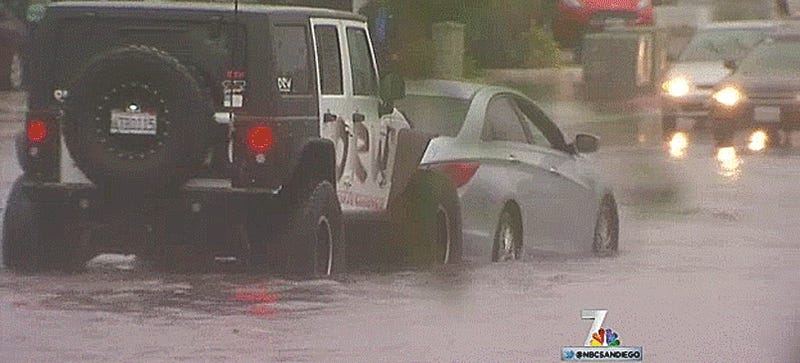 Southern California has been pummeled with rain this week, and San Diego took the brunt of the flooding. Some Lamborghinis made it through, some cars didn't. But Baja 1000 racer Elias Hanna helped as many as he could; pushing stranded cars to safety with his lifted Jeep Wrangler.
Hanna has had a significant off-road racing career, including seat time in trophy trucks and multiple Baja 1000 titles to his name. He also works at an Off-Road Warehouse store in Kearny Mesa, California which was inundated with water as the city's Balboa Avenue flooded a few days ago.
Puny cars started stalling in the river that had consumed the street, and Hanna fired up the shop's demo truck to rescue vehicles that couldn't make it out of the water on their own.
NBCsays the water depth hit as much as three feet in the area around the off-road shop, which "nearly 100 people" eventually showed up at to spectate the recoveries. The San Diego Fire Department reportedly responded to some 75 calls for people trapped in flood situations, so it seems like Hanna did the community a solid by stepping up.
Images/video via NBC
---
Contact the author at andrew@jalopnik.com.