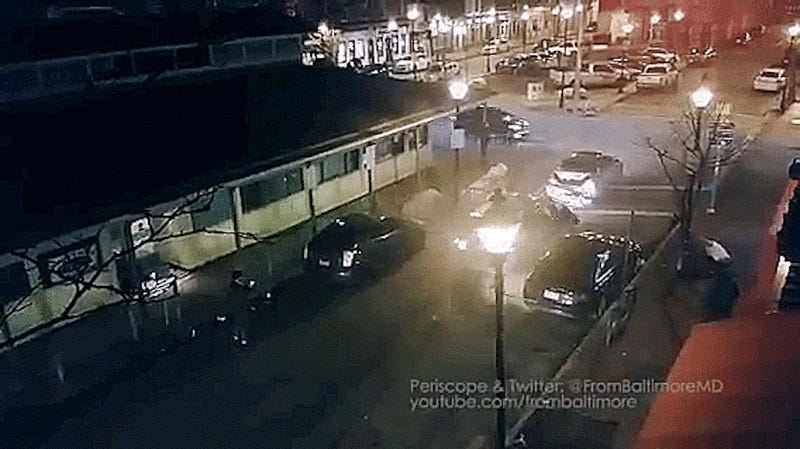 An assault that started in a Baltimore bar early Saturday morning made its way out onto the street, resulting in a minivan driver speeding into other vehicles and at least one person along the sidewalk, according to video and accounts from police.
The incident occurred at around 2:15 a.m. on Saturday morning, according to Baltimore Police Department spokesman T.J. Smith during a media briefing streamed to the department Facebook page later that day. Here's a harrowing 17-minute video of the incident, in which the chaotic scene unfolds fairly early:
According to The Baltimore Sun, police identified the suspect driving the van in the incident as 37-year-old Orlando Redd. It happened in Fells Point, an area in which the Sun reports an unrelated triple shooting occurred earlier that day.

Upon investigation, police believe the suspected driver, Redd, was victim to an assault in a bar on the street and was under the influence of alcohol. Smith added that Redd is in custody and will receive a "myriad of charges," though police are currently unable to identify his attackers.

Smith said the charges are all traffic-related as of right now, and the department will partner with state attorney's office to press additional charges.
A woman exiting a bar on the street is the only reported injury from the scene, and Smith added that police took a suspect into custody after finding him a few blocks away. Smith said she is in serious but stable condition at a local hospital.

"That female, right now, is in serious condition with multiple traumas to her body—including her pelvis, broken ribs, multiple fractures to her skull, a laceration to her hip and bruised lung," Smith said in the briefing.

Smith said police do know about the event and that the investigation is still underway. The first minute of the video lacks sound, but audio picks up with about 14 minutes remaining in the news conference:

Due to the timing of the event—the early morning hours when most leave bars in that area—Smith said it was fortunate that the tragedy wasn't larger. Smith commended officers for a prompt arrival and added that the fact more people were not injured is a "blessing."

The investigation is still underway, and we'll update more as we know it.
---
Contact the author at alanis.king@jalopnik.com.