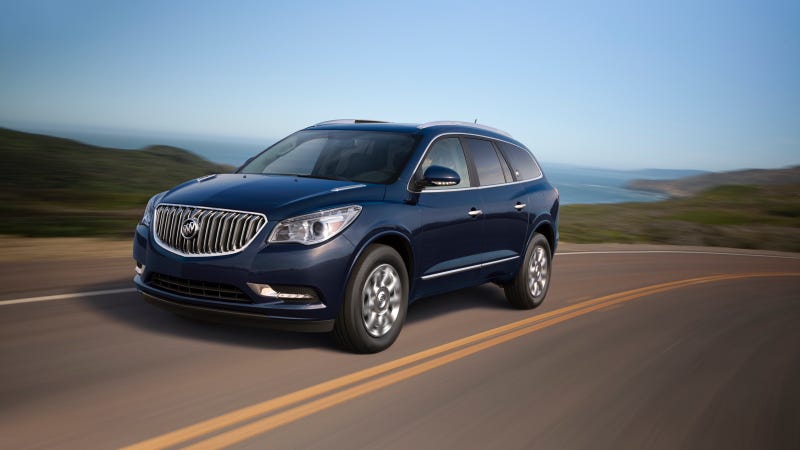 The Buick Enclave is basically a fancy Chevy Traverse. It turns out, that's not a bad thing, because Buick's big crossover has been flying off the shelves. What do you need to know before you buy a Buick Enclave? Don't worry, we'll tell you everything right here in our Buyer's Guide.
Buick says they've sold a half a million Enclaves worldwide since 2007. But don't just think those are to billionaire Chinese businessmen who never see the front seat. No, we here in the good ol' United States are lining up to buy these things like we're at Franklin's Barbecue.

"Why is that?" you wonder. And the answer comes down to size and content. Yup, the Enclave is a big boy, riding on the same 118.9-inch wheelbase as its cousins the GMC Acadia and Chevrolet Traverse and standing a huge 201.9 inches in length.
That's big. And Americans love big. Americans also love cheap, and in that area the Buick scores big, offering a price of entry that's at least a few used Miatas lower than the rest of the large luxury CUV class.
What's New About The 2016 Buick Enclave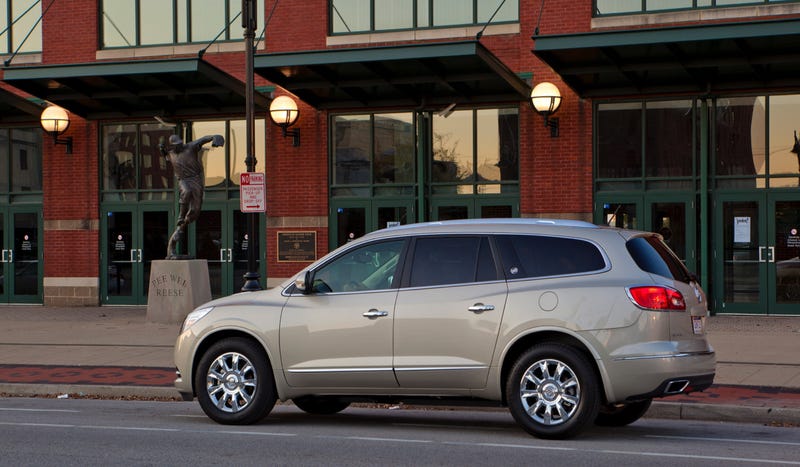 The Buick Enclave has been around for a while now. Buick showed the world their Enclave at the 2006 North American International Auto Show and released the production model as a 2008 model. The Chevy Traverse-based luxury CUV initially came with a 275 horsepower 3.6-liter V6 and room for up to eight passengers.
The second model year brought a more powerful 288 horsepower V6 and Bluetooth became standard across the line.
From 2010 to 2012, Buick's luxury crossover remained largely unchanged, but 2013 brought a big refresh. For '13, the Enclave received lots of changes to its front and rear ends. It got a new hood, new fenders, a fresh grille, changes to the headlights and taillights and new wheels. The inside saw a new instrument panel and new door trim.
On the mechanical side, the 2013 Enclave received some new suspension tech and tweaks to its six-speed automatic. A rear vision camera became standard, and numerous updates were made to both safety tech and infotainment options.
Since 2013, the Enclave hasn't seen many updates aside from a few new driver-assist options and some appearance bits.
Which One We'd Buy
The Buick Enclave comes in two forms: front-wheel drive and all-wheel drive. Front-wheel drive models come with the Convenience Group but can be optioned with the Leather Group or Premium Group. All-wheel drive models come standard with the Leather Group, leaving the Premium Group as an option.
All Enclaves come with hydraulic power steering, a strut-type front suspension design and an H-arm setup in the rear. Brakes are 12.8-inch vented rotors up front and 13-inch vented discs in the back.
Standard features for all Enclaves include: 3.6-liter V6, six-speed automatic transmission, 19-inch alloy wheels, HID automatic headlamps, power rear liftgate, 6.5-inch touchscreen display for IntelliLink infotainment system, satellite radio, seven-passenger seating, power front seats, tri-zone climate control, cloth seats, remote start, dual exhaust, rear vision camera and Rear Parking Assist.
As you start to tick the "Leather Group" and "Premium Group" boxes, the Buick's value proposition starts to diminish. 50 grand for a fancy Traverse that has been on the streets since '08? No thank you.
So if we wanted to get into a large luxury CUV and we were shopping for an Enclave, we'd probably go with the base FWD Convenience model. All in, we could drive away for just under 40 grand.
[Build Your Own Buick Enclave]

Important Facts At A Glance:
MSRP: $39,065-$49,515 Top Speed: ~110 MPH (estimated)
Acceleration: ~8s to 60 (estimated)
MPG: 17 city/ 24 hwy / 19 combined [FWD]
Engines: 3.6L V6
Max Horsepower/Torque: 288 hp/270 lb-ft
Max Advertised Towing Capacity: 4,500 lbs
Curb Weight: 4,724-4,922 pounds IIHS Rating: Not Fully Tested ('15MY)
Transmissions: 6–speed automatic
Drivetrain Layout: Front engine, FWD/AWD
Photo credit: Buick