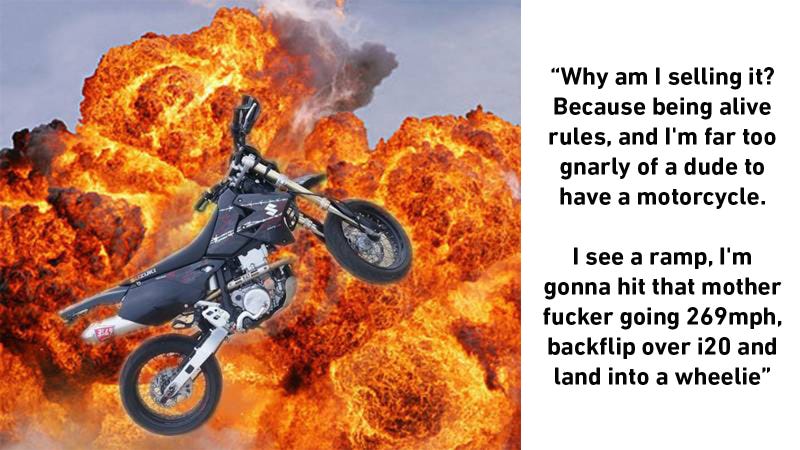 I know two things when Craigslist ad starts with "Hey there junior badass, ever feel like there's a caged animal trapped inside of you?" First, the answer is yes. Second, I can't wait to read the rest. Unlike the stuff peddled on these ubiquitous "funny" Craigslist posts, this is also a great bike and you should totally buy it.
For the completely reasonable price of $4,000, you get a great bike with low miles, one of Suzuki's less obnoxious graphics kits, and all the mods you'd need. And you get to support the guy who wrote this: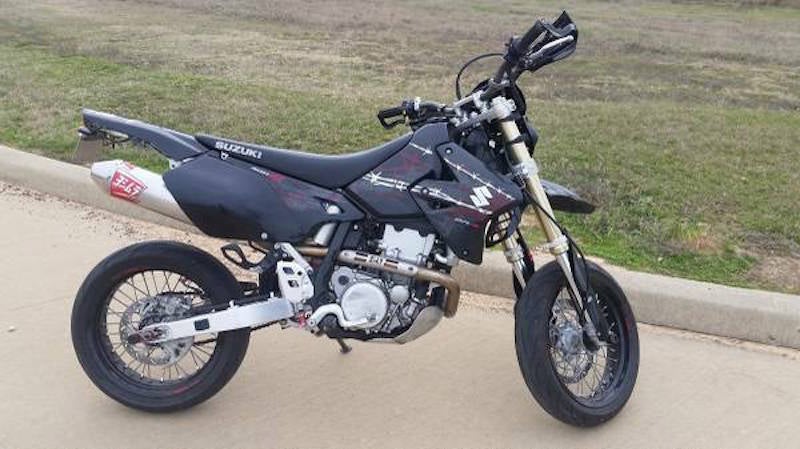 Hey there junior badass, ever feel like there's a caged animal trapped inside of you?

Only one cure for that: getting a fucking sick ass motorcycle. For sale is this 2009 DRZ-sm 400 wheelie machine. She will transport you and your shotgun through the zombie apocalypse, your one night stand from the bar, or give you a new platform for barreling down the street with the wind tearing at your clothes screaming "I AM ALIVE!" while on one wheel passing every cop in sight.

Runs like corn through a goose with engine mileage of only 9,7XX.

The tires are at about 80%, and because you don't deprive a classy lady of classy things, you will find multiple red anodized accessories because she needed some fucking jewelry to go with her TT Case savers, fcr carb, full Yoshi exhaust, zeta hand guards, aftermarket headlight, sliders and skid plate.

Why am I selling it? Because being alive rules, and I'm far too gnarly of a dude to have a motorcycle. I see a ramp, I'm gonna hit that mother fucker going 269mph, backflip over i20 and land into a wheelie.

$4000 gets you this black beast, a helmet, a full tank of PREMIUM MOTHERFUCKING GASOLINE, some links to my favorite YouTube videos, a short story about ghosts, a NOS energy drink with yours truly, and whatever kind of donuts you would like.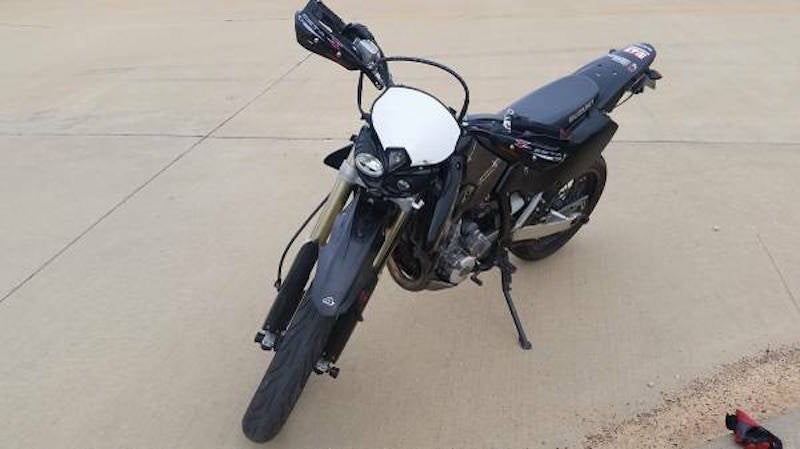 You can see the full listing, and contact the hero who wrote this to buy his bike here (it's in Dallas, Texas).
Bravo, internet.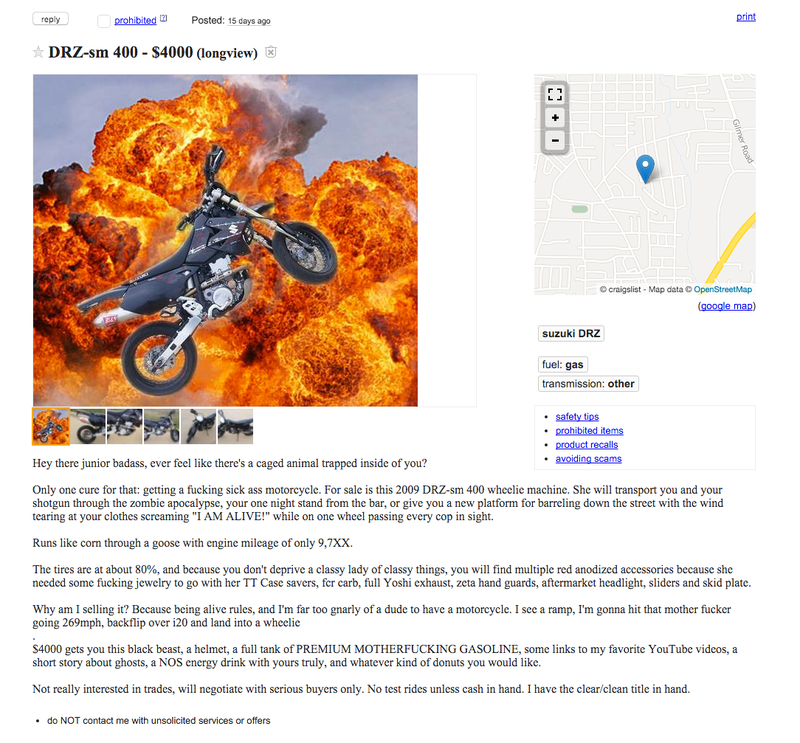 Photos: From Craigslist post
Contact the author at sean.macdonald@jalopnik.com. Follow Lanesplitter onFacebook and Twitter.