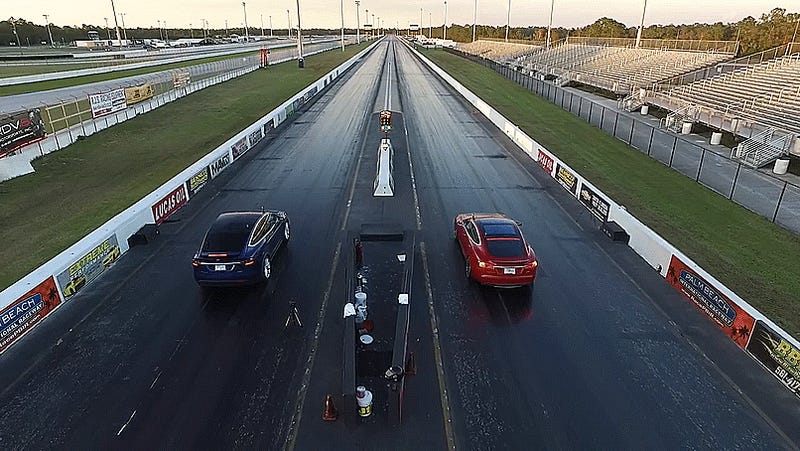 Now that the new Tesla Model X electric SUV is finally being delivered to customers it's time to see just exactly what kind of performance we can expect. Luckily for us, Tesla followed up the insanely powerful Ludicrous mode Model S P90D with an equally Ludicrous Model X P90D, and somebody raced them.

http://truckyeah.jalopnik.com/what-its-like-…
The Tesla Model X just so happens to be the fastest SUV ever; not just American SUV; not just electric SUV—the Model X P90D's combined (available) horsepower of over 530 from its front and rear motors meeting a claimed 0 to 60 time of just 3.2 seconds makes it the fastest sport utility vehicle ever made. But how does it compare to its equally fully-electric mind-blowing sibling, the Model S P90D (which sits on the same platform)?
Well, when the Model X doesn't jump the line, it turns out that extra size equates to about 600 pounds of extra weight, ultimately slowing down the SUV when compared to its sedan sibling. But damn if it isn't close.
According to dragtimes.com, The Model X's best time was 11.61 at 116 mph, while the Model S's best was 11.24 at 118.5 mph. Both vehicles were said to be fully charged. That's only a difference of 0.37 seconds, 2.5 mph—making that the "lightest" 600 pounds I've ever heard of.
All it takes is a blink of the eye and it's a toss up between the two.
While at the strip, the Model X P90D used in the test (with Ludicrous Mode) clocked a 0 to 60 of just 3.1 seconds. In an SUV. I hope the kids don't mind being early to soccer practice.
Be sure to check out the article covering the end-all be-all of electric drag races over at DragTimes.
---
Contact the author at justin@jalopnik.com or @WestbrookTweets.