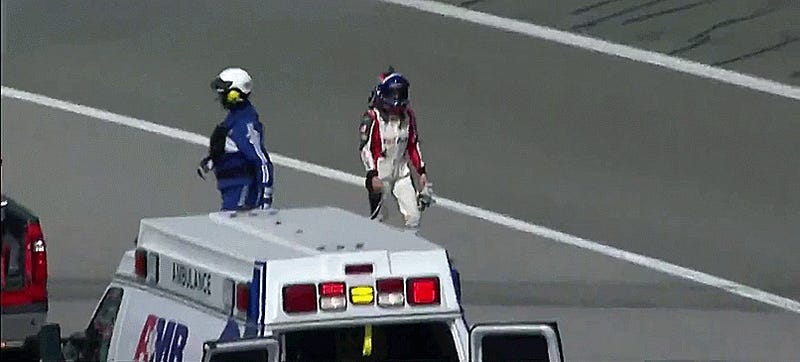 Danica Patrick's had to retire from today's Auto Club 400 after Kasey Kahne spun her into the wall. Needless to say, she mad.

Patrick had gone low on the banking to get around Kahne, who was a lap down at the time. She had worked her way back into the top 20 after a lousy starting position, and was pushing hard on this restart to get further up the field. Kahne tried to tuck in behind her too early and clipped the right rear of her car, sending her for a spin.
Danica was fuming over the incident, to the point where she walked towards the cars as they passed to throw her arms up and give Kahne one icy cold death stare of "what were you thinking?"

Patrick placed the blame on Kahne for being way too aggressive for a lapped car whenshe spoke with reporters in the pits:

"I feel bad if he felt like he was put in a position to have to be that desperate a lap down," Patrick said of Kahne.

According to the Fox Sports commentators, Kahne's crew chief and spotter have been called to the NASCAR hauler after the race.

This was the second hard hit of the day after Kyle Larson bounced off an inside wall earlier in the race. Larson and Patrick are the race's two retirements so far. Fortunately, Patrick was unharmed by her semi-aerial spin—just angry.