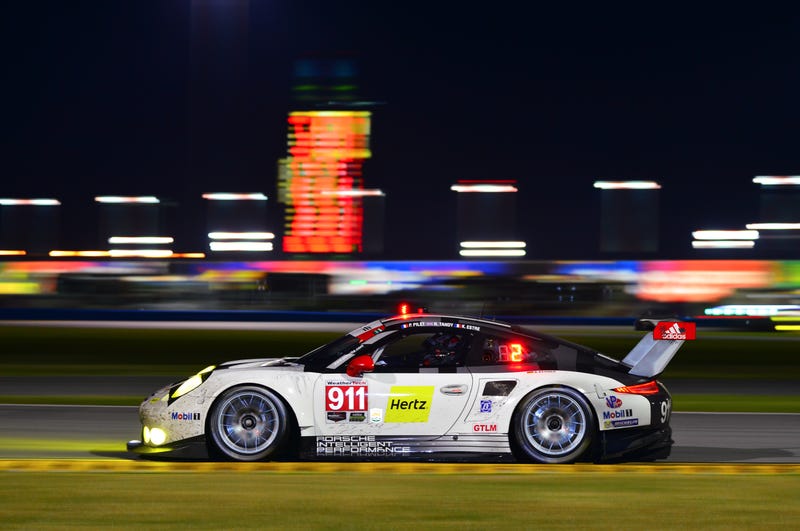 In honor of the IMSA Weathertech SportsCar Championship's return to the track after over a month off, now is as good of a time as ever for some Rolex 24 Hours appreciation. The series met a downpour at Sebring International Raceway this weekend, but let's reminisce in the times of better weather and longer racing.
This weekend's wallpaper comes from Mason Bleasdell, and features the pole-winning No. 911 Porsche from the GTLM class at the Rolex 24 Hours at Daytona. Drivers Patrick Pilet, Nick Tandy and Kevin Estre piloted the car, spending much of the race battling for the lead with the No. 912 Porsche of Earl Bamber, Fred Makowiecki and Michael Christensen.

After leading all of those laps, the No. 911 Porsche had a drive-line issue in the 19th hour that ruined its hopes of a class win in the IMSA season opener. But don't let this wallpaper be a downer after hearing that—it's the perfect chance to tell passerby in the office all about how intense the final laps of the race were.
http://blackflag.jalopnik.com/the-rolex-24-a…
Use your new wallpaper as an excuse to show someone that ultimate Corvette showdown—as well as all of the other great finishes—and you may just make a new racing fan. Tell them that those races were each 24 hours in the making and, well, they'll never look back.


Perhaps don't show them the rain-delay clips from the 12 Hours of Sebring over the weekend, though—not even we as racing fans enjoy those. The Sebring insanity that ensued after the race resumed is all yours, though.
http://blackflag.jalopnik.com/corvette-prove…
May your week be as exciting as this year's Rolex 24, and hopefully the weather forecast where you're at doesn't look like it did at the 12 Hours of Sebring. If you have a photo or two of your own that you'd like to see featured in our weekend-wallpaper posts, don't hesitate to send an email to the address below.
Photo credit: Mason Bleasdell. Used with permission. For more photos of his photos, check out his Bleasdell Photography Facebook page. For a big desktop version, click here.
---
Weekend Wallpapers are usually featured on Sundays, (but not always!). Got one you'd like us to run? Send it to alanis.king@jalopnik.com with the subject "Weekend Wallpaper." Just make sure you have the rights to use it.