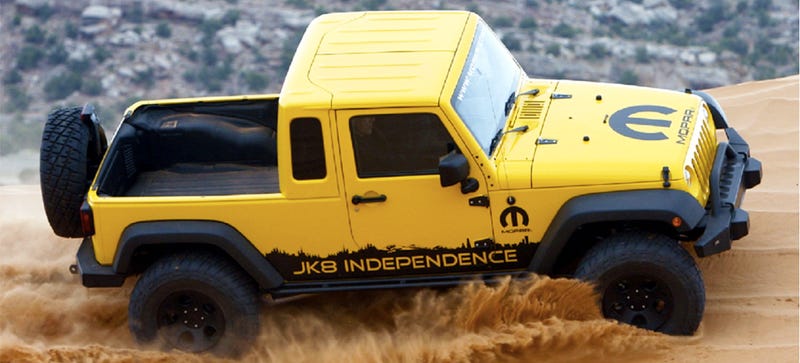 Of all the automotive fantasies, a Jeep Wrangler pickup truck is high on the internet's wish list. We've heard rumors both ways about this before, but now The Detroit News says they have confirmation straight from Jeep's CEO Michael Manley and his corporate overlord Sergio Marchionne.
Update 1/11/16 8:30 p.m. EST: A Jeep spokesperson called me back and could only confirm that Marchionne "may have" said something to the effect of a Wrangler pickup coming with the next Wrangler bodystyle in "a roundtable with journalists," but the company has issued NO official announcement.)
"Jeep will produce a pickup based off the next-generation Wrangler," and it, along with the next iteration of the standard Wrangler, will be built in Toledo like the current vehicle Reporter Michael Wayland writes on DetroitNews.com.
Frustratingly there are no direct quotes to substantiate that statement, and everyone in my rolodex at Jeep has so far been too busy to return my calls asking for confirmation.
The Detroit News, the closest thing we have to a primary source at the moment, has Manley saying:
"Sergio and I work very, very closely on the Jeep product portfolio, and both of us have been a fan of a potential Wrangler pickup… For me, there is a historical place in our lineup for it."
That doesn't sound like the yes-for-sure-100-percent guarantee I was hoping for, sounds more like generic corporatespeak for "next question please."
But over the next few days of the 2016 Detroit Auto Show we're going to get a "yes," "no," or (most likely) "maybe" straight from somebody important at Fiat Chrysler before I'm ready to make a ruling.
Internet commenters have been demanding a Jeep Wrangler-looking pickup truck for at least as long as the current bodystyle (JK) has been out, and we've been hearing rumors that it will come with the next redesign for almost as long.
It does seem extremely likely that the company will build such a vehicle, especially since the four-door Wrangler Unlimited turned out to be such a resounding success after so many years of Jeep fans demanding a four-door.
Stay tuned for details as they trickle out. For now, I'm curious to hear what you'd really be looking for in a Jeep pickup. Four doors? Heavy payload capacity? Or do you just want to see if we can achieve Peak Americana by marrying the classic seven-slatted off-roader to our country's favorite type of car: the pickup?
Image via FCA: Mopar J8 conversion kit, currently available

---
Contact the author at andrew@jalopnik.com.