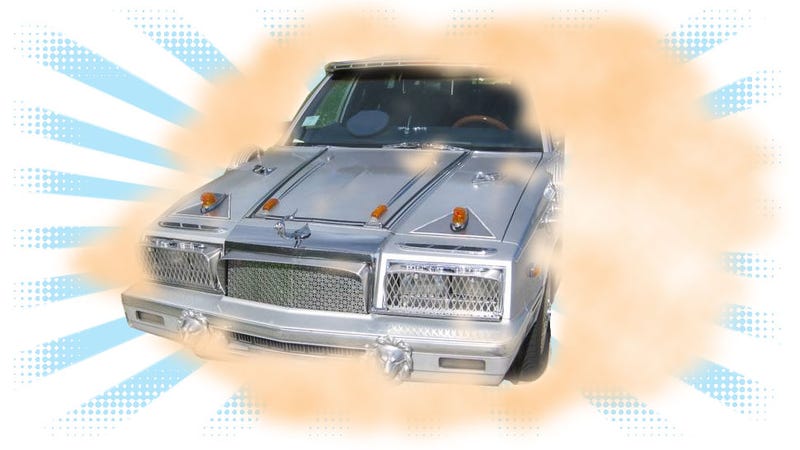 This is one of those things that car accessory scientists have been debating for years: can nearly every piece of adhesive-backed chrome bullshit sold in the JC Whitney catalog be adhered to one vehicle, or would that vehicle collapse into a singularity, as the math suggests? This Craigslist ad seems to show it's possible.
Scientists at the University of Pennsylvania's Moe Pep School Of Shit You Stick On Cars have long attempted, in carefully-controlled laboratory settings, to produce such a car, but never with any success. That's why the sight of this 1985 Chrysler Executive Limousine laden with what has to be an entire JC Whitney catalog worth of shiny bullshit is proving to be so revolutionary.
The car is referred to as "Penny the Talking Limo," likely in reference to Chrysler's then-current electronic voice-alert system, the place where 90% of Generation X Americans learned the meaning of the word "ajar."
Minimal other information about the car is given, except that the anonymous owner wants an alarmingly low $8900 for this triumph, and that it retains the always-underwhelming 4-pot FWD K-Car drivetrain.
Let's just take a quick look at some of these pictures, and really evaluate the magnitude of this achievement: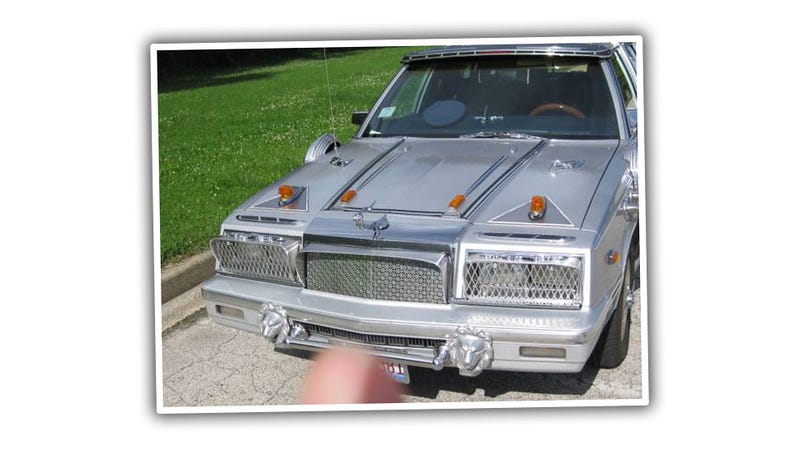 Look how well-protected those headlights are. A truly elegant vehicle treats its headlights like prisoners. Beautiful, light-giving prisoners, trapped in chromed cages, like miraculous birds.
And why pick one kind of mesh, when you can have three? Who says gaudy amber position lights are for truck cabs? Why shouldn't the discriminating man of taste not delineate every elevation change of his hood with an amber lamp, tastfully planted on a triangular chrome pad?
Also, if you think little rubber blocks make fine bumper guards, then, clearly you lack the breeding to understand such a job is best suited to a pair of chrome lion heads, flanking what appears to be a towel rack.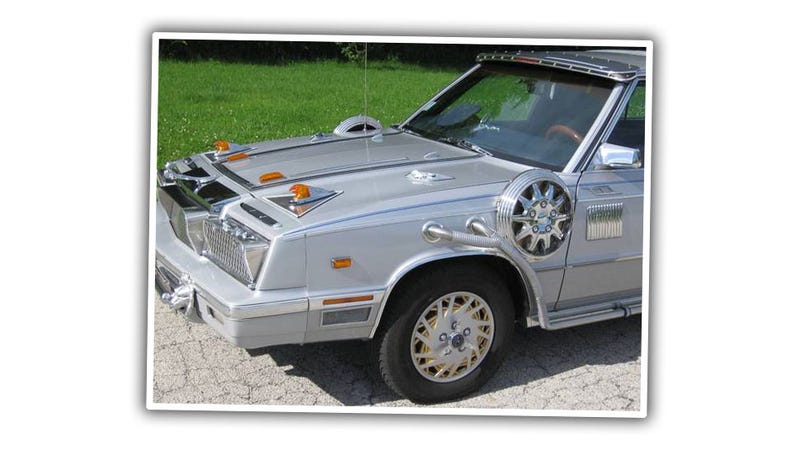 I'm pretty sure the 2.2-liter K-car engine has just one little exhaust manifold that runs centrally under the car, but it should have two massive chrome flex-pipes that run all the way down the side of the car.
Also, why take the risk of not having a couple of extra chrome, tire-less wheels for your car? Perhaps those aren't actually wheels, but some manner of massive turbine air intakes there just below the A-pillar.
Whatever they are, they're stunning. And, kudos to the owner for placing an extra marker light on the fender there. Let the DOT know for you, it's not just about meeting the requirements – it's about exceeding them.
Oh, and those chrome vents on the door are a great way to remove excess heat from the window winding motors.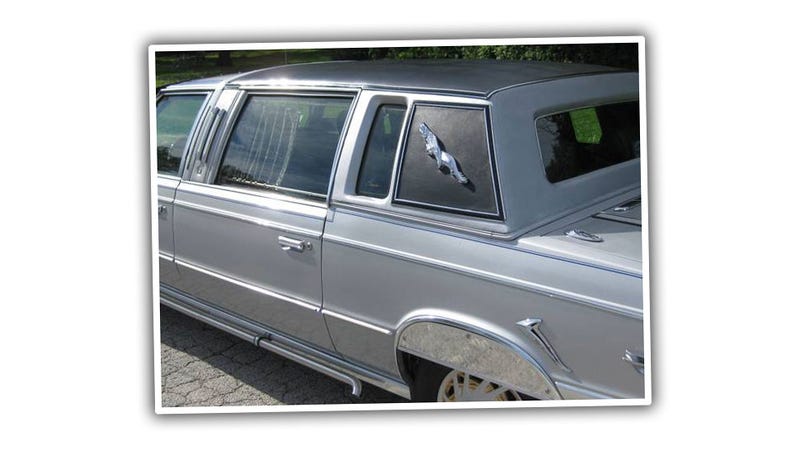 Landau bars on your vinyl top? Cute. Check out this goddamn chrome LANDAU EAGLE, properly and respectfully housed in its own frame atop the vinyl. Plus, an opera window and at least two opera lights, so all your opera viewing and lighting needs are covered.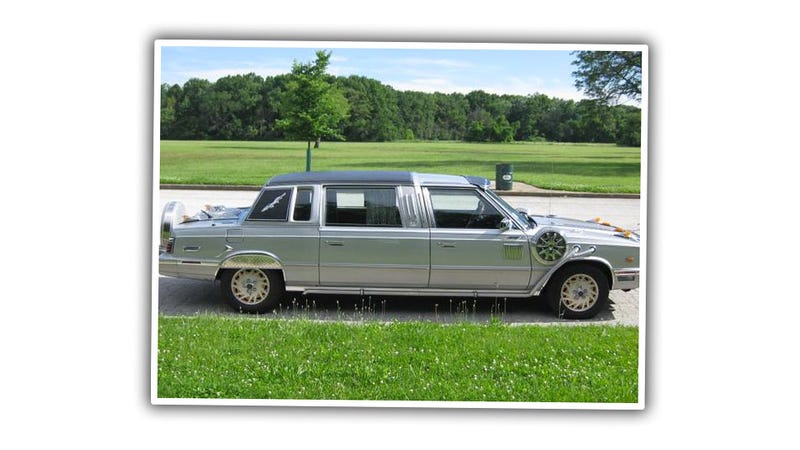 Here's a nice overall profile of this Baroque goddess in all her glory. The warmth you may be feeling is raw, uncut class leaking out and soaking your ankles.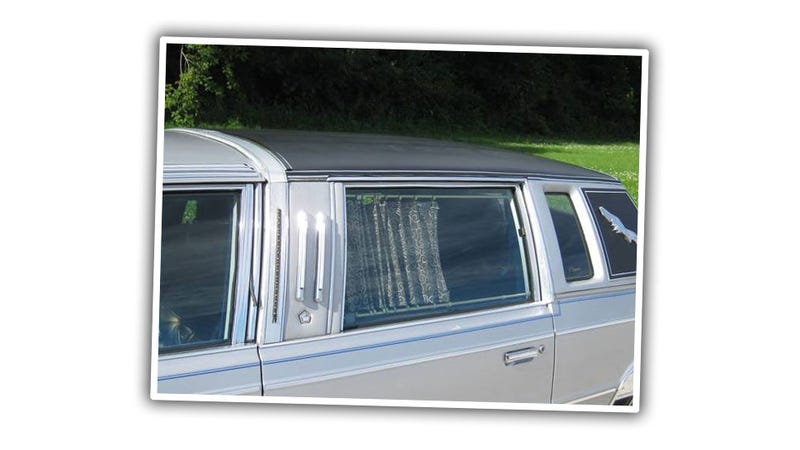 Curtains? Of course. With all the offers of vigorous boning that a car like this is certain to elicit, you've got to have a little bit of leopard-print privacy.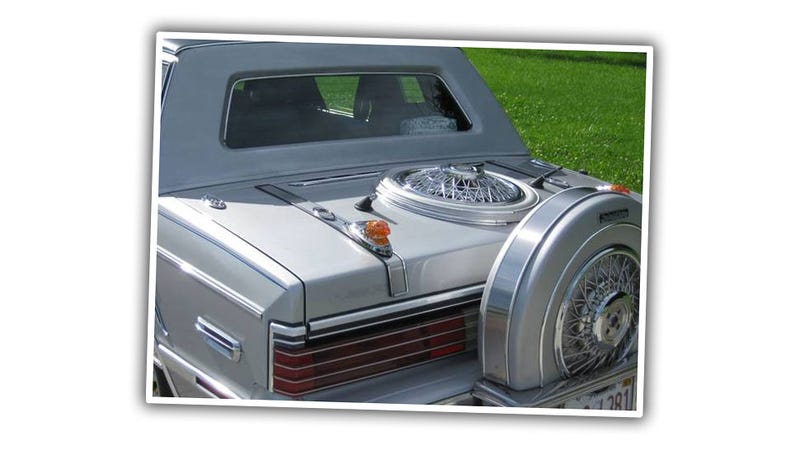 Attempt to achieve this before have often been stymied by small-minded people who think things like "I have one fake spare tire, so I guess I'm done." That's loser talk.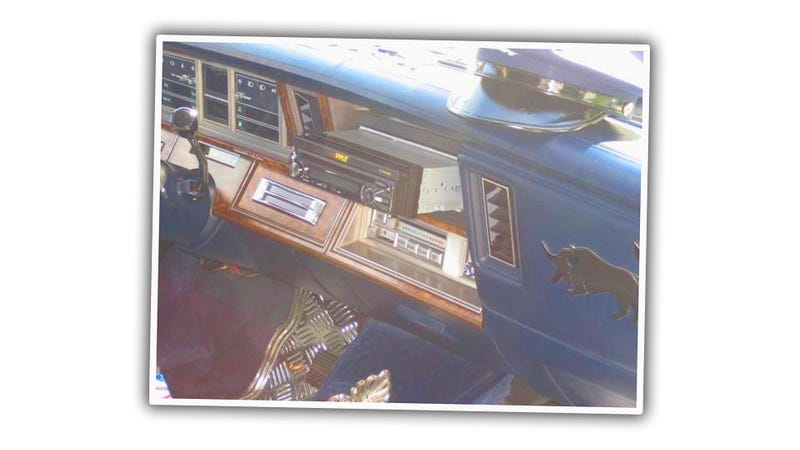 I'm not totally sure why the radio is popping out of its socket. Perhaps it's afraid of the menacing chrome bull to its right, or perhaps it's hoping to wear that chauffeur's hat up on the dash.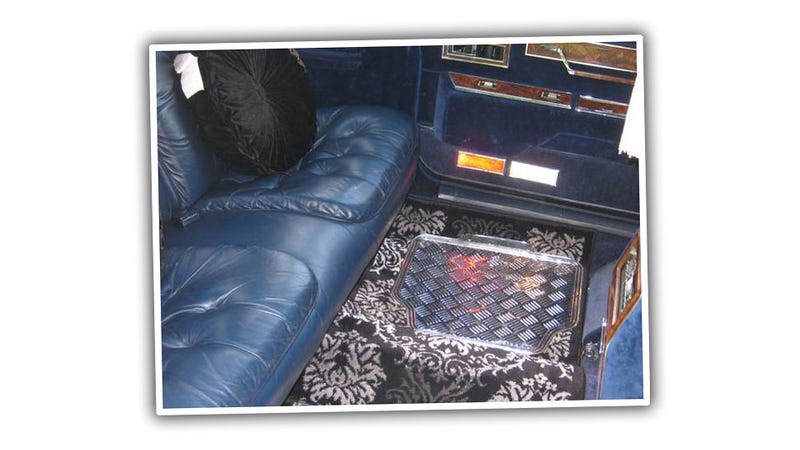 What's the carpet and floor mat look like in your Rolls-Royce Ghost? Pretty plain? Is it goddamn brocaded, with a no-skid chromed floor mat? No? Too bad. Enjoy your shitbox.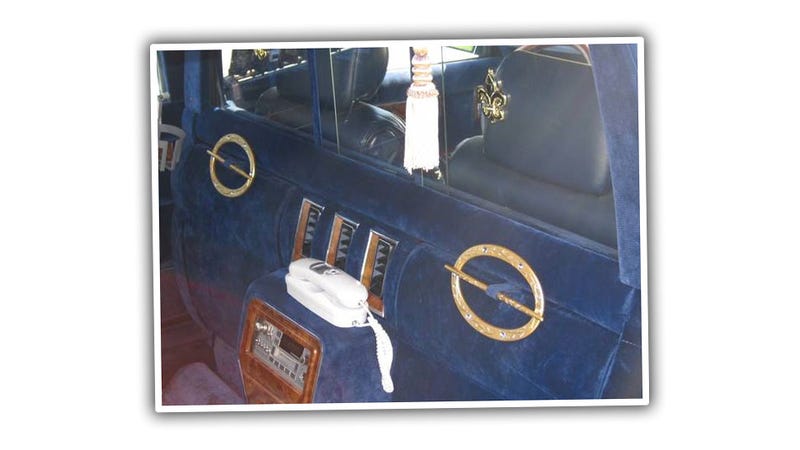 Leather? Alacantara? Those are two great synonyms for 'bullshit.' Velour, baby, and lots of it. Look at this, really look, drink it the fuck in, people.
Is that a silky pull-tassle? You better fucking believe it. Need to make a call? Put down that mass-pablum iPhone, and pick up this landline-grade telephone. Need a bejeweled wand circumscribed by a golden, jewel-studded oval? Take you pick, bitches, because we've got two here.
A golden fleur-du-lis? Check. Casette deck, I think? Check. Caviar by the bucketful? More foie gras than you can chug? Check and fucking mate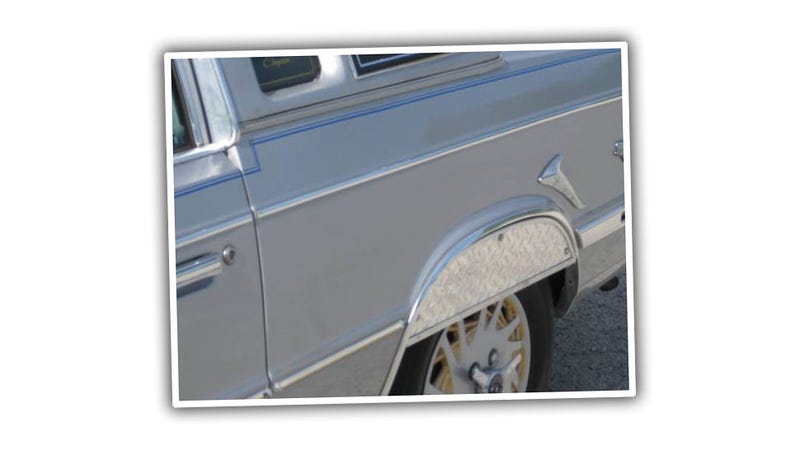 No-skid rear wheel skirts mean that the car won't oversteer, right?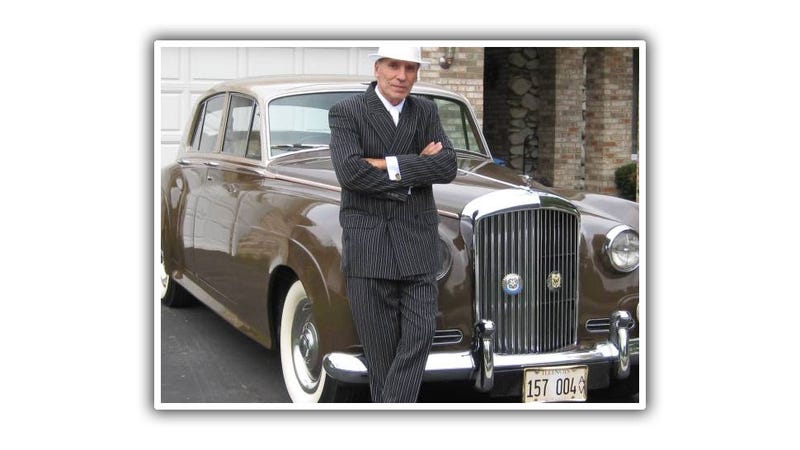 The ad's pictures end with this cryptic image. I guess this is a warning that if you don't buy this car, you might end up stuck with some POS Bentley like this poor bastard.
(Thanks, Steven!)
---
Contact the author at jason@jalopnik.com.