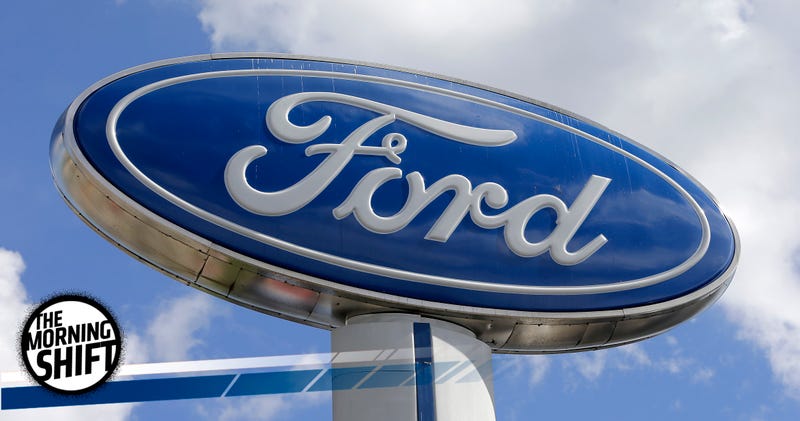 Good morning! Welcome to The Morning Shift, your roundup of the auto news you crave, all in one place every weekday morning. Here are the important stories you need to know to develop a rounded worldview of the auto industry today and help you scream at people over Twitter more effectively.

1st Gear: Ford's Board Wants A Word With Its CEO
Ford's 2017 isn't off to a wonderful start—adjusted earnings in Q1 shrunk 42 percent, and ever since Mark Fields took over as CEO in 2014, shares have fallen 35 percent, according to Bloomberg.
As you can expect, like any good corporation beholden to its shareholders, this isn't sitting well. So the board of directors wants a word with Fields, reports Bloomberg, and it's scheduling extra time this week to question him on Ford's strategy going forward.
Here's more:
Investors have been indifferent to Fields' plan to pour billions into new technologies like driverless cars and robo-taxis to take on upstarts like Uber Technologies Inc. and Waymo, Alphabet Inc.'s self-driving spinoff. Ford's traditional automotive business has struggled more than crosstown rival General Motors Co. as the U.S. auto market declines following seven years of growth. Ford's first quarter adjusted earnings fell 42 percent, while GM appears on pace for another record annual profit.

"This is the first public sign that the board is becoming impatient," said David Whiston, an analyst with Morningstar Inc. in Chicago. "It's likely proof that the board is frustrated with the stock price languishing for the past several years. It may be a grilling session for Mark."
Maybe you're tired of hearing skepticism over the ifs and whens of fully-autonomous vehicles actually becoming a reality, but it's something like this that gives me pause.
Ford wants a driverless car on the road to serve as a robo-taxi of sorts within the next four years. But its shareholders are the conductor, and if impatience grows into downright outrage, maybe Ford's not as surefire of a bet to be a key player in the autonomous revolution.
But hey, even if GM is more profitable, it also can't convince Wall Street that its stock price is worth a damn.
2nd Gear: Takata Is Losing Its Tail
Poor Takata… wait, what the hell am I saying? Takata knew its airbags were a huge liability, and the supplier's faulty inflators did in fact became fatal, linked to at least 16 deaths across the world.
So this isn't much of a surprise; Takata had a bad year again, recording its third consecutive annual loss.
How much? Automotive News says it's nearly $700 million.
The company is seeking a financial sponsor to help pay for the recall-related liabilities. U.S. auto components maker Key Safety Systems and private equity fund Bain Capital are trying to strike a rescue deal worth around 200 billion yen with Takata's steering committee and its automaker customers in the coming weeks, more than a year after the search began for a financial suitor.

Takata last month acknowledged that KSS was a front-runner in the bidding.

The world's second largest airbag maker is struggling to produce enough airbag inflator replacement parts after around 100 million of the components were deemed defective by global transportation safety authorities.
And yet somehow, remarkably, Takata still has the potential to gain a profit this year. Automotive News says it's forecasting a net profit of roughly $44 million in the year through March. How about that.
3rd Gear: Daimler Might Be Done With Diesel In 2017
Gosh, it's not looking too good for diesel. It seems like forever ago (about a month) that we were talking about the death of diesel. Whether you want to blame VW for that whole Dieselgate thing (yes), or think electrified powertrains will be the death knell (maybe?), 2017 hasn't been a great year for oil-burning.
And now Daimler AG might be on the outs, at least in the U.S. The German automaker said Tuesday that it's dropping plans to seek certification for 2017 Mercedes-Benz diesel models. But, Reuters reports, it hasn't ruled out the American market for diesels just yet. Here's more from Reuters:
In March, the Stuttgart prosecutor launched an investigation against Daimler employees on suspicion of fraud and misleading advertising tied to vehicle emissions.

The company told Automotive News in October that it planned to seek approval to sell four U.S. Mercedes diesel models for the 2017 model year. Last year, Mercedes-Benz offered four U.S. diesel models.

In April, Dietmar Exler, president and chief executive of Mercedes-Benz USA, told reporters the company had not made a decision "one way or the other" on the future of U.S. diesel sales.
Diesel vehicles only comprised less than 1 percent of U.S. sales last year for Daimler, Reuters said, and the company plans to leave "the door open" for offering passengers a diesel option. But the outlook should be grim for diesel fans.
4th Gear: About Those EV Cost-Savings
Electric vehicles, in general, make sense for the economic car buyer—dropping routine gas payments surely helps the bottom line. But what automakers hoping to rev up the electrification of the industry might not realize is that, for some time, ramp-up costs are going to be significant. At least until 2025, according to supplier Continental AG's chief financial officer, Wolfgang Schaefer, who spoke with Bloomberg:
"High battery costs, limits to driving ranges and charging times mean that electric cars won't have an economic advantage over combustion engines until 2025," Continental's Chief Financial Officer Wolfgang Schaefer said in a phone interview.

Automakers are pouring cash into electric vehicles as tightening emissions rules dictate a shift that consumers have been loathe to bankroll. Volkswagen AG will triple spending on developing alternatives to combustion engines to 9 billion euros ($9.8 billion) over the next five years. Daimler AG's bill for the transformation stands at 10 billion euros. Continental, Europe's second-largest supplier to the industry, says the payoff will take years to materialize.
Electric vehicles only comprise a fraction of total auto sales, but automakers want to turn-on consumers to the idea sooner rather than later. Tesla's Model 3, set to begin production in July, will be a decent barometer as to where demand currently stands.
And even if automakers won't see the benefits up front, for guys like Schaefer, the electric-car market is great. More from Bloomberg:
Continental stands to benefit because it'll eventually be selling electric powertrain parts valued at 3,000 euros as opposed to the 750 euros from conventional combustion cars, Schaefer said.

"Our customers have a fireworks of new electric models in the pipeline that'll hit the market in 2019 and 2020," said Schaefer. "They and we have our hands full to get these new models ready."
5th Gear: Toyota Looking To Slash And Burn
Toyota's forecasting another decline in profit this year, and President Akio Toyoda—the first back-to-back decline since 1994, according to Bloomberg. And in the current environment, with sales expected to dip this year, Toyota has to cut, he says. From Bloomberg:

Toyota could look to cut back on spending more on conventional cars and instead focus on hybrid, plug-in hybrid and electric vehicles, according to Edwin Merner, president of Atlantis Investment Research Corp., which owns the automaker's stock. "If you don't have these things, then you could end up being at a very big disadvantage," he said.

While the Japanese automaker may increase production capability overseas in the U.S., Europe and India, at home it will look to automate more rather than increase capacity, Merner said. "The main focus will be cutting your production costs per car to become more efficient," he said.
Toyota's expecting operating profits to fall 20 percent in the first quarter of this year, but it still has the Camry to lean on … unless the average buyer doesn't dig how it looks now.
Reverse: Chrysler Gets Some Help