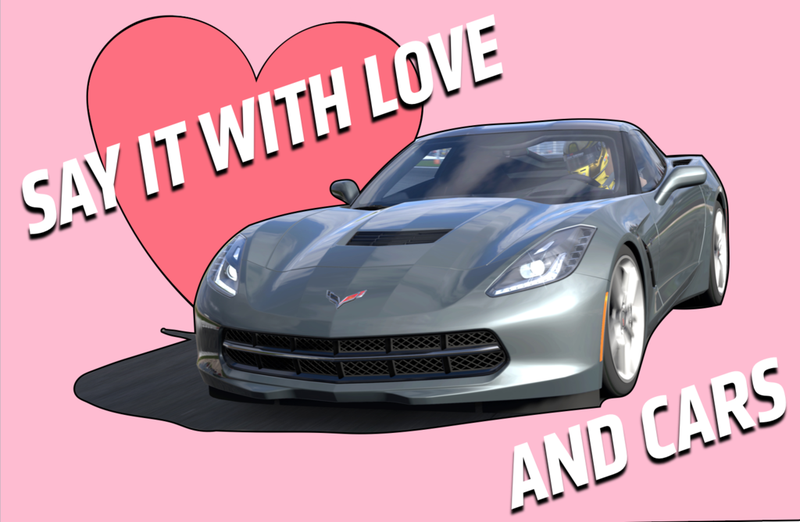 With Valentine's Day coming up, finding the right words is crucial. Sometimes, it can be hard for us car enthusiasts to find partners who relate to our love of racing, speed and hard-to-fix mechanical problems. To help you out, here are some valentines that may explain your passion to your sweetheart—and your feelings, too.

The options listed below aren't the most heartfelt, and they certainly aren't the most flattering. But it's the thought that counts. If your special someone isn't a car person, these might explain where you're coming from. And if you did happen to find yourself a fellow car enthusiast, even better—he or she may actually get a laugh or two.

Either way, string one of these cards on a teddy bear and some chocolate and your partner won't give them a second thought. String one to a new car, your theme is even more prevalent. You'll look like you really planned this one out.
Straight From Teslove Motors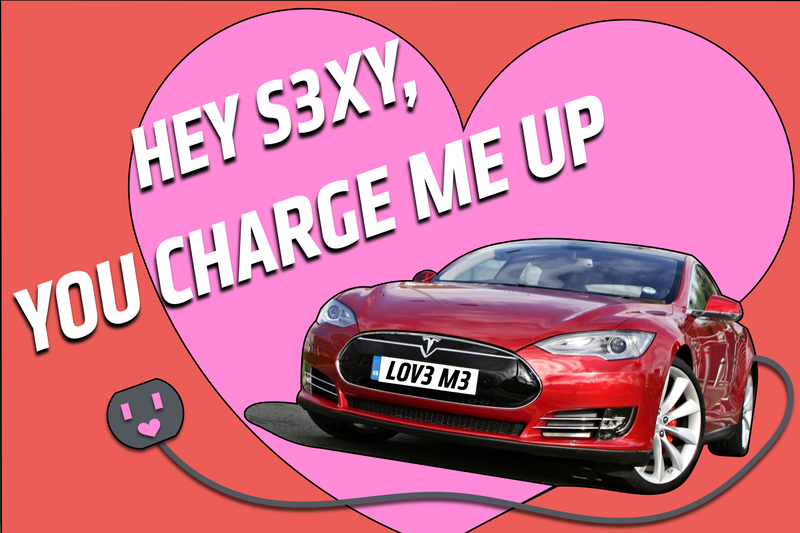 There are just too many good jokes that can be made with an electric car. "You electrify me." "You spark a fire inside of me… but please don't actually do that." The phrase "Your wish is my command" is good too due to the new summon feature on Teslas, but that's not a promise most of us want to put in writing.
http://jalopnik.com/teslas-newest-…
As for plugs and outlets and jokes of that nature, you guys go ahead and take it away. Have fun.
In case you missed the recent Tesla news and wonder about all of the sexiness happening on that card, company head honcho Elon Musk told us all, in code, that he is "too S3XY" for everyone else. That code came from an announcement of additions to the Tesla lineup, with the "affordable" Model 3 and Model Y joining the pricier Model S and Model X. How S3XY.
http://jalopnik.com/tesla-motors-c…
(Do not watch the above video on Valentine's Day. It will kill the mood. And if you want someone to be your valentine, the safest bet is to never watch it with him or her.)
Don't have someone to give this Teslove car to? That's OK. Tesla lost money in the last quarter, but Musk promised to bounce back this year. Promise the same for your love life, and you're off to a great start.

Faraday Wants A Future With You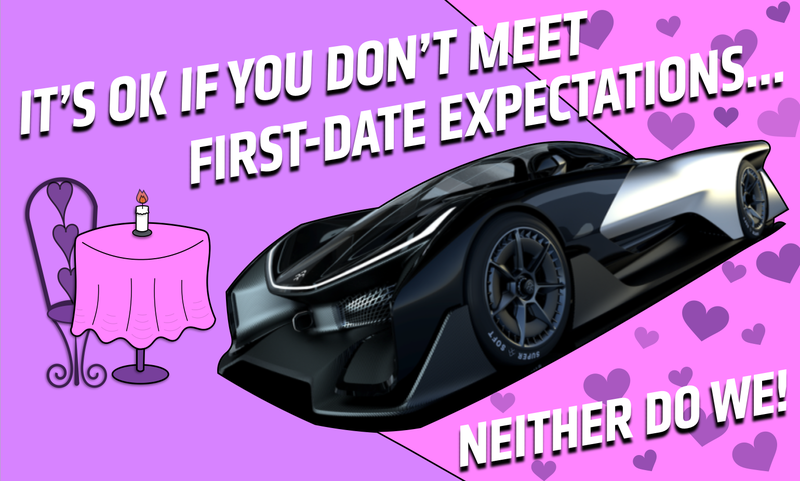 So maybe your first date was a bit awkward. It happens! No reason to give up trying, right?
If anyone knows about not meeting expectations, it's Faraday Future and the FFZERO1. A few days prior to its debut at the Consumer Electronics Show earlier this year, images leaked of the car and it shocked everyone . Not in the "You don't look like your Instagram picture" way—in the "We sure hope you don't look like your picture" way. It was bad.

That ugly car showed up on stage, though. It was almost like landing a date with the mysterious person eying you from across the room, only to realize that the reason they spent so much time staring at you was because it was their first time out of mom's basement in a few years.
The FFZERO1 escorts delivered a painfully awkward presentation about their secretive-until-then company followed by some painfully awkward interviews on how Faraday Future's debut model looked like a Hot Wheels car. Even if you have the worst Valentine's Day date of your life, know it was not as bad as this.
http://jalopnik.com/faraday-future…
As for the actual consumer cars Faraday Future wants to produce, people within the company said we'll just have to wait and see what they bring to the market. That's essentially like a date saying, "I didn't feel a spark, but let me introduce you to my sibling. I think you'd like each other." Total crapshoot there.

But you shouldn't face too much competition for this shell of a car's love, if that's any comfort. People think it's kind of weird looking.

http://jalopnik.com/i-asked-a-bunc…
Volkswagen Is Totally Braggin' (On You)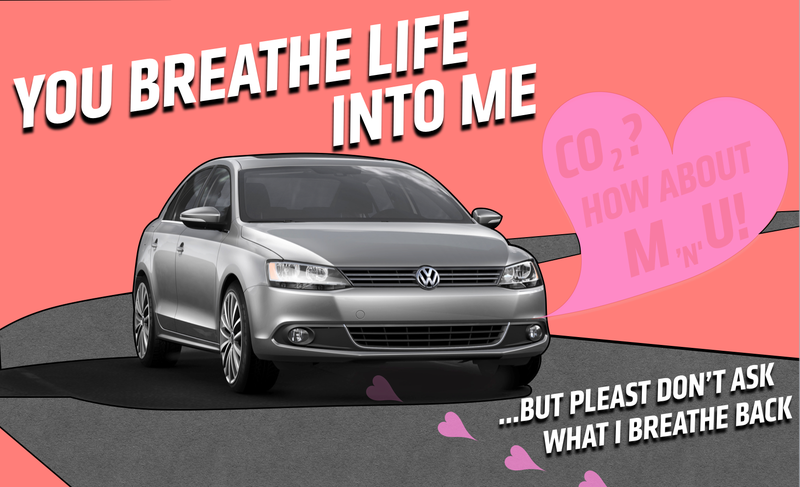 The only response to this Valentine's Day card should be one saying, "Ooh baby, don't you know that you're toxic?" Photo of pre-2007 Britney Spears optional.
Volkswagen's ongoing drama of the Dieselgate scandal that surfaced in 2015 centers around defeat devices used in select Volkswagen, Audi and Porsche diesel engines, which limited emissions in the claimed clean-diesel cars.
http://jalopnik.com/your-guide-to-…
(Alternative valentine message: TD-I can't even see myself without you!" Much nicer.)
The VW Group is dreaming up fixes now, and the company announced that it will not release financial data or hold its annual shareholder meeting until it can figure out the total costs of Dieselgate. Spoiler: probably expensive. But that's a good reason to cheap out on Valentine's Day, yes?
No matter the fixes, the high-profile attorney hired as head of claims for the Volkswagen diesel drama said most customers should accept the "generous" compensation packages because the whole deal boils down to a "business transaction." Ouch. That is not the language of love, friend.

http://jalopnik.com/head-of-vw-die…
The good thing about this particular card is that if your partner pays even the slightest attention to mainstream news, he or she should get a laugh. Also of note: The Road of Love pictured in the valentine card above lets you drive on the center dividing line (paved with hearts). Please do not do this on real roads.
Mr. & Mrs. Toyota, In A Weird Sort Of Way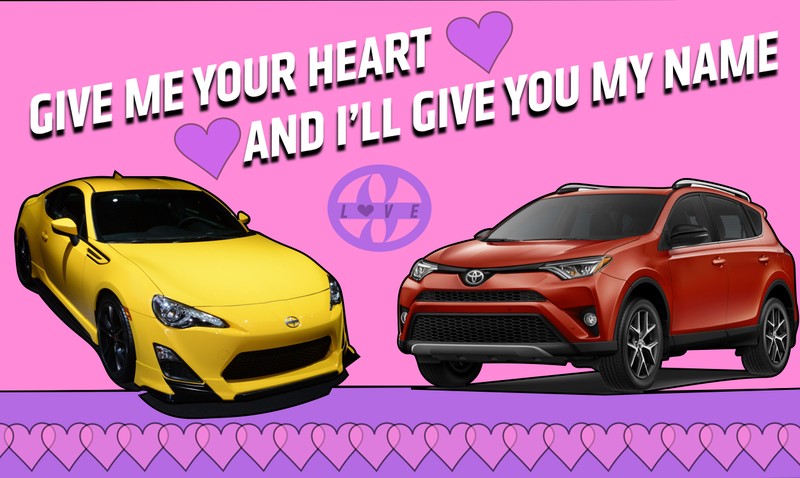 At the beginning of this month of love, Toyota announced its decision to kill off one of its own. Kind of. How morbid. Starting this fall, the "youth-oriented" Scion brand that Toyota gave life in 2003 will be no more and all of its models will be rebranded as Toyotas. So, the act of Toyota giving Scion its name gives off a more weird, marriage-within-the-family vibe than a romantic one. (This valentine works great in Alabama, though.)

http://jalopnik.com/scion-is-dead-…
For the Scion owners who just had the idea that a last-minute trade in could get you some extra gifting cash since the brand is now a "collectible," do not run out the door to buy that diamond-encrusted whatever just yet. There's an almost-sure chance that your Scion will not go up in value at all. Bummer.
http://jalopnik.com/what-will-happ…
But this Toyota-Scion news isn't all bad, because it can teach us a good lesson before Valentine's Day. The Scion brand, overall, wasn't such a compelling one, and it's just getting an outfit change with the new badge on its nose.
Next time your partner's going-out look or outfit isn't a very compelling one either—specially if she's a woman—brush it off and remember that it will change for the better eventually. And she most definitely does not look fat in that dress. Or angry, in Scion's case.
http://jalopnik.com/scion-sucks-be…
And if you got some tunes from the infamous Scion mix CDs while the brand was actually a thing, congratulations! Put on those romantic (?) tunes that have gathered dust on the shelf for the past 13 years, and you'll look like you had that playlist all set up for the candlelight dinner. Or, you can just cut your losses and send the CDs to us.
No matter how you celebrate Valentine's Day this year, just be thankful that your situation isn't as awkward as the ones that these manufacturers find themselves in. Except for being S3XY, like Tesla. Go forth and be S3XY.
*Note: Absolutely no guarantee whatsoever.
---
Images via Newspress, Chevrolet, Tesla, Faraday Future, Volkswagen, Toyota, Scion
Contact the author at alanis.king@jalopnik.com.