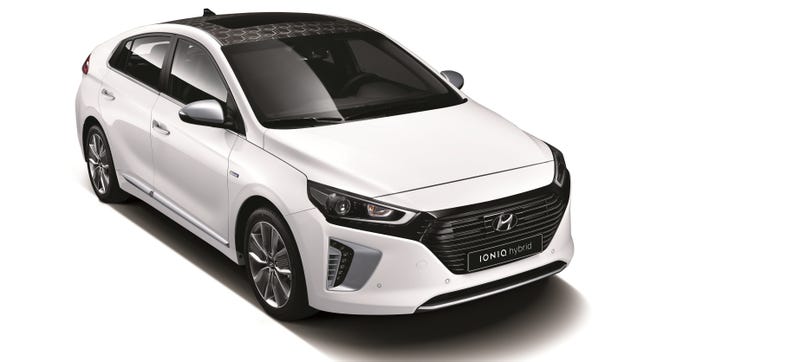 In a rather unique fashion, Hyundai will offer the 2017 IONIQ with three drivetrain options, including a fully electric one, wrapped in a body that's arguably better looking than a new Toyota Prius. Not bad so far.
http://jalopnik.com/the-2016-toyot…
Hyundai still won't give us the full specifications, but what's for sure is that the standard gasoline/electric hybrid version of the IONIQ packs a highly efficient 1.6-liter engine and a 44 horsepower electric motor for a combined output of 139 horsepower and 195 pound-feet of torque. With a dedicated dual clutch transmission and a drag coefficient of 0.24 Cd, this base drivetrain should grant you pretty decent gas milage already.
http://jalopnik.com/2017-hyundai-i…
The IONIQ uses a lithium-ion battery pack instead of a conventional nickel-metal-hybrid one, and it's a fair guess that the PHEV version will keep a higher capacity unit under its rear seats since it will mostly use the gas engine as a range extender.
The surprise guest of the night, the pure electric Hyundai, will have such competitors to take care of as the Chevy Bolt and its 200 mile range, although a cheaper offering with slightly shorter range might just do the trick here. No word on that yet, but the car premiers at the Geneva Motor Show next month.
http://jalopnik.com/2017-chevrolet…
Hyundai says the IONIQ's ride comfort will be exceptional in the segment thanks to better insulation in the dash and damping in the floor panels, enhanced A- and B-pillar fillings, thicker window glass with noise canceling film on the windshield and Michelin's low-resistance 17-inch tires.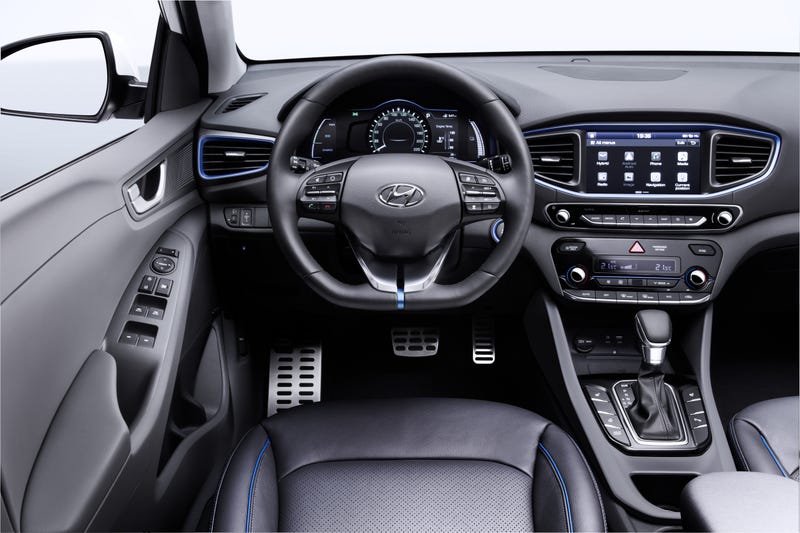 On the inside, you get a 7-inch TFT-information cluster displaying all types of gauges, while the center touchscreen has both Apply CarPlay and Android Auto. A wireless inductive charging pad is also on the options list.
Naturally, the materials they used on the headlining and carpet are extracted from sugar cane, while the rest was cured with extracted soybean oil. What say you, BMW i3?
http://jalopnik.com/the-electric-b…
What's even greener is the IONIQ's Eco-Driving Assistant System, which assesses the driving route set in the satellite navigation system, enabling the most efficient battery charging or extra motor assistance as required by the predicted road conditions. The idea is to help you coast along your way, avoiding harsh acceleration or braking to lengthen the electric range. But when you do need to slow down for something, the IONIQ's regenerative braking system will get the most out of that too.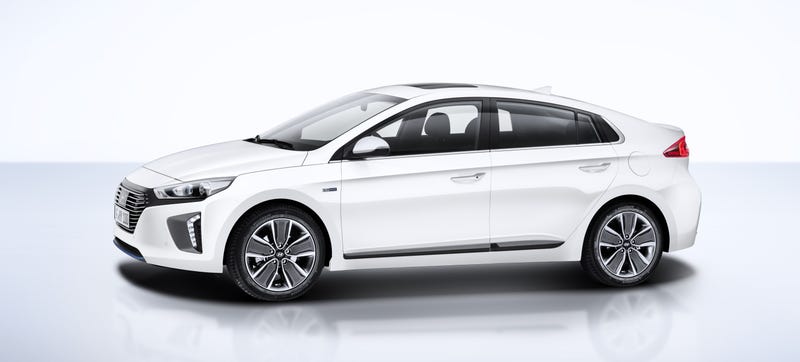 As far as safety goes, Hyundai's electric hybrid features autonomous emergency brake activating at 6 mph and above, lane keeping and departure warning assist , and blind spot detection with rear cross traffic alert.
If that's still not good enough, seven airbags and lots of advanced high strength steel around you should do a fine job at keeping everybody in one piece inside.
Finally, the all important figure you were all waiting for!
With the rear seats are folded flat, the IONIQ offers 26.4 cubic feet (750 liters) of cargo space.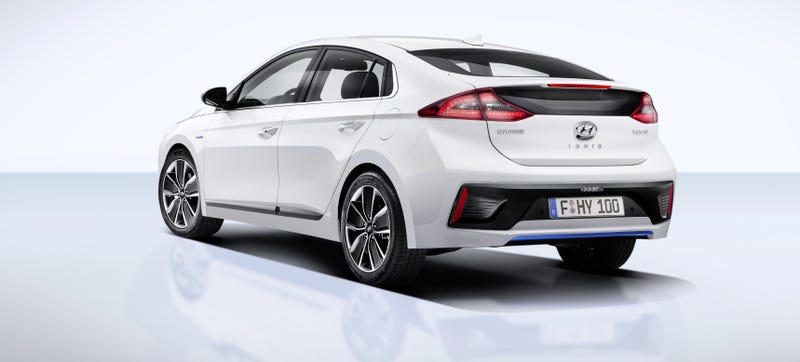 So far, I'm a fan.
Photo credit: Hyundai
---
Contact the author at mate@jalopnik.com.