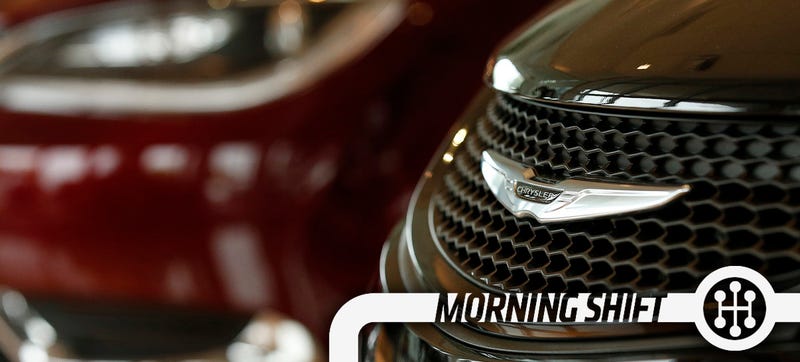 Good Morning! Welcome to The Morning Shift, your roundup of the auto news you crave, all in one place every weekday morning. Here are the important stories you need to know.
1st Gear: Dealers Accuse FCA Of Racketeering
On the heels of an insanely successful Fiat Chrysler sales year where everyone in America seemingly bought at least six Wranglers and four Ram trucks, a dealership chain has filed a lawsuit against the automaker in federal court accusing it of offering huge amounts of money to other dealers to falsify monthly sales reports.
Automotive News reports the suit was filed Tuesday in Chicago by two dealerships in the Napleton Automotive Group, and it accuses Fiat Chrysler of inflating those insane sales numbers we saw in 2015 with dealer rewards. From the story:
The suit cites an example of the alleged practice that involved Napleton's dealer principal, Edward Napleton, and his dealership, Napleton Arlington Heights Chrysler Jeep Dodge Ram.

It says that one of the automaker's business center managers at one point offered Edward Napleton $20,000 "to falsely report the sales of 40 new vehicles" at the end of an unspecified month.

The suit goes on to allege that the offer was made to Edward Napleton by the business center manager after one of the dealer's subordinates had earlier agreed — and falsely reported — the sale of 16 new vehicles without Edward Napleton's knowledge. The 40-vehicle offer was rejected by Napleton, the suit says, but led the dealer principal to discover the earlier 16-vehicle inflated sales report.
And:
The suit further alleges that another Chrysler Jeep Dodge Ram dealer that directly competes with Napleton Chrysler Jeep Dodge Ram conspired with FCA and reported 85 false new vehicle delivery reports. As a result, the unnamed second dealership received "tens of thousands of dollars as an illicit reward for their complicity in the scheme."
A Fiat Chrysler spokesman declined to comment. This will be a very interesting case to watch.
2nd Gear: Is GM Playing 'Blame The Victim'?
Already the first bellwether ignition switch lawsuit against General Motors is off to a rocky start. The attorney for plaintiff Robert Scheuer argued the automaker's lawyers are painting him as a drug addict, which could sway the jury. But the judge sided with GM, saying Scheuer's health issues are relevant to the case, according to a Bloomberg story I am currently unable to find online:
Scheuer, 49, claims the ignition-switch defect disabled the air bag in his car in the May 2014 accident, leaving the mail carrier with life-altering neck and back pain. He was flown by helicopter from the crash scene, and released the next day. GM argues he wasn't injured in the crash and that the air bag shouldn't have deployed.

On Wednesday, the lawyer called it a blatant "blame the victim" strategy typical of the company's fighting consumer claims of wrongdoing.

GM has said the use of painkillers is relevant because Scheuer has had multiple surgeries, injections and therapy for cervical and lumbar issues, which are chronic and degenerative, and the court agreed.
3rd Gear: When Is The Volkswagen Fix Coming?
Insert shrug emoji here, said an Environmental Protection Agency official at the Automotive News World Congress in Detroit, reports (wait for it) Automotive News:
The timetable for Volkswagen to deploy fixes for seven years' worth of diesel vehicles and resume sales of new ones remains unknown after California regulators on Tuesday rejected the automaker's initial repair proposals, and a top EPA official indicated that the ultimate plan would have to meet a stiff test before it's approved.

Chris Grundler, director of the EPA's Office of Transportation and Air Quality, said at the Automotive News World Congress today that his team agreed with the thumbs-down from the California Air Resources Board and that he didn't know how long it would take for VW to submit a new plan that was acceptable to the regulators.

"Both ARB and EPA continue to insist on an expeditious fix that will not only bring these vehicles into compliance but also do so in a way that doesn't create any adverse impacts for owners," Grundler said. "We're not there yet."
And after that bizarre interview with NPR, VW CEO Matthias Mueller's U.S. apology tour continues to go not-so-great, reports Bloomberg. Talks with regulators were said to be "terse" in Washington on Wednesday.
"It hasn't been the best of weeks for VW," said Akshay Anand, an analyst with Kelley Blue Book in Irvine, California. "It's clear there's a gap in communication or understanding somewhere, and they need to fix that."
4th Gear: The French Say They're Not Cheating
Meanwhile in France, shares of Renault went tumbling after it was disclosed that fraud investigators searched the company's factories last week looking for evidence of diesel cheating. Reuters reports said Renault has denied any cheating, and Peugeot also said "don't look at us."
5th Gear: GM Plans Big Return
While GM and Ford may be tested soon by a possible slowdown in car demand this year (although it must be noted everything I've read so far has been to the contrary), GM is planning a big return for shareholders. Once more from Reuters:
GM Chief Executive Officer Mary Barra and two of her top executives outlined plans to return to shareholders a total of $16 billion for the period of 2015 through 2017. In March 2015, GM agreed to return a total of $10 billion in share repurchases and increased dividends through the end of 2016.

If GM carries out the plan, the once-bankrupt automaker will have returned to shareholders about $23 billion between 2012 and the end of 2017, or about 90 percent of free cash flow, Chief Financial Officer Chuck Stevens said.
Reverse: RIP
http://www.history.com/this-day-in-hi…
Neutral: How Can VW's U.S. Tour Go Better?
Not slipping up in interviews is a start.
---
Contact the author at patrick@jalopnik.com.