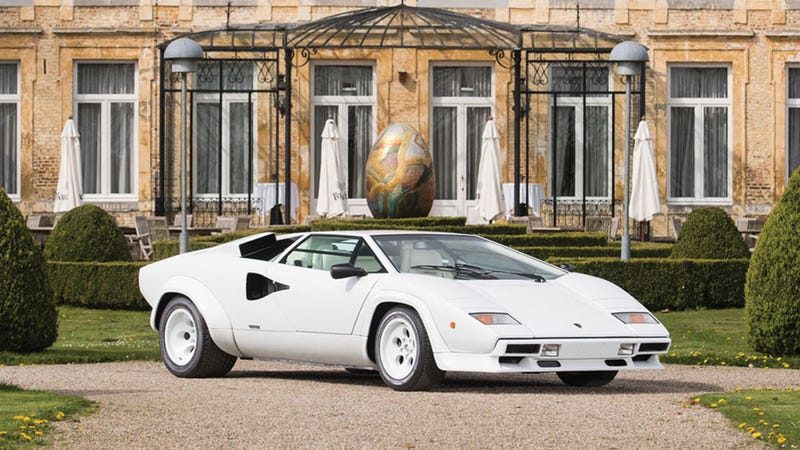 RM Sotheby's Villa Erba auction: my favorite time of year. Beautiful weather, Italian food, gorgeous views and expensive cars. It's my scene. Sure, the auction doesn't start until May 27, but I've already had a look at all of the lots. It's all about who you know, see.
One item in particular caught my eye: a 1987 Lamborghini Countach 5000 QV by Bertone. I've always had a soft spot for wedgey cars. And good Lord, white on white, finished like a snowy cloud. I pulled open the doors.
Gold! A gold dashboard. A gold steering rack. A gold shifter and gates. How wonderful and classic and just to totally me!
I kicked at the shins of the RM auctioneer until he moved and I climbed in. I ran my fingers across the glittery surfaces, only a little annoyed that I was leaving prints.
"This is 24 karat, yes?" I asked, not looking at him and dreamily imagining how easily white, powdery substances would get lost in an interior like this.
He mumbled something.
I snapped my eyes in his direction. "What? Speak up, it's not like you had your tongue cut."
"It's… 14 karat, madam…"
I laughed. It was rare that a member of the help had a sense of humor. Most of mine didn't even dare look me in the eye.
"Madam…"
A ringing silence fell.
He swallowed, blanching suddenly. He glanced down at the sheaf of papers in his hands and cleared his throat. "It's 14 karat. I'm so sorry."
And that's the last thing I remember. I don't actually remember leaving Italy, but I do remember waking up on the beach of my island in the Maldives. I rolled over and did a double-take: the white Countach was parked a little ways away. I guess I had purchased it.
I scrambled to my feet and staggered to the garage, where I found the gas can the servants kept for emergencies. I brought it back over to the Countach and poured the contents all over the offending beast, lit a match and dropped it onto the hood of the car, which ignited immediately.
"Fourteen fucking karat gold," I swore to myself as I stalked back up the walk to replace the now empty gas can. Fourteen karat gold is what you bought your shitty niece on her thirteenth birthday, not what you used on the interior of a car.
The fire on the beach warmed the backs of my legs as it grew. "What the fuck were they thinking?"