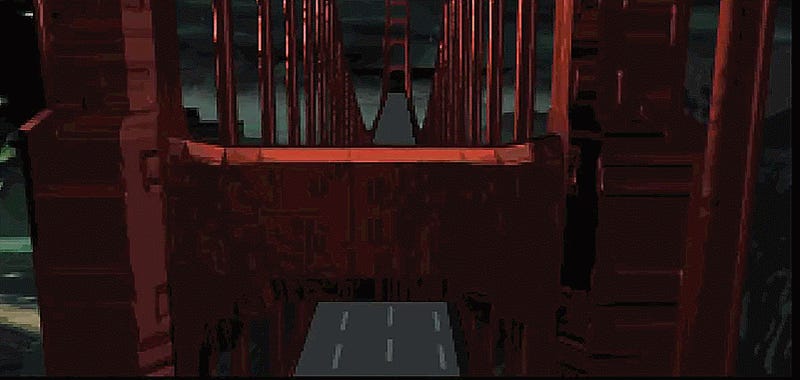 If you couldn't stand the fast and repetitive pseudo-synth of 1990s video games I'd advise you not to read further. But you're missing out; I can't wait to peg this playlist next time I'm eating asphalt in a sports car.
When I was a kid, my grandfather had a Packard Bell computer in his office. Technologically inferior a modern cell phone, but a marvel of future wizardry when I was in first grade. Opa used it to plod through AOL menus, I used it to sear my eyes for hours on MegaRace.
MegaRace was a simple two-and-a-half dimensional driving game with ridiculously overwrought cutscenes that basically put you in a dystopian car battle. It also had the most banging 8-bit-esque soundtrack that I couldn't get enough of.
Flash forward twenty years and I'm stuck in traffic, wishing I could laser the cars ahead of me and drive on the ceiling of a tunnel. That reminded me of MegaRace and its most excellent soundtrack, which was as easy to find as typing "MegaRace Soundtrack" into Google.
Check out this playlist and tell me it doesn't make charging through your spreadsheets a whole lot more fun. Now just imagine driving to that sweetness!
Looks like YouTuber Jiseng So has uploaded the same six tracks, which you can listen to online or download straight from a Dropbox link (250 MB .ZIP file). The songs come down as FLAC files which seem to be pretty high-quality, but are massive.
I dug a little deeper and found out that these songs were created by a French composer named Stéphane Picq. Picq apparently did the tunes for a bunch of other games in the '90s and has a whole Sound Cloud station full of funky instrumental New Age video game beats.
It gets better race fans; just a couple months ago Picq announced he was re-releasing this soundtrack for a reboot of the original MegaRace.
"Hi to all vintage game lovers and MegaRace fans. I am happy to announce that I am back to the game scene, and will do the soundtrack for the MegaRace Reboot. It will include CD-quality remixes of original FM soundtracks, as well as brand new compositions," he told BeforeItsNews.
The "new" MegaRace game is apparently being released on a platform called ZOOM that's setting up to revive a bunch of classics. I guess I'm not the only one who was into this game; there's a whole Facebook page cranking out teaser shots and updates on the reboot!
So far I've only been able to find one of the redux'd MegaRace songs but holy 3D-rendered baby Jesus; I was not disappointed.
I guess I'll download the redecorated game when it comes out, I think I'll spend a lot more time listening to the tunes though. Here's hoping they sell a downloadable/burnable version and that I can figure out how to get that Ska mixtape out of my truck's CD player.
Images via MegaRace screencaps
---
Contact the author at andrew@jalopnik.com.