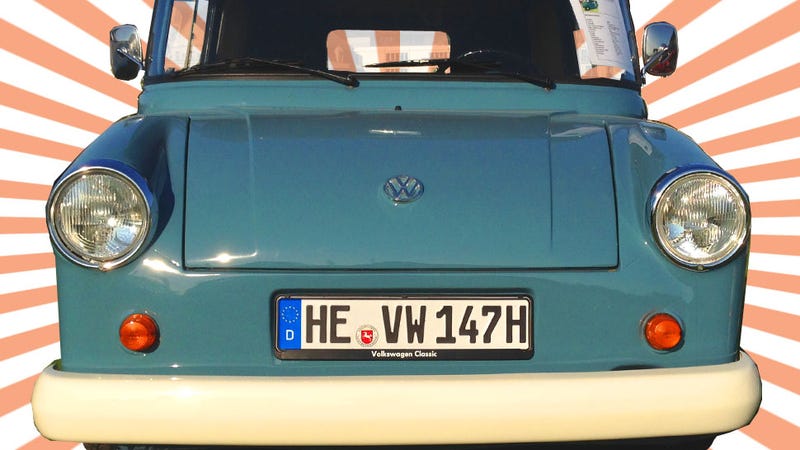 If German-made, air-cooled-era Volkswagen was a canned fruit cup, then the Type 147 'Fridolin' would be the little halved cherry sometimes found inside, swimming in fruit-fluid: a rare, delightful treat. The Fridolin is a car I've wanted to drive for years, and I finally got my chance this past year, in Germany.
http://jalopnik.com/the-finest-fra…
I've written about the Fridolin before, so I'll try and resist the urge to repeat myself. I'll just say here that the Fridolin (the name means something like "little boy") is a vehicle designed for the German Post Office, and was only sold to the general public in very small numbers.
It's made from four different kinds of air-cooled VW:
• Type 14 Karmann-Ghia chassis (like Type I Beetle chassis, but wider)

• Type 1 (Beetle) 1200cc engine and transmsission

• Type 2 (Microbus) Rear hatch, engine lid, taillights, and various other parts of the rear body

• Type 3 (Fastback, Squareback) Headlight assemblies, basic hood design (not quite a cut-down Type 3 hood, but close) and all sorts of trim and parts
When I was in Germany to cover the Beetle Sunshine Rally and visit some amazing VW museums, the nice people at VW Classics let me have a go in their Fridolin, which is one of the nicest ones in existence.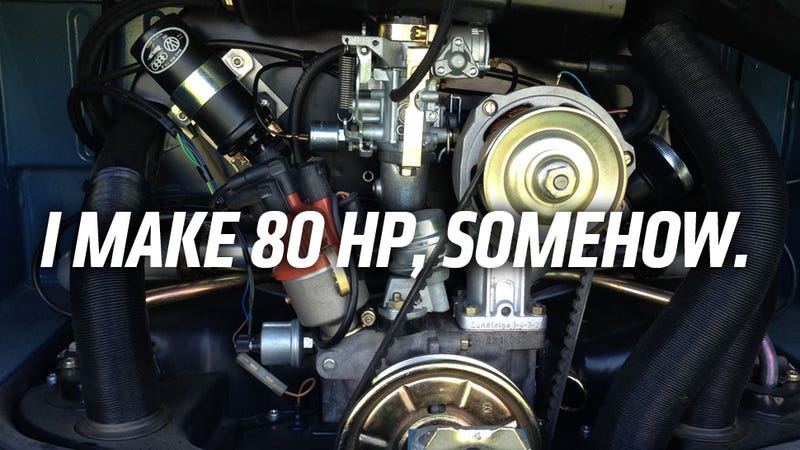 The one I drove had an amazing 80 HP Type I engine, 1600cc and with a single carb. I'm not exactly sure how the magic elf that built this engine managed to get 80 HP from a stock-looking 1-carb 1600cc, but I will say it was one of the best-feeling VW air-cooled engines I've driven.
I had Klaus, the nice man from VW Classics, shoot this video with my phone, so it's not up to our usual quality, and as such didn't pass muster to be a full Jason Drives episode. Also, I sort of repeat myself and am something of a boob, though that never got in our way before.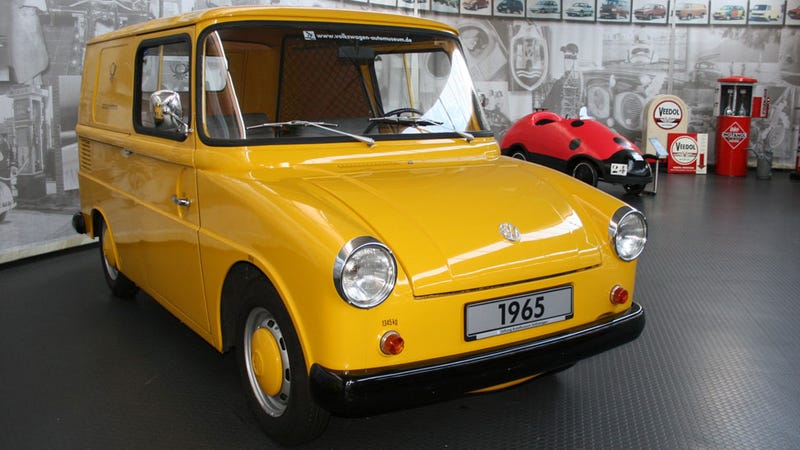 But I thought you might like to see it anyway, because I enjoyed this little workhorse so damn much.
Watch that video and tell me that's not one of the most delightful little trucklets you've ever seen. You can't. Maybe this is why German postal workers always had the reputation of being so damn happy all the time. I mean, I made up that reputation just now, but, after driving this car, I believe it anyway.
---
Contact the author at jason@jalopnik.com.