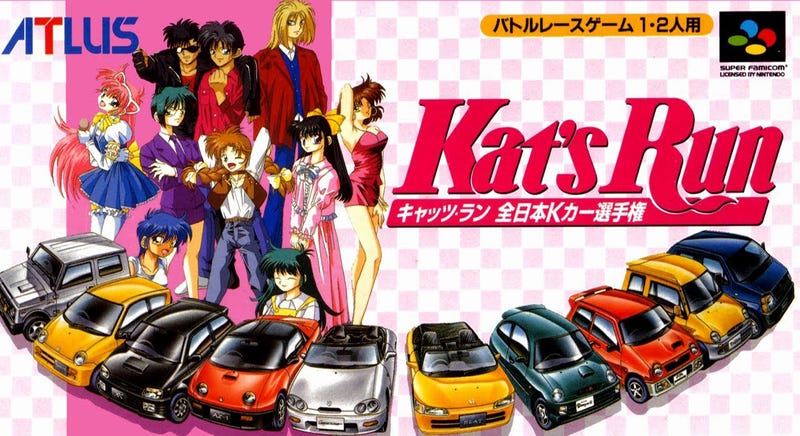 While it's true that I'm not much of a video gamer, I have clearly found the classic Super Famicom (Super NES) game for me: Kat's Run Zen-Nippon K Car Senshuken. Not only is it named after me, and involves kei cars I want and/or have owned, but it even has a joke from my favorite anime in the opening segment!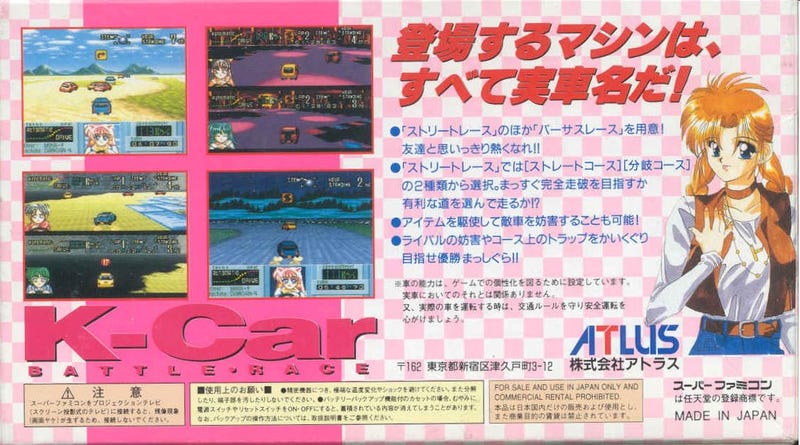 Produced in 1995 and only getting an 18 out of 40 according to Japanese video game magazine, Famicom Tsushin, Kat's Runallowed the player to choose from a fairly large variety of kei cars and SUVs, including the Autozam AZ-1, the Honda Beat, the Honda Today, the Suzuki Cappuccino, the Suzuki Alto Works, the Suzuki Jimney, the Suzuki Wagon R, the Mitsubishi Minica Dangan ZZ-4, the Mitsubishi Toppo, and the Daihatsu Mira TR-XX.

In addition to all of these kei cars, there are ten characters, none of them named Kat (which heavily implies that Kat is the player, at least in my completely non-expert opinion). The wide variety of character types seems to play off 1990s driving manga/anime tropes, especially the work of Fujishima Kousuke, who is probably most famous for Ah! My Goddess, but also did You're Under Arrest, and Sonoda Kenichi, famous for Riding Bean,Gunsmith Cats, and Bubblegum Crisis.
Gameplay seems pretty standard for these types of games, and while not a gamer, I have played Mario Kart, and I get the feeling that from the gameplay videos posted on YouTube, there are no great surprises. I think the gimmick of the game, and maybe the reason it only got 18 out of 40, is the choice of cars and the choice of characters. If you were a really huge fan of, I don't know, the Mitsubishi Toppo, this might have been virtually the only game you could get your hands on which would allow you to drive it. See what I did there? Virtually.
For me, I actually have commuted using the Mitsubishi Minica, and the Today and the Beat are in my "fantasy garage." Also, seriously, like who doesn't love the Autozam AZ-1?!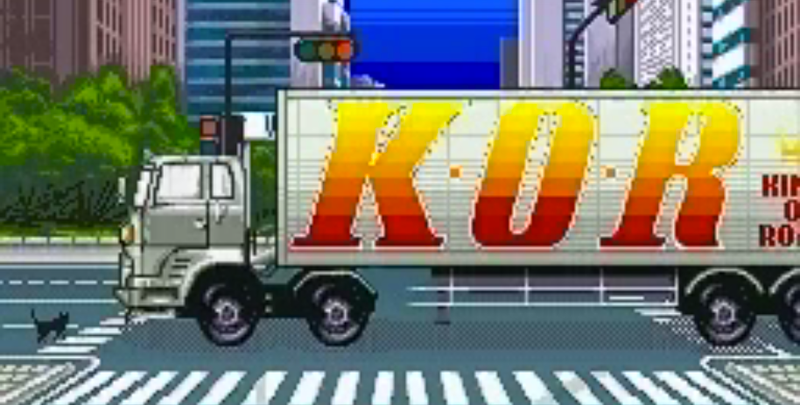 My favorite part may be the not so subtle nod to Kimagure Orange Road. True, the end of the truck reveals the statement to actually be "KING OF ROAD," but I doubt anyone in Japan in 1995, when KOR was still extremely popular, wouldn't have immediately seen the above screen and assumed it was referring to Orange Road. Indeed, before the truck drives by, there is a very You're Under Arrest looking minipato (Mini Patrol Car, usually a Honda Today) chasing down another kei car and telling it to stop. This was a game truly aware of its late-80s to mid-90s audience.
So, you know, if I had to have an video game named after me, well, I don't think I could do much better than one devoted to kei cars and dropping jokes from my favorite anime series. That'll do pig, that'll do.
Images via GameFaqs and Hydao Kaput/YouTube.